December 2, 2020
Approved by Cati O'Keefe, Expert Home Building & Sustainability Contributor.
Written by HomeAdvisor.
Electric Car Charging Station Installation Cost
The national average for installing a standard electric vehicle charging station ranges between $456 and $1,079, while the median cost is $765 each. The price of the stations alone runs $400 to $2,000, depending on whether you choose a Level 1 or a Level 2. Hardwiring a Level 2 or installing a circuit for plug-in types adds another $500 to $1,500.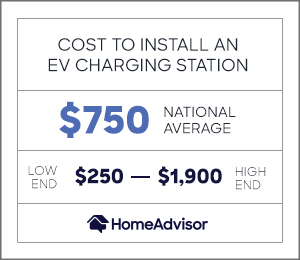 An electric vehicle charging station, a type of electric vehicle supply equipment (EVSE), comes in both portable plug-in styles and direct wire units. They're also available in three levels. The first offers a cord that plugs into a 120-volt standard 20-amp circuit and generally comes with your car. The second needs a 240-volt on a 40- to 100-amp circuit but reduces charging time by almost half. You won't find many Level 3 stations, which charge three times as fast as a Level 2, in most homes. Tesla vehicles use a Level 3 and can charge in about an hour.
Thank you for submitting your feedback.