Reviewed & approved on June 26, 2020 by Cati O'Keefe, Expert Home Building & Sustainability Contributor.
Written by HomeAdvisor.
Cost to Build a House
On average, it'll cost $307,840 to build a house, or between $159,855 and $483,463. Spending an average of $100 to $200 per square foot means a 2,800-square-foot home costs $280,000 to $560,000 to build. Custom and luxury homes cost $200 to $500 per square foot. Labor makes up roughly 40% of the build cost, with permits, design fees and materials making up the rest.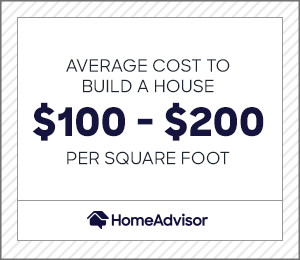 Building a new home gives you the opportunity to meet your specific design and functionality requirements. Say you decide to build your own home, what will it cost? In short, there are many factors that will influence your bottom-line price, including the location of your home, the building materials and products you select, pricing differences among regions and home type and the cost of labor in your area. This guide will detail those important factors, plus other issues you must consider before you get started designing your dream home.
Thank you for submitting your feedback.