Boiler Service Cost
Repairing your boiler will cost about $394 on average. Most homeowners spend between $187 and $615. The location of the unit, broken parts, and several other factors can drive that the price above $1,000 in some situations. Service calls incur minimum fees of $150 to $300 or sometimes the first 2 hours of labor.
Most water based heating systems need regular maintenance and repair to continue working efficiently. These systems are relatively efficient but not always easy to fix. Your local HVAC repair pro will diagnose any problems and offer options for repairs.
Boiler Repair Costs
You'll spend anywhere from $150 to $1,000 or more for boiler repairs. Most systems last 15 years or longer. Individual units usually perform reliably for years because they have few mechanical parts. If they're over 10 years old, it might be time to consider replacement rather than simple services.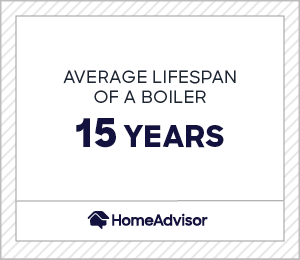 The most common problems occur in the expansion tank or a circulator.
Problems can include:
No heat.
Poor heat production.
Potential causes include:
Improper water levels.
Mineral deposits.
A pilot or burner ignition malfunction.
To keep your boiler working properly for years, get an annual inspection and service.
Average Boiler Repair Costs by Problem
| Problem | Material Cost | Labor |
| --- | --- | --- |
| Ignitor Switch | $25 - $150 | $100 - $200 |
| Mineral Deposits | $10 - $40 | $150 - $250 |
| Faulty Circulator, Ductwork, Radiators | $150 - $350 | $250 - $500 |
| Faulty Expansion Tank | $40 - $130 | $100 - $250 |
| Faulty Pipes, Valves or Circulator | $150 - $400 | $200 - $600 |
Gas Boiler Repair Cost
Gas boiler repair costs $100 to $400. Being the most common type available means readily available parts for common problems and easy access to experienced technicians. If it's past 10 years, consider a new system. Gas boiler installation costs $2,500 to $7,700.
Common problems include:
Expansion tank issues.
Water circulation pump.
Oil Boiler Service Cost
Oil boiler repairs cost $200 to $500. Although no longer common, you'll still find them in older homes in the New England region and scattered throughout some northern states. As they're still both a viable and practical solution for rural and remote areas, parts are readily available. They are more energy efficient than most types, but repairs tend to cost a little more.
Common problems include:
Clogged burner nozzles.
Corroded or clogged fuel pipes.
Heat exchanger cracks.
Electric Boiler Repair Estimate
Electric boilers cost $200 to $400 to repair. Electric boilers get used more often now that technology has made them viable in many homes. With more use comes cheaper parts and experienced service.
Common problems include:
No hot water.
Low pressure.
Compare Local Quotes For Your Boiler Repair
Boiler Service vs. Tune Up Cost
A boiler tune-up costs $400 to $500 while repairs cost $150 to $1,000 or more. Boiler tune-ups catch minor problems before they become major issues. Regular maintenance and cleaning, often called a tune-up, keep your boiler running efficiently and inspects for any potential issues.
Most professionals charge a flat rate for regular maintenance calls and often offer annual service plans. Repairs often start with a flat "call out" fee of $150 to $300 plus hourly rates. Most pros charge an average of $75 to $125 per hour plus materials.
Actual repair rates vary depending on:
Nature of the problem.
Geographic location.
Seasonal demand.
Appointment timing.
Boiler type.
Boiler Inspection Cost
Boiler inspections cost $100 to $300. Some HVAC pros include inspections during service and cleaning appointments. Even if you tackle DIY boiler maintenance on your own, it's still a good idea to get a yearly inspection.
Boiler Maintenance Cost
You'll pay $75 to $125 per hour plus materials for most boiler maintenance issues. By keeping the unit in working order, you won't find yourself in a cold shower facing an emergency that needs an immediate fix.
Some insurance agencies offer "boiler insurance," a rider on your homeowner's policy much like floor or earthquake insurance. It can help pay for replacement of the boiler. Some local HVAC companies offer a similar extended warranty for the same reason.
Typical maintenance activities include:
Cleaning and repairing blocked vents and flues.
Checking water levels.
Fixing any small gas, fuel or water leaks around the unit.
De-scaling hard water to improve efficiency and reduce attrition.
Flushing water from the product to clean and maintain its efficiency.
Gas & Oil Boiler Cleaning Cost
Gas and oil boiler cleaning costs $150 and $500 as part of an overall service. Left alone, it can turn from a crucial HVAC appliance to an unreliable and potentially dangerous unit in your home. Regular cleaning and tune-ups ensures that no minerals build up and the system will run reliably. Clean it at least once a year during the spring. Colder climates might benefit from two cleanings a year.
Annual Boiler Service Cost
Annual boiler services cost $200 to $500. You might save a little money by scheduling in the offseason, or midway through winter or early spring. Some companies offer yearly contracts that include annual maintenance activities.
Your annual service or tune-up includes most of the following:
Inspect for leaks.
Note the pressure.
Thermostat check.
Inspect the heat anticipator, pump operation, zone valves, damper and pressure relief.
Clean and inspect the burners, pilot assembly, pilot orifice and the sensor.
Inspect for corrosion or leaks.
Inspect and replace the thermocouple as needed.
Check the flame signal, gas pressure, combustion motor and pressure switch.
Check the gas pressure.
Check the combustion motor and pressure switch.
Clean the cabinet and wipe down all the equipment.
Run a complete test to make sure everything functions in each zone.
Fixed Price Boiler Repair
While some pros charge hourly, many charge fixed rates for many common boiler repairs. Fixed rates vary from $200 to $1,000 or more. Pros figure flat rates based on:
Overhead.
Time it takes to complete the job.
Materials.
Boiler Flush Cost
Boiler flushing costs anywhere from $200 to $600 depending on the size of the boiler and the length of pipes running through your home. Annual service contracts often include this as an option.
Flushing removes sediment and minerals that build up in the boiler and the lines. They can harm the tank and cause overheating and corrosion.
Get Real Quotes From Boiler Repair Specialists
Boiler Replacement Costs by Part
Boiler replacement costs for each part range from $10 to $800 for the part alone. Labor adds another $100 to $200. For most parts, repair really means replacing a few parts. In each case below, a new part will typically save on costs and is safer than trying to work with the existing, damaged or worn down part.
Repairing or replacing individual parts becomes less affordable when multiple parts break down at the same time, or your system is older and no longer efficient, it might be time to think about a new unit.
Average Replacement Boiler Part Costs

| Part | Estimated Cost | Function |
| --- | --- | --- |
| Zone Valve | $60 - $200 | Controls the flow of water or steam |
| Diverter Valve | $150 - $450 | Provides heat to the radiators |
| Gas Valve | $150 - $800 | Controls the flow of gas to the burner |
| Expansion Tank | Gas: $40 - $250Oil: $90 - $230Electric: $50 - $240 | Provides cushion for expanding water when heated |
| Pipe | $10 - $30 per linear foot | Transports water and fuel to and from boiler |
| Circulator Pump | $150 - $700 | Pumps heated water through the house |
| Ignitor Switch | $50 - $350 | Lights the burner to turn your fuel into heat |
Sustainable Boiler Repair Costs
Installing a smart zoned, environmentally responsible boiler systems adds20% to the cost, but you'll end up saving 30% to 50% in energy use. Replacing individual parts allows you to increase the sustainability of your system. Eco-friendly boilers and radiators allow you to drive down your energy expenses, while making your home environmentally friendly.
Boiler Expansion Tank Replacement Cost
A boiler expansion tank costs $50 to $250 depending on the size of the tank and the type of system you have. They're usually required by code for all new installations. They prevent over pressurization in the system which can lead to leaks and other failures.
Zone Valve Replacement Price
Zone valves cost $60 to $200 for most residential systems. You'll need one for each zone. They control the flow of water or steam to each area of your home.
Boiler Coil Replacement Price
A boiler coil replacement costs $500 to $1,500. That range includes both the price of the coil and the labor to install it. Prices vary by brand, type and size. This part heats the water as it flows through the unit.
Boiler Pump Replacement Price
A boiler circulator pump costs $250 to $1,000 for materials and labor. It's a common problem for these to fail over time as they're one of the only moving parts. But they're usually covered under warranty. They come in single and variable speeds.
Boiler Gas Valve Replacement Price
Gas valves run anywhere from $250 to $1,000 depending on the size of your boiler and the brand. Most often, you'll pay in the $300 to $500 range. It's usually covered under warranty. Always have a professional replace this part, which requires removing the gas line.
DIY vs Hiring a Pro
Let a pro complete complex fixes or checkups on your boiler. Even small mistakes can lead to potentially dangerous situations, regardless of whether electricity, gas or oil powers the product. Finding a boiler repair professional near you helps diagnose any problems and provide potential solutions.
The repair becomes more effective with professional technicians while extending the boiler's life and saving money in the long run. Whenever possible, work with a professional for peace of mind, a reliable fix and your own safety.
How often should you have your boiler serviced?
You should have your boiler serviced every year, after the heating season ends. For the first 3-6 years, you can get away with servicing it every other year. But the more often you service it, the more efficient it'll run and the longer it'll last.
What does a boiler service include?
A boiler service includes a long list of inspections, cleaning and testing. You'll want to check to see if it also includes a complete system flush.
How long does it take for a boiler to be serviced?
A boiler service takes about 45 to 90 minutes.
How do I know if my boiler expansion tank is bad?
To find out if your expansion tank is bad, you should hire an HVAC professional for an inspection. But you can do a couple tests first.
Tap the tank, it should sound hollow near the top and solid near the bottom.
Check the pressure gauge, which should show some pressure built in the system.
See if your pressure release valve is leaking.
How does a boiler expansion tank work?
As water heats, it expands and takes up more room. An expansion tank works by giving the water that's now taking up more room a place to go.
What is a zone control valve?
A zone control valve is a type of valve used to control water flow from your boiler to different zones of your home. This improves the efficiency of the system and allows separate temperature zones.
Talk to Boiler Repair Services Near You
Thank you for submitting your feedback.