Replacement Cost Averages for a 250 Linear Foot Home
2021 Notice: Material Prices are Surging
Demand for siding and roofing has grown over the past year. And, as a result, manufacturers are increasing materials prices. Prices have gone up 5% to 10% this year, and many parts of the country are experiencing long delivery times. If you're planning a siding or roofing project, we recommend starting as early as possible in the season, preparing for potential price fluctuations, and allowing extra time to order materials.
Fascia and Soffit Costs
Professionally installing or repairing fascia and soffits usually runs from $6 to $20 per linear foot depending on the type of material used and the complexities of the installation. For an average one-story home with about 250 linear feet, installation would run anywhere from $600 to $6,000 with an average cost of about $2,300. Your material choice - wood, vinyl, UPVC, Hardie (cement) board and composite - will vary the cost. Both exterior layout and number of levels also affect final project cost.
| | |
| --- | --- |
| Average Cost | $2,300 |
| High Cost | $6,000 |
| Low Cost | $600 |
Soffits keep moisture outside, help vent the attic, and prevent animals from nesting overhead.
Fascia are the trim that covers the boards that run horizontally across rafter tails, creating the edge of overhanging eaves. Correctly installed with drip edges, these prevent moisture from getting to the substructure of your roof and help support your gutters.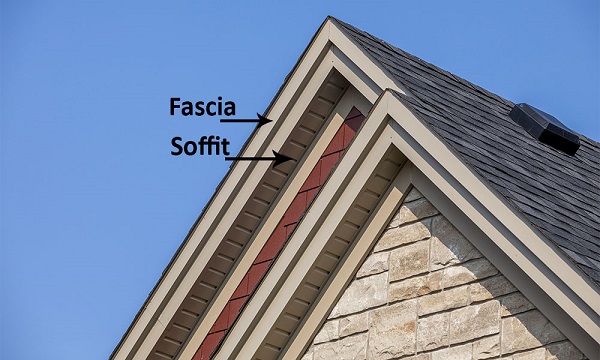 While DIY installation is possible, professional assistance is usually warranted. Incorrect installation leads to more extensive roof damage, pest infestations and, ultimately, costly repairs.
Fascia Board Prices
Fascia boards are typically sold by the linear foot for a cost between $1 and $20 per foot, depending on the type of material. Fiber cement is sold by the square foot, between $1 and $5. Wood is the most common choice at $1 to $3 per foot because it's easy to install, cost-effective and aesthetically pleasing. Vinyl is becoming more popular because it requires little maintenance. Composite and aluminum materials last longer with less maintenance but are usually much more expensive and harder to install.
Fascia Board Material Per Linear & Square Foot

| Material | Cost per Linear Ft |
| --- | --- |
| Vinyl | $5 - $8 |
| Aluminum | $8 - $20 |
| UPVC/PVC/Plastics* | $3 - $7 |
| Wood/Cedar Board | $1 - $3 |
| Cement/Hardie Board | $1 - $5 per square foot |
| Composite | $1 - $8 |
For accurate fascia material estimates, talk to a roofing professional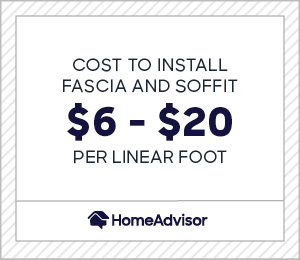 In addition to the cost of materials listed above are labor and equipment rates. The labor cost to install fascia runs from $6 to $20 per linear foot but can vary greatly between companies and locations. A typical one-story home with 300 linear feet of soffits will require about 11 to 13 hours of labor running between $800 to $1,400 with an additional $120 to $150 in supply and equipment costs.
These prices usually include the removal and replacement of gutters and old boards and trim. Complex configurations, the height of the eaves, accessibility, and even number of corners and angles will increase costs.
Common Factors Affecting Repairs
Your homes layout, eave configuration, and other factors will determine the final cost of repairs and replacement. Since each situation can be vastly different, the best thing you can do is get a free estimate from local roofing and siding contractors. And don't stop with one estimate, get 3-5 estimates and research potential contractors before agreeing to any work.
Factors to consider include:
Material Types: Wood is cheap to install but requires more upkeep. However, it has a significant advantage when repairs are needed. You'll only need to repair the damaged area rather than replacing large sections such as with vinyl or aluminum.
Accessibility: Is the location easy to access on a first floor or 2+ floors up in a gable? Will the gutter need to be removed and replaced? Location and accessibility are major cost considerations, adding between 7-15%.
Gutter Replacement: The price of replacing gutters with fascia averages $950.Your fascia boards are typically replaced at the same time as your gutters, or sometimes with roof replacement. More commonly, you'll only have to make repairs where damage has occurred. Always fix underlying water issues before repairing or replacing anything.
Your Location: Your zip code will determine your bill as well. Material and labor vary greatly by location.
Eave Configuration: You'll need to budget a little extra in cases where the eave is configured with nailed-in drip edges and weather sheathing. Sometimes soffits are attached directly to the back edge of fascia boards, requiring more time.
Drip Edges: $1-$2 per linear foot installed. Inspect and replace drip edges as necessary. Drip edges are added to the roof to direct water into the gutters.
Other Damage – Have a professional inspect your eaves for damage before repairing fascia and soffits. Underlying damage can lead to their early failure.
Hire a Professional Roofer for Your Fascia and Soffit Installation
Soffits are usually sold in 12 foot sections with varying widths for an average between $10 to $23 per section or about $16, on average. This translates to about $1-$3 per linear foot. Like fascia, these come in a variety of material but they tend to be priced similarly.
You can use the same materials for both facias and soffits, although it is not usually necessary. Though you can purchase vents for old ones, many newer soffits are produced with integrated venting.
Soffit Material Costs Per Section or Square Foot

| Material | Cost per Section |
| --- | --- |
| Vinyl | $14 - $23 |
| Aluminum | $10 - $22 |
| UPVC/PVC/Plastics* | $6 - $12 per square foot |
| Wood/Cedar Board | $14 - $22 |
| Soffit Vent | $3 - $5 per square foot |
Separate from material costs, you'll pay between $1.50 to $3 per foot in labor and equipment for soffit installation. Since they are usually sold in 12-foot sections, it would be between $18 and $42 per section installed, excluding material costs. A typical 250 linear foot home will cost between $600 and $1,000 for a complete installation. A homes layout, accessibility, and size will all contribute to the total project cost.
Soffits cover the area between the edge of the eaves where the fascia and gutters are placed to the wall. It has three functions:
It keeps water out of the attic and behind the siding.
It keeps pests from nesting in the attic.
It also provides venting when properly installed.
Expect to pay about $300 or less for isolated removal and replacement. It will cost about $3 to $7 per linear foot for removal and an additional $3 to $5.50 per linear foot for labor and materials. This is normally only done for the damaged sections of soffit. If only a 12-foot section of vinyl soffit is damaged, it would cost between $70 to $150 for the job.
Keep in mind that some companies will have minimums for equipment and labor. Unless you plan to change material or style, you rarely need to do a complete removal and reinstall.
Damage happens for various reasons. Though weather and water are the most common culprits, birds, squirrels, raccoons and other nesting pests also cause damage. Since vinyl expands and shrinks more than any other type of material, it is susceptible to damage in areas with lots of temperature fluctuation. High winds can easily damage improperly installed soffits.
Hire a Roofing Repair Professional
Soffit, Fascia, Gutter, and Eaves Replace & Repair Estimator
Most often, you'll want to replace your fascia when you replace or repair gutters. Most licensed contractors charge by the project at $600 to $6,000, and typically repair or install all three. That price can go even higher with a complete gutter replacement or complex home layouts and high eaves. Eaves refer to the entire section overhanging, including the soffit and fascia.
Fascia typically needs replacement due to water or weather damage. Wood, the most common type, eventually rots and can no longer help hold the gutter in place. Proper installation, painting, and waterproofing are crucial to keeping maintenance and repair costs to a minimum.
Soffits do not usually need to be replaced entirely. Sections often become damaged due to both climate and animals. Only the damaged parts require attention.
Gutters need to be correctly installed and maintained to keep water from damaging the fascia or wooden substructure of your roof and walls.
Cost to Paint Fascia and Soffit
The total price for painting a fascia runs between $500 and $1,000 on average.
Painting your this part of your home's exterior is not just for looks. If you're using wood, you'll also need to paint it regularly to keep it looking and functioning correctly. It'll run between $2.50 and $6.50 per linear foot to paint either the fascia or soffit. Vinyl, PVC, composite, and aluminum typically come pre-painted or permanently colored, but sometimes need to be painted later.
Why Fascia & Soffit are Important
Soffits and fascia are trim, flashing, or covers, for the eaves section of your roof. They protect the roof and walls from moisture and animals. Gutters, fascia, and drip edges work together to deflect water from your roof to the ground without damaging the roof or walls of your home. Keeping water out means guarding against rot and mold growth. They are there to help, but you'll need regular maintenance as well as a properly installed roof and drip edges. Check out our cost guide to calculate the price to install a roof.
Maintenance Tips
Regular professional inspections and proper maintenance can save thousands in home repairs. Some helpful tips to prevent damage and keep maintenance costs to a minimum:
Paint wooden fascia regularly. Sealed wood repels moisture. It's key to keeping rot from destroying them.
Inspect and clean your gutters every year. Clogged gutters can lead to water getting behind the fascia and weighing down gutter supports. The average cost to clean gutters runs most homeowners about $150.
Install or upgrade drip edges. For less than $1 a linear foot, you can direct water from your roof into your gutters. This helps keep water out as much as possible.
Upgrade soffit venting. Soffits also help keep your attic adequately vented, keeping humidity low to inhibit mold growth. Upgrading venting may be necessary for older homes.
Hire a Fascia & Soffit Installation Pro
Thank you for submitting your feedback.