Reviewed & Approved on October 23, 2020 by Reid Gravitte, Certified Electrician, Plumber and HVAC Specialist. Owner of After Hours Home Improvement, LLC, Springfield, VA.
Written by HomeAdvisor.
Cost to Install or Replace Plumbing Pipes
Replacing small sections of piping will cost between $356 and $1,881 with an average of $1,106. Repiping an entire home or installing new plumbing will run anywhere from $1,500 to $15,000 or more.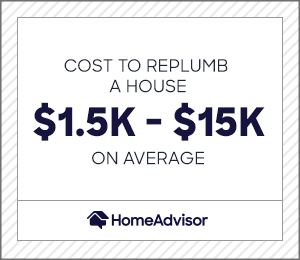 New water pipe installation projects are bid by the fixture, like a toilet, sink or bathtub. You can estimate anywhere from $600 to $1,600 per fixture depending on if it's a rough in, or the plumber supplies the actual fixture. Your choice of material also plays a role. PEX and CPVP are both 20% to 40% cheaper than standard copper. Large plumbing project costs average out to $4.50 per square foot.
If you're building a new home, adding to an existing structure, or remodeling, you'll need new pipes. While this guide covers the most common cost factors, it's best to find a reputable plumber to complete your project. They'll help determine which material will work and the best way to tackle the installation depending on your homes age and configuration.
You may need to install new plumbing if your home has old, hazardous piping materials like:
Lead. This toxic metal can leach into your water causing serious health hazards.
Galvanized Steel. Though safe, it can rust from corrosion causing low water pressure.
Polybutylene. Used extensively from the 1970s to the '90s, these pipes are extremely fragile and easily broken.
Cost to Replumb a House
Replumbing a home's piping can run anywhere from $1,500 to $15,000 or more. The price depends on where the pipes are located, how many bathrooms you have and if you do a full repipe, just a visible repipe, or repipe only the visible pipes in the basement or crawlspace. You'll want to redo your water lines when they've become old, corroded or cracked.
Cost to Repipe a House with PEX
Repiping a house averages $7,500 whether you're using PEX, CPVC or copper piping. While PEX piping costs less than copper, the majority of the price comes from labor. In addition to factors like the size and configuration of your house, access to the piping through drywall, requiring the removal and replacement of drywall, adds significantly to the total project cost.
PEX is a flexible plastic tubing with many benefits:
It doesn't leak or burst from freezing and is corrosion resistant.
It's cheap and easy to install. A great option for replacing current pipes since it can be snaked through walls easily, requiring less holes.
It isn't prone to corrosion.
It retains heat well, which conserves energy.
The only two cons are:
A short history of use. It hasn't had time to prove its safety or longevity.
Though rare, rats and mice have been known to chew through it.
Contact a professional who deals with PEX for a quote.
Get in Touch with a Plumber Now
Whole-House Repiping with Copper
Copper is the most expensive type of pipe to use at $2 to $5 per foot or anywhere between $5,000 to $20,000 for a full repipe. It is expensive and can burst when frozen. However, it is a safe metal that has stood the test of time as a water delivery system.
Cost to Replace Plumbing in an Old House
Replacing old home plumbing averages between $2,500 to $15,000. Depending on your local code requirements, you may be required to upgrade other aspects of your home when you replace the plumbing to bring them up to current code standards. Only your contractor or the local building code compliance office will know for sure if you'll need additional upgrades. Consult with a pro.
Find the Best Plumbers In Your Area
Polybutylene & Lead Pipe Replacement Cost
If your pipes are polybutylene or lead, you'll need to replace the entire system. Expect to pay between $2,500 to $15,000 depending on how many bathrooms or stories are in your home.
Polybutylene is an extremely fragile system that fails easily. Don't leave any in your home.
Lead is toxic to humans. If it is present in your home, have it replaced immediately. Test your water for lead after replacing the pipes to ensure you're eliminated the risk.
Average Cost to Replace Galvanized Pipes
Galvanized systems cost the same as any other type of pipe to replace. Some plumbers may encourage you to only replace visible piping in a galvanized system. Though they're safe, they tend to corrode, creating clogs and lowering water pressure. Eventually they fail. Leaving any corroded pipes, including vertical ones, is a recipe for disaster because they can lead to water damage.
Replacing Water Pipe from Meter to Home
Water main replacement costs range between $800 and $4,800. New homes requiring a new water main and connection to the home tend to run higher, or between $2,300 to $6,500. That includes the cost of a new gravel bed and installation though the wall. Factors that impact the total price include the distance from your home to the city line, and the depth of the main line.
Removing & Demolishing Existing Pipes
Removing old pipes is usually included in the cost of a project when replumbing. The major cost to demolition involves removing portions of wall, floor or ceiling to expose old plumbing. Cutting more walls will raise the project price.
Replumbing a Mobile Home
Replumbing a mobile home costs anywhere from $1,500 to $4,000. Using PEX is the cheaper option and is recommended for mobile homes in cold climates since it can withstand freezing.
Find the Best Pros for Your Plumbing Project
Cost to Plumb a House
Installing new plumbing in a 2,300 square foot home with 2.5 baths will average $11,500. Cost to plumb an entire home depends on how many bathrooms you have and the distance between them.
Plumbing Cost per Square Foot
You'll pay $4.50 per square foot for plumbing in a new construction. Though they're not bid per square foot, this gives most homeowners a rough idea of the total costs of the project.
Commercial vs. Residential
New commercial plumbing installations range from $14 to $15 per square foot while residential costs are bid by the fixture, not the square foot. Commercial spaces are regulated strictly by code and require more expensive piping. Plumbing contractors do most rough in work, regardless whether it's residential or commercial.
Rough in Plumbing Costs for a New Construction
Rough in costs range anywhere from $7,000 to $15,000 for an average size home of roughly 2,300 square feet with two or three bathrooms.
It is $600 to $1,600 per fixture with final costs ranging from $1,500 to $20,000. New plumbing installation is always bid per fixture or by point. Fixtures include sinks, toilets, showers, bathtubs, dishwashers, washers and dryers.
If a contractor bids by point each fixture has a point value. Most fixtures, like a sink or shower, is 1 point. A toilet, dishwasher and refrigerator are only .5 points because they only have one water line. Most bathrooms have 2.5 points.
Rough in Costs by Appliance or Room

| | |
| --- | --- |
| Full Bathroom (per room) | $1,500 - $4,000 |
| Kitchen Costs | $1,600 - $3,200 |
| Electric or Gas Water Heater | $600 - $1,600 |
| Tankless Water Heater | $1,100 - $3,200 |
| Washer | $600 - $1,600 |
| Gas Appliances (dryer, stove, furnace) | $1,800 - $4,800 |
Home Rough in Costs for Full & 3/4 Baths*

| | |
| --- | --- |
| One Bath | $1,500 - $4,000 |
| Two Baths | $3,000 - $8,000 |
| Three Baths | $4,500 - $12,000 |
| Four Baths | $6,000 - $16,000 |
*Doesn't include kitchen or main line hookup. Half baths with less fixtures cost 60% of a full bath price.
Find Top Plumbers and Pipe Fitters for Your Project
Piping Material Prices
There are three types of common materials for water piping: Copper, PEX and CPVC - chlorinated polyvinylchloride. Copper is a nonreactive metal used for decades as the gold standard for water delivery. Plastic pipes, like PEX and CPVC, are a cheap alternative, that when installed correctly can match or beat copper's effectiveness for thousands less.
Approved Water Pipe Materials and Prices

| Material | Price Per Linear Foot | Details |
| --- | --- | --- |
| Copper | $2 - $4 | Safe, time tested, durable |
| PEX | $0.50 - $2 | New, flexible, okay freezing, cheap |
| CPVC | $0.50 - $1 | Time tested, varying quality, rigid |
Copper Pipe Cost
Copper pipe costs $2 to $8 per linear foot for the materials alone, depending on the diameter of the tube. It is more expensive than plastic but has decades of successful use in homes across the country. All building codes accept copper piping.
Copper piping is bacteria resistant, not UV-sensitive and recyclable. It also performs well in natural disasters and doesn't leach harmful chemicals or gases, making it a good environmental option. However, it can burst and corrode, so that is something to consider depending on your location. Pipe installation costs will be higher with copper.
PEX Plumbing & Tubing Costs
PEX pipes cost between $1.50 to $3.50 per linear foot for both the materials and labor. The pipe alone runs $0.40 to $2.00 per linear foot depending on the diameter of the tube. This flexible tubing, made from crosslinked HDPE (high density polyethylene) polymer, is great for full replacements and small sections of repair. It resists scale and chlorine, doesn't corrode or develop pinhole leaks. It can be coupled to any other material type. It's also great for in-floor heating and new construction.
Chlorinated Polyvinylchloride Piping (CPVC)
CPVC costs about the same as PEX at $0.50 to $1 per linear foot. It's a rigid type of pipe used since the 1960s. It's time-tested but eventually leaks or bursts completely due to lower-quality manufacturing processes, incorrect installation and improper fittings. When used correctly, it is a cheap alternative to copper piping and doesn't corrode.
Polybutylene, Galvanized, Lead and Cast-Iron Piping
These types of piping have been discontinued in plumbing. Lead is toxic to humans. Galvanized steel rusts and clogs and is only used for gas. Cast iron is extremely susceptible to breakage. Because of low cost, Polybutylene was used extensively in homes between 1970 and into the 1990s but is incredibly fragile and prone to breaking.
Talk to Your Plumber for Details & Project Quotes
Cost Factors
Repiping a home costs vary based on the layout of your home, the number of stories, where the bathrooms are located, and whether repiping requires demolition.
Home Size & Number of Stories
Home size only affects pricing if bathrooms are far apart or back to back. The farther the lines run, the higher the cost since pipes range from $0.50 to $5 per foot plus labor at $1 to $2 per foot. Stories don't increase costs of rough in plumbing for new homes but do increase prices for repiping homes since walls demolition is necessary to reach vertical water pipes.
Why You Need a Licensed Professional Plumber
Always hire a professional to do home plumbing jobs. Plumbers carry liability insurance. Homeowners' insurance often covers professionally installed work. DIY work isn't. Don't risk thousands of dollars in water damage, get a licensed plumber.
Contact a Plumber for a Quote
Thank you for submitting your feedback.