Last Updated: December 3, 2020
Written by HomeAdvisor.
2021 Notice: Material Prices are Surging
Demand for siding has grown over the past year. And, as a result, manufacturers are increasing materials prices. Prices have gone up 5% to 10% this year, and many parts of the country are experiencing long delivery times. If you're planning a siding project, we recommend starting as early as possible in the season, preparing for potential price fluctuations, and allowing extra time to order materials.
T1-11 Plywood & OSB Siding Prices
The average cost to install T1-11 plywood siding ranges between $1,500 and $3,700, with an average of $2,500 for 500 square feet of exterior wall space. For OSB siding, that cost stays in the same general range, but the average drops down to $2,200 for the same 500 square feet. That averages between $3.50 and $7.20 per square foot. Prices might change depending on the material you choose, labor time required, and where you live.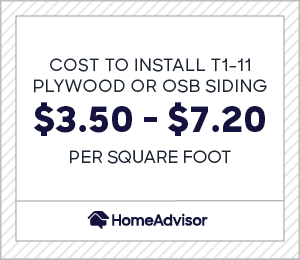 If you want to increase your home's curb appeal without breaking the bank, you might be researching wood composite siding options. Most commonly, homeowners choose between T1-11 (often referred to as plywood) and OSB (oriented strand board) to achieve a more natural look.
The two composite wood alternatives differ in more than just material costs. Plywood tends to be more durable, and provides a greater range of finishing and customization options. Meanwhile, OSB holds moisture longer and can warp due to water damage. If you need help deciding between the two or during the installation, consult with a professional to get started.
T1-11 Plywood Costs
Depending on the finish and size, this siding costs between $25 and $40 per 4 foot by 8 foot sheet. Add installation costs and construction materials, and you end up with a range between $3.50 and $7.20 per square foot.
Plywood consists of multiple layers of thin wood veneer. These layers are pressed and bonded together, increasing the dimensional stability of the material. It works well as a siding material because of the large panel size that covers a larger area, as opposed to single boards of wood.
The low price point has given OSB an edge in popularity over T1-11. A sheet of this composite sells for around $5 less than its counterpart, with a cost between $15 and $43 per sheet depending on thickness. Like plywood, OSB describes engineered lumber. In this case, the composite consists of flake or sterling board, describing compressed flakes of wood that are bonded together by adhesive.
The exact cost of OSB siding depends two major factors: The size of your home, as well as the exact material you choose. Like T1-11, it is typically sold in sheets that measure 4 foot by 8 foot, at the following prices based on thickness. Depending on where you purchase the sheet, thickness might be measured in millimeters.
OSB 4x8 Sheet Price by Thickness

| in Inches | in MM (rounded) | Price per Sheet |
| --- | --- | --- |
| 1/4" | 6 | $15 - $20 |
| 7/16" | 11 | $20 - $25 |
| 1/2" | 13 | $21 - $28 |
| 23/32" | 18 | $26 - $32 |
| Sterling | Plywood |
| --- | --- |
| Used in OSB siding | Used in T1-11 siding |
| More cost effective | More expensive |
| More consistent density | Potential weak spots when knotholes overlap |
| Heavier | Lighter |
| Holds moisture longer | Dries out more consistently and quickly |
| Potential for warping and swelling after water damage | Typically stays in shape over time |
| Limited options to personalize | A variety of custom finishes, plus staining options |
As described above, the major difference between OSB and T1-11 is the type of wood composite used. The benefits and drawbacks of each option should inform your decision on which type you choose. Given the lower price point, a majority of homeowners are now choosing sterling board as their wood-based exterior finish. However, given the pros and cons of both, a strong case can be made for plywood as well.
Both types require regular maintenance to increase their life span. The materials involved make them especially vulnerable to pests and water damage. Maintenance need depend on whether you choose OSB or plywood:
OSB
Sterling board is exceptionally susceptible to water, which is why weatherproofing is an essential part of maintenance. OSB needs to be primed and painted rather than stained, which helps both appearance and waterproofing. Expect to pay between $700 and $2,000 to paint your wood-based siding.
Weatherproofing also includes making sure that any edges you cut when building or repairing your siding are properly sealed. Finally, it makes sense to add a special weatherproof protection coating to the material, which costs between $30 and $50 per 3-gallon bucket at your local hardware store.
When your sterling OSB board becomes cracked or broken, it's time to think about potential repairs. Remove and replace old boards with new sheets. Depending on the size of the problem, these repairs fall on the lower end of the $600 to $1,400 average cost to repair wood-based siding.
Plywood
Because they are less susceptible to water damage, plywood sheets have a longer lifespan and require less maintenance. In addition to painting, you can also stain the exterior surface, which costs between $600 and $2,500 depending on the size of your home and the painters you hire. Staining allows for more personalization, and provides more protection against water and pests.
Maintenance might also include plugging holes or weak spots created by weather exposure and natural knotholes. This can typically be done as a DIY project for minimal expense, though siding specialists tend to be more thorough to ensure that the problem is fixed for good.
Most T1-11 siding has an average lifespan of 15 to 20 years. You can increase that lifespan by regularly staining and/or painting the exterior, fixing holes in the board before water can penetrate, and installing a gutter system that keeps moisture away from the plywood.
Hiring a Pro for your Siding Installation
Wood-based siding is among the easiest materials to install and maintain yourself. A DIY project is also less expensive than having to hire someone to help. Especially compared to other options like vinyl and aluminum, you might find that you don't need to engage a specialized contractor to get the work done.
However, hiring a qualified professional always makes sense. Your home's exterior walls are the first barrier against the natural environment; when installed incorrectly or not maintained properly, they can lead to water and pest damage down the road.
The key, of course, is finding a contractor you can rely on to get the job done right. Search for siding installers and repair services in your area to find alternatives, then compare prices and customer reviews to find the perfect professional to work on your home.
Thank you for submitting your feedback.