Long-Distance Movers Cost
Moving out of state costs $4,531 on average, with a typical range of $2,600 and $6,518. The total depends on the size of the load, what you're taking and how far you need to go. Short trips run $700 to $5,000, while larger or longer distances cost $4,000 to $10,000 or more.
Moving long distance is exciting, but it's also pretty labor intensive. Furniture is heavy. Wood and upholstery needs protection from damage, and there is no "easy" way to transport a king-size mattress. As you plan, think about these price factors to help you choose the best service for your needs.
Cost to Move to Another State
Moving to a nearby state costs most homeowners $700 to $5,000. Since price is related to weight and distance, going to a location 200 to 300 miles away may run half as much as driving 1,000 or more miles. In some cases, you might qualify for local estimates.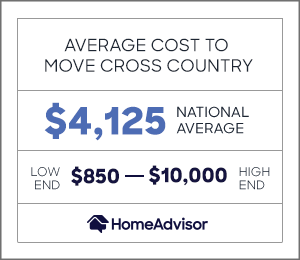 Average Cost of Moving Cross Country
The cost to move across the entire country ranges from $4,000 to $10,000 or more, compared to the cost of moving between states that averages $4,531. The price you pay depends on:
size and number of trucks.
total weight (avg. of 7,500 pounds for a 3 bedroom house).
services you request (packing, unloading).
whether you choose a full service company, truck rental or shipping container.
Costs Vary By Location. Get a Local Moving Estimate.
Return to Top
Long-Distance Moving Estimate by Home Size
Long-distance moving costs $700 to $10,000, depending on the size of your home.
Moving Costs by Home Size

| Bedrooms | Price |
| --- | --- |
| 1 | $700-$3,000 |
| 2 | $2,000-$7,000 |
| 3+ | $4,000-$10,000+ |
If you're planning a long-distance move of more than 400 miles, you'll need to choose a type of service for the trip.
Long Distance Moving Service Costs

| | |
| --- | --- |
| Full Service Movers | $4,000-$10,000+ |
| Truck Rental | $1,200-$2,100 |
| Shipping Container | $700-$5,000 |
Full service moving companies charge the most because they handle loading, unloading and transport. Renting a truck or a shipping container run less because you're responsible for packing and loading.
Cross Country Movers Cost
Hiring full service movers costs $4,000 to $10,000 or more, depending on the distance and the services you want. Popular companies include:
Allied
Atlas
Mayflower
North American
Old Dominion
When you hire a moving company for an interstate trip, they usually send a consultant to your house to:
evaluate the size of the truck you'll need
estimate total weight for the load
talk to you about extra insurance for your belongings
At the end of the consult, you'll get a detailed estimate.
Cross Country Moving Truck Rental Costs
Renting a truck to move cross country costs $1,200 to $2,100. A 10-foot vehicle runs $1,200 to $1,400, while a 26-foot one ranges from $1,900 to $2,100.
Truck Rental Costs by Company

| Rental Company | Price for 5-day rental & 1,250 miles |
| --- | --- |
| U-Haul | $1,300-$2,100 |
| Penske | $1,400-$2,000 |
| Budget | $1,200-$1,900 |
This estimate includes the vehicle and mileage. If you need to tow a car, you'll pay an additional $1,300 to $1,800. You will also need to confirm that the truck has the proper equipment.
Remember that these costs do not include loading or unloading. If you hire movers to get the truck ready, you'll pay an additional $400 to $1,600, or $60 to $120 per hour for the service.
Shipping Container Costs
Renting a shipping container and transporting it for your move costs $700 to $5,000. The price depends on how many units you need, and how far you plan to go. Most homes use 1 to 3 units.
Shipping Container Costs by Brand

| | |
| --- | --- |
| PODS | $1,000-$3,600 |
| 1-800-Pack-Rat | Costs vary by location |
| U-Pack | $700-$5,000 |
Container companies drop a portable storage unit at your house and let you pack it at your leisure. On a specified date, they pick it up and deliver it to your destination for you to unload.
Cost to Ship Furniture Across Country
Shipping furniture across the country costs $300 to $800 per piece. For valuable belongings that you're not transporting personally, you may want to add insurance. This runs about 1 percent of the item's value.
Long-Distance Moving Tips
Moving long-distance takes several weeks to prepare. Follow this checklist for an easier time:
8 weeks: Collect and organize paperwork.
7 weeks: Gather packing materials.
6 weeks: Notify schools and request medical records.
5 weeks: Schedule the move.
4 weeks: Start packing non-essentials.
3 weeks: Call to schedule services at your new home.
2 weeks: Begin packing everything except the basic essentials.
1 week: Confirm with the moving company.
1 day: Clean house, keeping important items and moving documents handy.
Moving Day: Be ready for the pros to arrive.
Questions to Ask When Moving
Will the standard insurance cover the value of my possessions?
Is this estimate guaranteed, or can the final price run higher?
Will my goods remain on the same truck, or transfer?
Does the estimate include all charges?
Which forms of payment do you accept?
Who do I contact, the mover or the broker?
What is the process for making a claim if something is damaged?
Moving Dos and Don'ts
Declutter and downsize as you pack.
Number the boxes and label what's in them.
Don't ship your pets.
Service your car a week in advance.
Perform a thorough walk through of your old home before you leave.
Keep your gas tank above 1/3 full.
Reserve lodging at least a few hours before you stop.
Don't leave your valuables in your car overnight.
FAQs
How much money should I save to move out of state?
In addition to the $2,100 to $5,700 to move a house, you may need to pay these costs:
Packing Supplies: $100-$350
Car Registration: $15-$300
New Driver's License: $10-$100
Professional packing and unpacking costs $370 to $3,600 for labor in addition to materials. If you're hiring a pro just to pack, you'll pay $270 to $2,200.
What is considered a long-distance move?
Most professionals consider 400 or more miles to be a long-distance trip.
What is the best way to move out of state?
The best way to move out of state depends on your budget and interest level. If you're willing to put in time and physical labor, you may save $1,000 to $5,000 by renting a truck and doing your own packing and loading.
How much does it cost to move to another state?
Interstate moves cost $700 to $10,000 or more, depending on the weight and distance.
What do I need to do when moving to a new state?
Moving to a new state takes about two months to plan. Using this checklist can help.
How can I ship a few pieces of furniture?
You can ship a few pieces of furniture through a freight line like Old Dominion. This costs $300 to $800 per piece.
How much does shipping a car cross country cost?
Shipping a car costs $500 to $1,500, or $1,000 on average.
How much does it cost to ship a motorcycle?
The cost to ship a motorcycle ranges from $400 to $600.
Thank you for submitting your feedback.