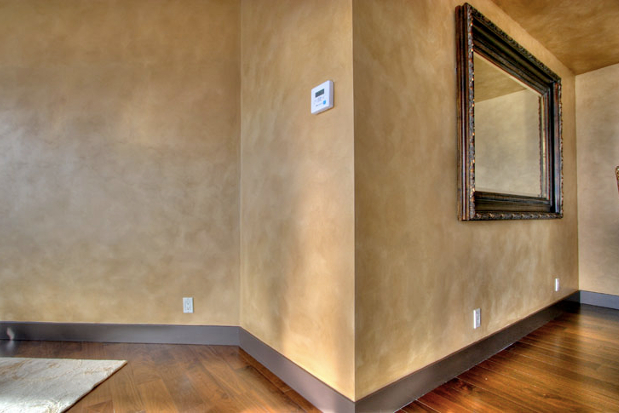 Faux painting originally referred to painting surfaces, including walls, furniture, floors, countertops and trim, to look like something else. Plaster columns were often painted to look like marble, new furniture was "antiqued," "distressed" or "crackled" to look old, a wood grain was painted on new trim and molding to match existing doors.
However, the term now describes other decorative and special paint finishes as well as techniques that resemble wallpaper such as glazing, sponging, ragging, and freehand or masked stripes. One major advantage is that it's much easier and less expensive to redecorate with a new coat of paint than to remove wallpaper.
Glazing is a technique of mixing a water- or oil-based paint with water or solvent and a special glazing compound, then applying and wiping it away in layers to create certain effects. Sponging and ragging refer to other methods used to apply paint.
Although many illusions can be achieved with faux finishing techniques on flat surfaces, textured products can create three dimensional effects. Textured paints containing solid materials like silica can make walls look like suede. Products applied in layers to walls, fireplaces, ceilings and
furniture can look and feel like real stone, crumbling masonry, peeling paint, fossils embedded in walls, etc.
New synthetic products developed to imitate old-fashioned colored or white plasters can be applied smooth or hand-troweled into different patterns and styles. Frescos can be created by applying art to canvas or directly on a wall, then layering with plaster. Some products and techniques can even be used outdoors.
Preparation of the surface to be painted is very important; some effects can't be achieved on a textured wall, for example. The specialty painter should consult with the builder and/or traditional painter on a new construction project to properly prepare new walls or other surface and for project scheduling.
In older homes, consumers may need to repaint their walls or have their walls skim-coated with a layer of drywall compound to smooth them before the specialty painter arrives.
Faux painters charge by the square foot, depending on the products and amount of labor needed to create an effect, but usually need to see project to bid it. Prices usually range $1.35 – $4 per square foot for most projects, though some specialty products and techniques can cost as much as $5 – $10 per square foot. Painters usually have a minimum fee for small projects.
No Comments Yet