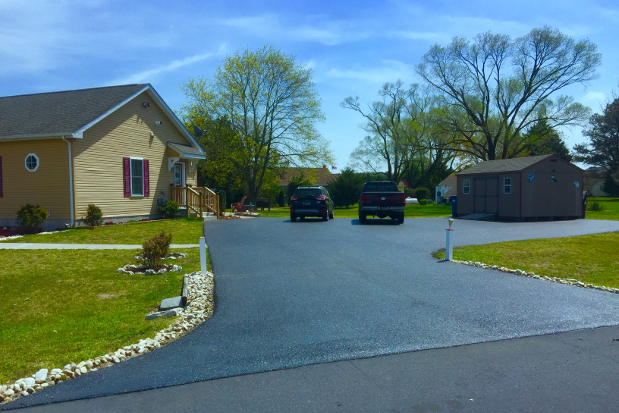 Asphalt is an excellent option if you're looking for a long lasting, functional driveway. It's cheaper than concrete, resists frost heaves and cracking better than concrete, is less prone to damage from salts and ice melt, and it cures quicker, meaning you can use your driveway sooner after installation. About the only downside of asphalt is maintenance. In order to ensure the longest life possible, you'll need to re-seal your driveway on a regular basis.
Getting Started
Preparation for how to pave a driveway is really rather easy, depending on the current state of your drive. If it's in good shape, you might be able to install directly over the present concrete. If your concrete is in bad shape, you'll probably want to tear it out before you lay your new drive. In that case, you have two options. The first is to apply the asphalt directly to the soil base, or you can bring in a gravel base to serve as a foundation. Generally the latter is better, as it cuts down on the amount of asphalt you'll have to purchase, and enhances the durability of paving, one of its best qualities. When budgeting for the project and determining the price of asphalt per ton needed for your drive, consider consulting our Asphalt Paving Cost Guide.
Ready to start your
Asphalt Paving Project

?Find Pros
Laying Down the Tar
Once your base has been applied, the next step is applying the asphalt. You'll need optimal conditions before you begin—asphalt needs an outdoor temperature of 40 to 70 degrees depending on thickness, in order for a successful installation. And if it's raining, you can count on postponing the job. You'll also need to hire an asphalt contractor for this part of the job if you haven't already. Hot mix-asphalt is a mix of liquefied asphalt, stone, and sand. That asphalt has to be heated to around 300 degrees before application, and the necessary equipment is something that only professionals have at their fingertips. Once the project begins, however, it moves along pretty fast. 30 minutes to an hour, tops, depending on the size of your project.
Once the Asphalt is Down
Your asphalt is going to need some time to cool down and harden before it's ready to use, probably in the neighborhood of 24-48 hours before you can drive on it. After that, however, you're good to go. You won't want to seal your driveway for 6-9 months after installation. An asphalt paving installation needs time to cure. If you jump the gun, your asphalt will be too flexible and will show wear and tear much quicker than if you sit on the porch whittling and twiddling your thumbs. After 6-9 months, however, it's imperative that you seal your driveway and that you perform regular resealing every 5 or so years to maximize the life of your product.
If you're interested in an asphalt paving installation project, contact an asphalt contractor in order to get your project underway. You'll end up with an attractive, easy to maintain, long lasting driveway for years to come.
Ready to start your
Asphalt Paving Project

?Find Pros
1 Comments