Reviewed & Approved on September 28, 2020 by Cati O'Keefe, Expert Home Building & Sustainability Contributor.
Written by HomeAdvisor.
New Driveway Cost
The cost to put in a new driveway averages $4,474, with a typical range between $2,403 and $6,554. For most types, you can expect to pay $2 to $15 per square foot for materials and installation.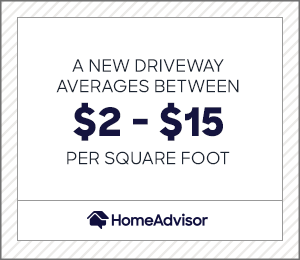 Driveway prices depend mostly on the material, which ranges from $1 to $50 per square foot, and the dimensions of the area. Concrete averages $3,000, compared to $4,600 for asphalt.
Other cost factors, like the condition of the land or wheater it is a replacement of your existing driveway, can impact the total. Keep these aspects in mind as you research your options.
On This Page:
Thank you for submitting your feedback.