Asphalt Driveway Paving Cost
Paving an asphalt driveway costs $4,557 on average, with a typical range between $2,856 and $6,310. This project runs $7 to $13 per square foot, including $2 to $6 per square foot for materials and $5 to $7 per square foot for labor. If you need replacement, you'll pay $8 to $15 per square foot. Although driveways are the most common use of asphalt in the home, other applications include:
Sidewalk/Walkway: $2,100 to $6,500
Backyard Blacktop: $3,500 to $32,500
Private Road: $84,000 to $468,000
Asphalt paving offers a convenient and safe driving or walking surface with minimal upkeep. Since this job requires a lot of special equipment and heavy lifting, it's best done by a professional. Consider these prices on common projects as you research.
On This Page:
Cost to Pave a Driveway
Paving a driveway ranges from $4,200 to $7,800. This assumes that you're placing new asphalt on an average size of 600 square feet.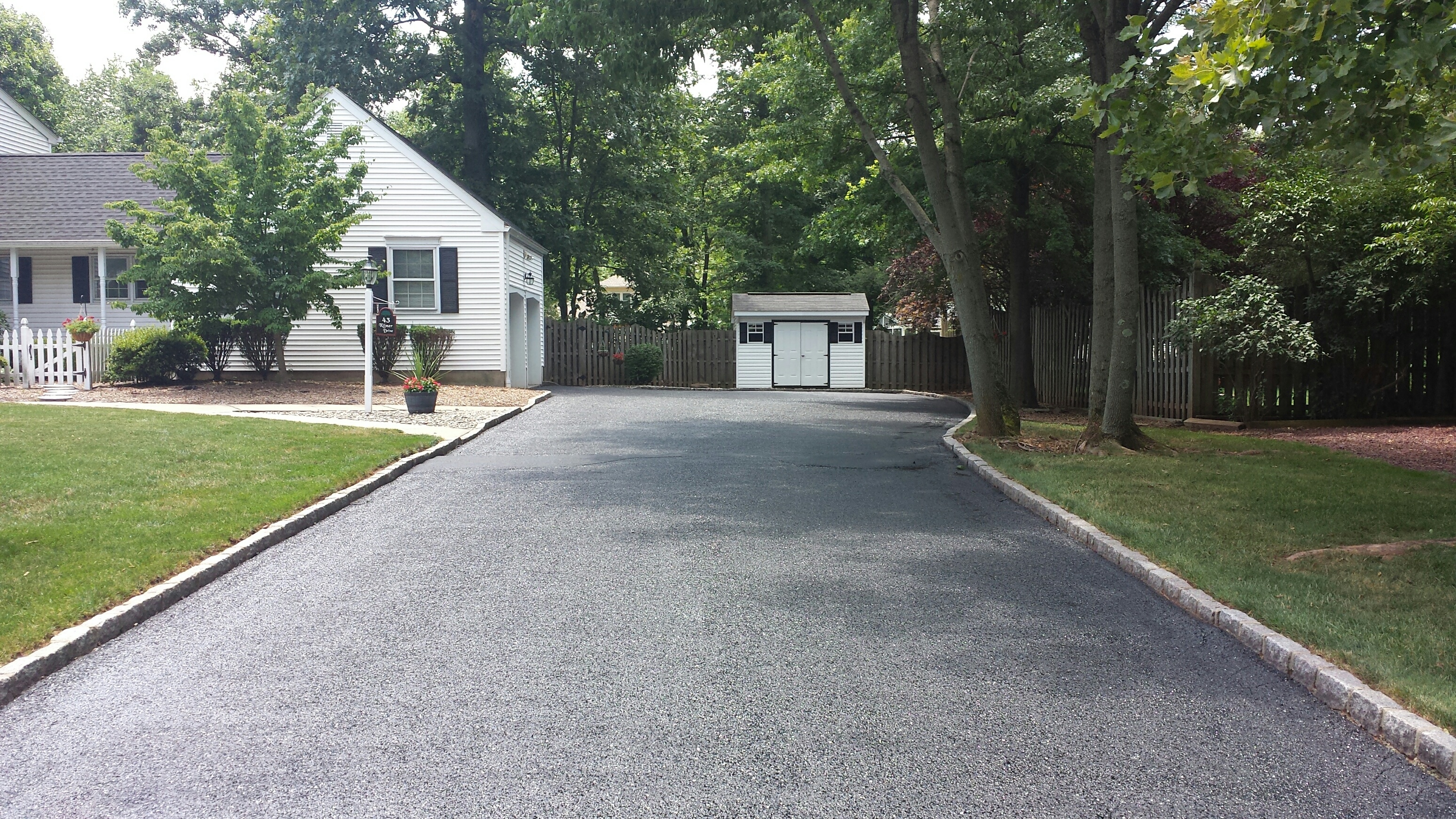 Photo courtesy of Productive Asphalt Paving in Ringoes, NJ
Asphalt Paving Cost Per Square Foot
| | |
| --- | --- |
| Asphalt | $1-$5 |
| Gravel | $0.50-$1 |
| Installation | $5-$7 |
| Total | $7-$13 |
Asphalt paving costs $7 to $13 per square foot. You'll pay $2 to $6 per square foot for new materials and $5 to $7 per square foot for installation. New Driveway Paving Cost Paving a new asphalt driveway costs $7 to $13 per square foot, including minimal grading services. If you need excavation or you want to add curbs or a sidewalk, you'll pay extra.
"The complexity of the job itself weighs heavily on the price of an asphalt job. It's very inexpensive and easy to come in and do a resurfacing. It becomes an entirely different story if they want to widen a driveway by 1 foot. At this point you need to have an excavator, add stone, haul away debris."
Average Asphalt Costs Per Ton
Most asphalt manufacturers sell new material by the ton, averaging $100 to $200 per ton. One ton usually covers 40 to 80 square feet. The amount you need depends on the thickness of the layers:
2 inches thick: 80 square feet per ton
4 inches thick: 40 square feet per ton
For the average driveway, you'll need 7.5 to 15 tons.
Cold vs. Hot Mix Asphalt Prices Per Ton
Hot mix asphalt costs $100 to $200 per ton. This is the standard type for all-weather surfacing and repairs. Cold mix asphalt costs $10 to $50 per bag, but you can only use it for temporary repairs. Cold mix isn't designed for the whole surface because it lasts for one or two seasons.
Asphalt Cost Per Yard
Asphalt costs $80 to $100 per cubic yard. One ton equals 1.25 to 2 cubic yards, depending on the density of the mixture. Although most sellers set prices by the ton, some use cubic yards for measurement. If you want to calculate how much you'll need, ask about the density.
Pound of Asphalt
A pound of asphalt costs $0.10 to $0.20 per pound. One ton equals 2,000 pounds.
Porous Asphalt Costs Per Square Foot
Porous asphalt costs $8 to $15 per square foot. Since this type is designed to minimize runoff, you may not need to pay as much for leveling and grading prior to installation. This type of asphalt requires an additional layer of crushed stone that allows for better drainage. It results in a surface that soaks up water instead of running it to the gutter.
Recycled or Reclaimed Asphalt
Recycled or reclaimed asphalt costs $10 to $20 per ton, compared to $100 to $200 per ton for new. This can save you $675 to $1,350 on materials for a driveway, if it's available in your area. If you're replacing existing asphalt, ask your installer if they can mill the old material onsite. This can cut down on transporting supplies.
Gravel
Rock base costs $0.50 to $1 per square foot. You'll need it to provide a layer between the soil and the asphalt.
Compare Driveway Paving Quotes from Local Pros
Other Asphalt Pavement Costs
| | |
| --- | --- |
| Driveway | $2,900-$6,400 |
| Private Road | $84,000-$468,000 |
| Parking Lot | $21,000-$39,000 |
| Curbing | $1,000-$1,700 |
| Path | $1,750 to $3,750 |
| Sidewalk/Walkway | $2,100-$6,500 |
| Playgrounds | $3,500-$32,500 |
| Game Court | $3,500-$6,500 |
Cost to Build an Asphalt Private Road
Building an asphalt private road costs $210 to $390 per linear foot. This range assumes an average two-lane road that is 30 feet wide.
| Length | Square Footage | Price |
| --- | --- | --- |
| 400 feet | 12,000 | $84,000-$156,000 |
| 800 feet | 24,000 | $168,000-$312,000 |
| 1,200 feet | 36,000 | $252,000-$468,000 |
Parking Lot
Paving an asphalt parking lot costs $2,100 to $3,900 per space. For example, a 10-space parking lot ranges from $21,000 to $39,000.
Asphalt Curbing
Asphalt curbing costs $975 to $1,625. At $13 per square foot, curbs run more because of extra labor and a higher average thickness for the material. The width of the average residential lot is 75 to 125 feet.
Asphalt Path
Paving a 100-foot asphalt path costs $1,750 to $3,250. The average pathway is about 30 inches wide. Designs with complicated curves increase the total because they add to the square footage.
Sidewalk or Walkway
An asphalt sidewalk or walkway ranges from $2,100 to $6,500, or $28 to $52 per linear foot. The average width is 48 inches. For a typical lot, you'll need 75 to 125 linear feet or 300 to 500 square feet of sidewalk.
Backyard Pavement for Playgrounds & Game Courts
Backyard pavement costs $7 to $13 per square foot, with wide ranges depending on size. The average game court is 500 square feet, which translates into a price of $3,500 to $6,500. Playgrounds can be 500 to 2,500 square feet, so they run $3,500 to $32,500.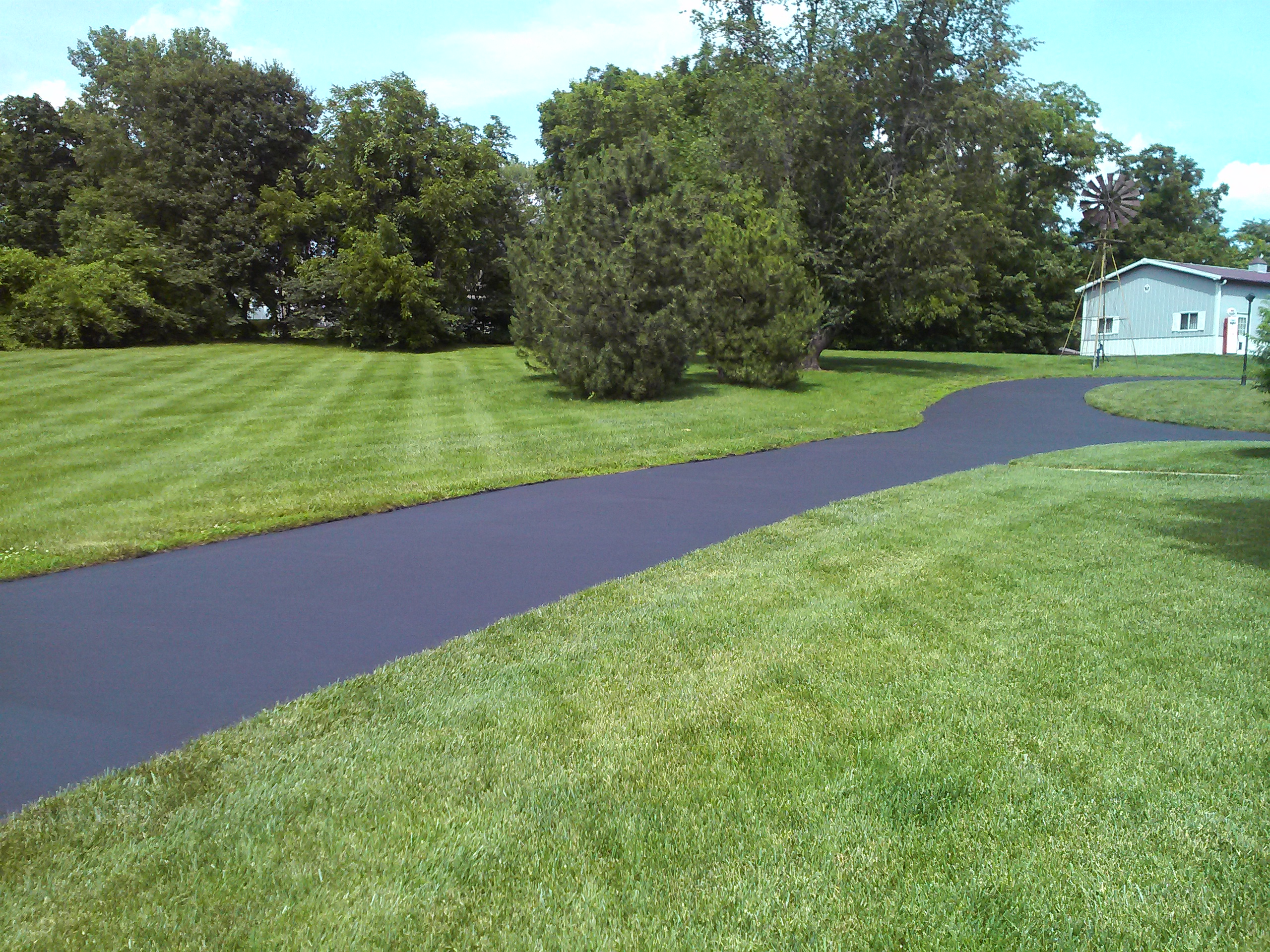 Photo courtesy of J & M Pavement Maintenance in Kansas City, MO
Average Cost to Repave Asphalt
| | |
| --- | --- |
| Overlay | $3-$7 per square foot |
| Removal | $1-$2 per square foot |
| Replacement | $8-$15 per square foot |
Repaving asphalt costs $3 to $15 per square foot, depending on the project. The right approach for your home depends on what you have now and its current condition.
Asphalt Overlay Cost
Asphalt overlay costs $3 to $7 per square foot for standard materials. This project, often called a "top coat," runs less because it involves a thinner layer on top of an existing surface. Asphalt sealant costs about $500, and should be done at least 6 months after the top coat. It provides a layer of protection, to minimize cracking or shifting.
Cost to Remove Asphalt
Removing asphalt costs $1 to $2 per square foot. If you're replacing with the same, ask if the company can compact and reuse the existing material.
Cost to Lay Asphalt Over Concrete Driveway
Laying asphalt over a concrete driveway costs $3 to $7 per square foot. Although this is a common job, you'll need to maintain it more frequently, at least once a year. Plan to inspect regularly for cracks, especially around the concrete's expansion joints. Concrete repair costs $1,350 on average. Most homes require this additional step before they can do this project.
Asphalt Driveway Replacement vs. Resurfacing
Asphalt resurfacing costs $3 to $7 per square foot compared to $8 to $15 per square foot for replacing. The ideal choice depends on the condition of your existing driveway. If your driveway is in relatively good condition with no potholes, resurfacing can save you $5 to $8 per square foot. If it's more than 15 years old or in poor shape, replacement is usually the better bet. Asphalt repair costs $1,000 to $3,500. This project is best for a top coat that is less than 10 years old with minimal cracks.
Get the Best Price and Pro for Your Driveway Paving Project
Blacktop Driveway or Pavement Installation Cost Factors
The average price for asphalt installation is $7 to $13 per square foot, but there are additional factors that may affect the total:
Location on Property: Backyard installations may take longer to haul
Regional Variations: Prices depend on fuel expenses and local averages
Excavation/Grading: Steep driveways may cost more to prepare
Excavating land costs $1,500 to $5,100, depending on the number of cubic feet you need moved.
Cost to Install Stamped or Colored Asphalt
Stamped or colored asphalt costs $12 to $17 per square foot for the entire surface. If you only need the top coat, you'll pay $5 to $10 per square foot. Asphalt in a unique shape or color adds interest to your property. In most cases, you'll want to seal it to keep it in good condition for longer.
Heated Driveway Costs
A heated driveway costs $12 to $25 per square foot, depending on whether it's new or a replacement. For the average home, you'll pay $7,200 to $15,000.
Asphalt Paving Costs Near You
| | |
| --- | --- |
| CA | $3,300-$11,200 |
| CT | $4,800-$10,300 |
| FL | $2,800-$5,400 |
| MN | $3,400-$6,300 |
| NJ | $2,900-$6,300 |
| TX | $4,200-$10,600 |
Let a Professional Pave Your Driveway
DIY Asphalt Driveway Costs vs. Hiring a Pro
It can be tempting to save $5 to $7 per square foot on labor, but you really need to hire a professional asphalt installer near you. You may be able to rent a roller to compact the soil and rocks or a jackhammer to remove the old driveway, but this work is physically demanding. If you get it wrong, the surface may only last for a year or two. By comparison, a pro can do a quality job that's complete within a few days. As you consider your options, remember to:
take pictures of your existing driveway, if you have one
estimate the total square footage
request onsite estimates from at least three companies
"The biggest problem with some of these companies is they're subbing the work out to other contractors and these other contractors don't stand behind their work, so the homeowner is stuck between the company that sold it to them and the subcontractor... You want to deal with a company that lays their own asphalt."
FAQs
Is asphalt cheaper than concrete?
Concrete driveways cost $3 to $18 per square foot, a broader range than asphalt's $7 to $13 per square foot. Unless you buy the cheapest materials, you'll probably pay more for concrete.
Is 2 inches of asphalt enough for a driveway?
You'll need at least 2 inches of asphalt for a driveway. Most homes have 2 to 6 inches.
How long does asphalt driveway last?
An asphalt driveway lasts 15 to 20 years with maintenance every 3 to 5 years. If you live in a mild climate, it may remain in good condition longer.
Which is better concrete or asphalt driveway?
Asphalt is the most common driveway surface, and it is the easiest to maintain. Many homeowners prefer concrete for its 30 to 40-year lifespan, as well as the additional color and design options.
How much does a recycled asphalt driveway cost per square foot?
A recycled asphalt driveway costs $6 to $9 per square foot.
How much does it cost to pave a 200-foot driveway?
Installing asphalt on a 200-square-foot driveway costs $1,400 to $2,600.
How much does it cost to build a road per mile?
Building a road costs $210 to $390 per linear foot, assuming a 30-foot width. One mile of road ranges from $1,110,000 to $2,060,000.
Have More Questions About Driveway Paving?
Thank you for submitting your feedback.