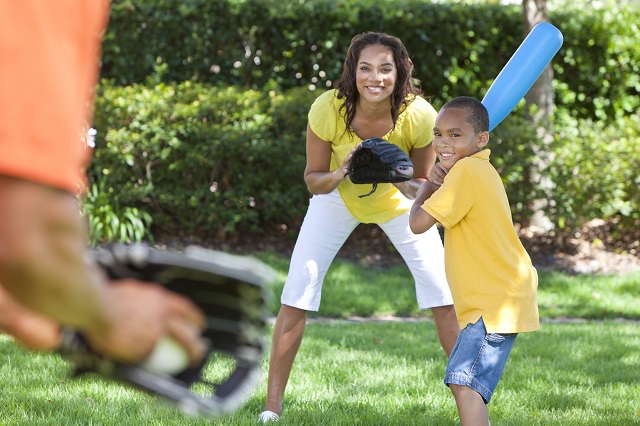 When it comes to backyard sports fields, a baseball field is typically one of the easiest and least expensive to build.
As long as you have the space and are willing to put in the work, a basic backyard baseball field could cost you as little as a few hundred dollars and several hours of your time.
Here is everything you need to know about budgeting for your very own "field of dreams."
The Playing Field
A full-size baseball field measures 330 feet from home plate to the home run fence along the foul lines; and 400 feet from home plate to the center of the home run fence.
The diamond itself is a 90-foot square. You also need room behind home plate and outside the lines for foul territory. If you don't have room for a full-size field, you can certainly modify the layout to fit your needs.
Leveling
From a budget perspective, the larger the field, the more expensive it will be to prep and maintain. First comes leveling the playing field — literally. Level ground is important to your players' safety as well as ensuring it drains properly, you can  find local leveling experts to help.
You can do the project yourself, but it requires a lot of labor and potentially some heavy equipment. Most excavators charge between $0.20 and $0.30 per square foot to reslope a lawn.
Exactly how much it will cost you will depend on several factors, including the size of the property, the slope of the land, and the presence of trees, roots, or other hazards that need to be removed.
Outfield
The price of grass seed will vary depending on how much you need and which brand you purchase.
For an outfield 1,000 square feet or under, plan to spend between $90 and $170 for a DIY seeding job.
If you plan to add grass, the cost to install sod varies and you'll have to budget between $0.90 and $2 per square foot, plus $45 to $75 an hour for professional installation.
Infield
For the infield, you'll need to dig up the grass and replace it with fill dirt or clay.
The cost of screened topsoil will average around $20 per cubic yard, not including delivery.
Clay is more expensive at $35 to $40 per cubic yard, but it will resist weed growth better than soil. This could potentially reduce your maintenance time and costs down the line.
To build the pitcher's mound, you'll need an additional three to four cubic yards of soil or clay in an 18-foot circle in the center of the infield.
Optional Features
While a patch of land is really all you need to play ball, there are plenty of optional features that can take your backyard baseball diamond to the next level.
Of course, they will also increase the amount of money that you invest.
Fencing, lighting and seating are three things you can add to make your field look more professional and have a real ballpark feel.
Fencing
Installing a fence around the outfield will give your batters something to aim for, while installing one behind home plate will protect your home, vehicles, or other structures from foul balls and wild pitches.
Depending on your budget, your options range from inexpensive snow fencing you stake up yourself to chain-link or composite privacy fencing installed by a professional.
The cost of fencing typically ranges from $5 to $45 per linear foot, but a local fence installation pro can provide a quote based on your exact needs.
Lighting
Lighting will allow you to keep playing those extra innings after dark. Stadium-style lighting will require the installation of wooden posts, which you may be able to do yourself.
Electrical work is not a DIY task, though, so plan to hire a local electrician to help you plan and install everything.
Seating
Baseball is not a short game. Dugouts and grandstands are certainly optional, but you will definitely want a place for players and fans to sit during those nine (or more) innings. Tree stumps and camp chairs won't cost you much, but they aren't very comfortable, either.
If you want a more permanent, professional solution, consider budgeting for aluminum benches and retractable bleachers. You can also install awnings for less than $1,000 each to protect players and fans from the sun.
The investment required to build your own backyard baseball diamond varies greatly depending on the size, materials, and amenities you desire. No matter what options you choose, you'll have a place to practice America's favorite pastime.
All that's left to do now is grab your peanuts, Cracker Jacks and baseball bats, play ball!
No Comments Yet