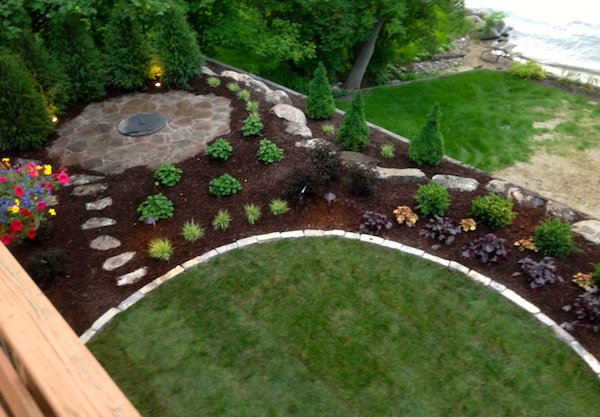 Much like a living room is for public entertaining and a bedroom is your quiet and private domain, your front yard and backyard will often serve different purposes of outdoor landscaping. The front of your house is more public. You want passers-by to stop, roll down their windows, and say to themselves, "That's the house I want." Your backyard is your personal outdoor oasis.
Backyard Landscaping Installations
You may hear about backyard installations that have better or worse value return. A costly gazebo or storage shed may not have the same installation cost-to-property value ratio as a moderately priced pond or swimming pool. Your first question when deciding what backyard landscaping project to undertake should always be your lifestyle.
If you long for afternoon barbecues, a deck is probably where you should start. If you prefer quiet, evening dining, a patio is probably the better bet. If you're an avid reader who finds the outdoors relaxing, a pond/waterfall combination may be ideal. A swimming pool can be a good installation that both you and your children can enjoy. Don't go for projects that seem trendy, unless you're sure it fits your lifestyle and/or you plan on selling your home in the next few years.
Planning for the future can mean more than just spending more on your installation project or getting the most bang for your buck. A common example of this is an above ground swimming pool installation. If you have children, they may bug you to put in a swimming pool. Spending more on this swimming pool may increase its lifetime by an extra ten years. It may seem like a good idea at the time, but once the kids leave the nest, your priorities may change.
You could invest that extra money and in ten years use that money to replace the swimming pool. An above ground swimming pool is one of the easiest installations to replace. Digging the foundation for the swimming pool is also natural ground preparation for a garden or patio.
Ready to start your
backyard landscaping

?Find Pros
Backyard Landscaping Care and Maintenance
General landscaping care and maintenance can be more about getting the most for your money. Planting or removing trees or other plants can provide many options and several of them can save you money and still achieve similar effects. Existing topsoil can often be revitalized in a relatively short amount of time at a significantly cheaper price. The most important thing is to ask a lot of questions before you make any actual plans. Talking to a landscaping professional about what you want for your backyard landscaping can be invaluable for both quality and cost. Be sure to ask what your options are and make sure you can justify each decision to yourself.
When hiring a lawn service company, it's important to find a reputable company, but it's also a good idea to get quotes from several companies. To save on operating costs, these companies tend to bundle their services into packages. Different companies may have different packages. Finding the right fit for your specific lawn needs can help you make the best choice.
Ready to start your
backyard landscaping

?Find Pros
No Comments Yet