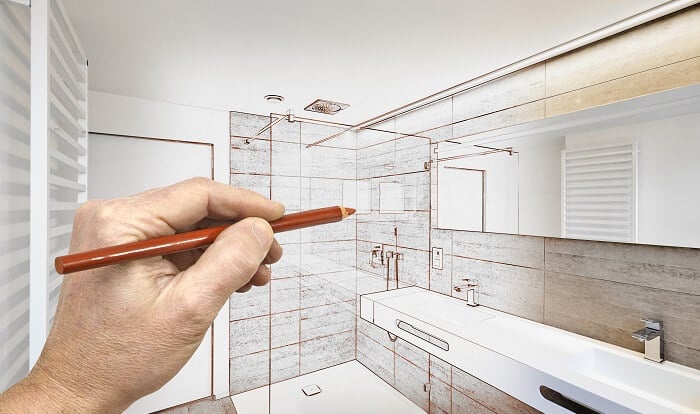 Before proceeding with a bathroom remodel, it can be very helpful to have a bathroom remodeling checklist on hand for reference. These step by step instructions can be a great way to keep your project on track and on time. Your basic bathroom remodeling checklist should include:
1. Get Your Design Set
Before you start contacting professional bathroom remodeling companies, it's important to take some time and figure out exactly what you want your bathroom to look like once it's complete. You should never just "wing it" with your bathroom design. Before undertaking a big project like this, it's always a good idea to do a little brainstorming and come up with some concrete ideas that you can communicate to whoever you end up hiring. Having a good idea of what you want, and being able to communicate that to a bathroom remodeling professional will also help you find and choose a contractor that can best suit your needs. You should always have a fairly solid design scheme laid out before you consider moving forward with anything else. To make things easier:
Try to find pictures of remodeled bathrooms to get ideas
Read remodeling magazines to learn about new trends and styles
Find color swatches to give yourself a good idea of how a color will feel in your bathroom
2. Figure Out What Contractors You Need
With a bathroom remodel, there are a lot of jobs that require the skills of a trained professional. Your bathroom remodeling checklist should include a list of contractors that you think you'll need to hire. These will generally be contractors with specialized experience. Having a good of the extent of your bathroom remodel will help determine how many different experts you might need – for example, custom cabinets, tearing a wall down, new plumbing, electrical, etc.
Hiring specialty contractors may seem like a way to increase your costs, but it's actually quite the opposite. You will actually be saving yourself quite a lot of money in the long-term when you hire these professionals. This is because the work they do will often last much longer than any DIY work done by an inexperienced person. Also, the potential damage that can be caused by faulty plumbing, and electrical work is simply not worth the financial risk.
3. Find Out if You Need Permits
You may not have to worry about getting permits if you are doing a small-scale bathroom remodel. However, other large-scale projects could potentially require you to get building permits or other permits. These permits can be obtained through your local government offices.
If you get electrical work done, then you may be required to hire an independently certified inspection contractor to look it over. Many local governments have laws that require electrical wiring to be inspected as a public safety measure.
4. Set Your Budget
The budget is one of the most important parts of your step by step bathroom remodel checklist. Without a proper budget planned out, it can be very easy to spend way too much money on your bathroom remodel. The budget should always be in the forefront of your thoughts whenever you make decisions on your remodel.
Some important things to factor into your final budget:
Cost of building materials and supplies
Labor costs of any contractors or other workers you hire
Cost of any permits you have to get
Cost of lost income if you have to take off of work for a day or two to finish the project
Inspection costs if they are required by your local government
5. Secure Financing
When you have your budget put together, your next step is to find financing. This financing can be attained through a number of different routes. Most people go through their local bank when they need to find money to help finance a bathroom remodel. If you go through a bank, try to get a loan for 20 per cent more than your budget calls for. This will help provide a financial buffer for you in case significant issues arise during the remodel.
No Comments Yet