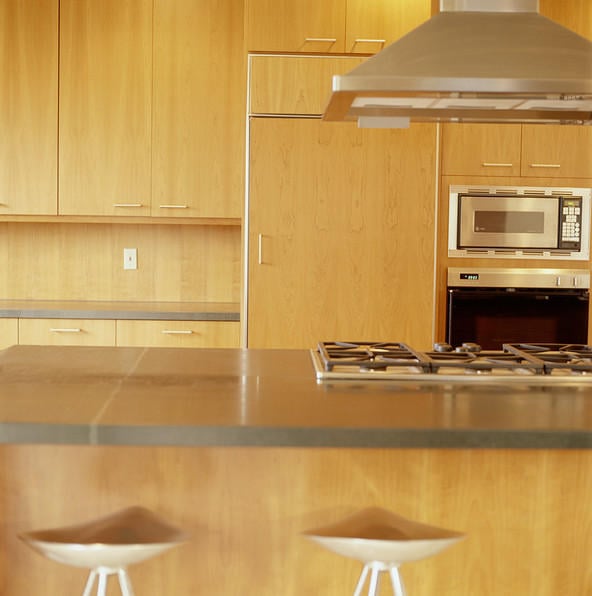 Pressure-treated wood is wood that has been infused with chemical preservatives to protect the wood from rot and insects. The wood is placed in a depressurized holding tank that removes the air and replaces it with a preservative. The most important thing to understand about this pressure treatment is that the process is, by far, the best way to avoid harmful rot and insects, but does not prevent weathering and corrosion.
What Chemicals Are Used?
For the longest time, chromated copper arsenic (CCA) was the preservative used in treating wood. The extremely toxic nature of the chemical caught the attention of the EPA who then began strict oversight of the practices of the companies that used CCA. While opinions continue to differ over the exact danger that CCA poses, existing wood that has been treated with the old preservative is generally considered to be safe, especially when the homeowner takes the recommended precaution of applying a penetrating oil finish every few years. In 2003, the lumber industry responded to negative publicity by voluntarily stopping the production of residential CCA. (It is still the most effective chemical preservative and is used in many commercial and industrial projects.)
Additional Treatments
While older pressure-treated wood must be periodically treated with a sealant to lock in the dangerous arsenic chemicals, newer pressure-treated must also be coated with sealant to protect the wood from weathering and corrosion. The best way to think about this issue is that pressure-treatment protects the wood from internal decay, while sealant protects the wood from external damage. Sealant also prevents the wood from drying to fast which will cause excessive warping. Pressure-treated wood can also be painted or stained, but the wood must first be allowed to dry for one to two months to enable proper adhesion.
Fasteners, Connectors, and Retention: Why You Should Hire a Service Professional
If you've already looked into pressure-treated wood for your next project, you may have heard of fasteners and connectors. Fasteners is an umbrella term used for any nail, screw, bolt, or anchor that holds the different pieces of wood together. Connectors is a similar term used for any manufactured device that serves the same purpose. Most often fasteners and connectors are used in conjunction to complete the construction of a wood project.
Retention rates refer to the amount of chemical preservative that adheres to the wood during the treatment process. The rates can vary widely and should be tailored to your specific project. Per cubic foot of wood, preservatives should exist in the amounts of .25 lbs. for above ground projects, .40 lbs. for projects with ground contact, and .60 lbs. for wood foundations.
While standard retention rates are recommended for different types of projects, these rates can still be affected by your local environment and climate conditions. The type of fasteners and connectors you should use are also directly affected by these climatic factors and often relate to both the retention rate of the preservative and the specific chemical used in the wood. Thus, even if you feel capable of installing your own project, consulting a local service professional is vital to avoid common mistakes in wood selection and construction.
Where to Use Pressure-Treated Wood
While many homeowners wonder if they should use pressure-treated wood for a specific project, the answer is simple. Wood for any outdoor project should be pressure-treated; wood for indoor projects should be left as is. The sawdust from pressure-treated wood is an irritant to the eyes, skin, and nose. Some low level leaching (the chemical preservative leaking from the wood) can also be a problem with indoor projects. Plus, a proper selection of the wood species should provide you with all the rot and insect protection you need for your indoor projects. On the other hand, this pressure treatment is essential to your outdoor projects and can add almost two decades worth of life to your project.
7 Comments