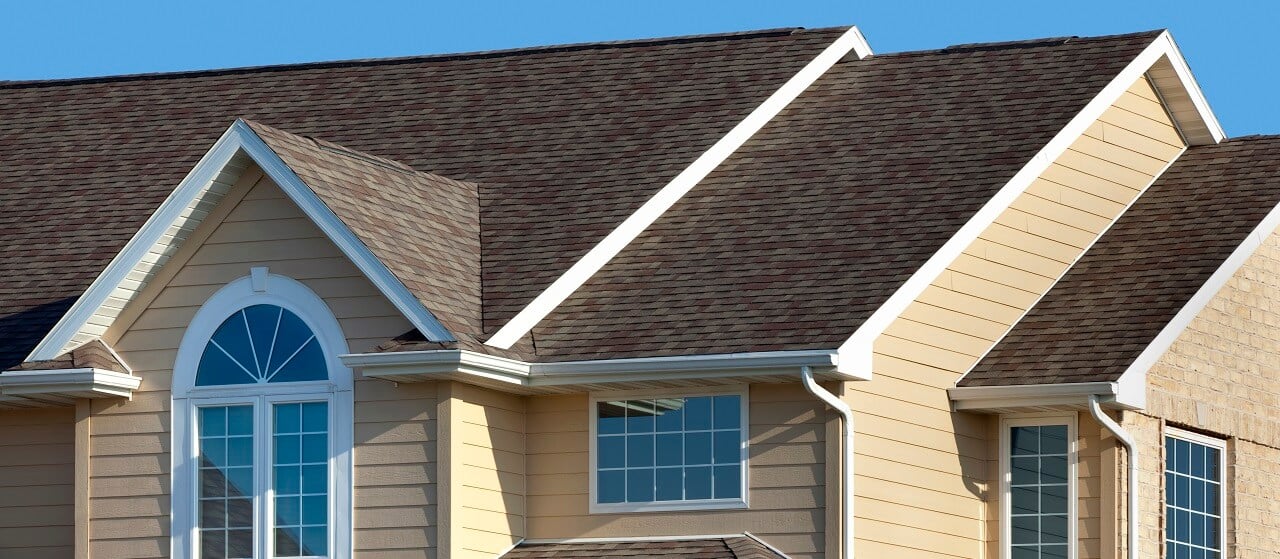 Asphalt shingles make up 70% of all roofs out there. You're probably reading this because it's an option you're considering for your home. Because of its popularity, it's easy to find quality materials and experienced installers. Also because of its popularity, you've got plenty of options to explore before making a purchase.
Although your roof may have organic shingles, all currently produced asphalt shingles use the same basic structure: fiberglass matting with an asphalt binding and embedded granuals and some type of backing. You'll often find the two terms – fiberglass and asphalt – used interchangeably, but they're essentially the same thing.
Building a new roof is a substantial undertaking. This guide will help you find the shingle type, style and color that best suits your house.
On This Page:
How to Choose the Best Asphalt Shingles
To choose the best asphalt shingles for your home, you'll need to take into consideration a few factors, including:
Grade and Budget: Choose from 3-tab, dimensional or designer luxury models. Each grade increases the cost to install asphalt shingles, it's quality and the available design options.
Climate: Climate dictates ratings and color. Lighter colors can reflect heat while dark colors are best for colder regions. Choose ratings for wind, fire and hail depending on your weather.
Design and Color: The higher the grade, the more styles and colors you'll get to choose from.
Grades or Types of Asphalt Shingles
Asphalt roof shingles are available in three primary grades:
Best: Premium, luxury or designer shingles. High-end architectural design which mimics slate, tile or shake shingles.
Better: Dimensional roofing shingles. Also known as laminate or architectural shingles. Currently the most installed type. Come in a wide variety of colors, styles and profiles, each designed to fit a range of looks and budgets.
Good: Three-tab asphalt shingles. Also called strip shingles. Most affordable, linear, traditional style. Rapidly declining in popularity and gradually disappearing altogether.
Despite which type you go with, asphalt shingles all have a fiberglass base mat layered with a waterproof, fire resistant and UV protective asphalt and granular coating.
1. Luxury or Designer

Technically a high-end dimensional shingle, luxury asphalt shingles, often called designer or 3D dimensional shingles, represent the top tier of asphalt. They come in a wide range of styles, colors and shapes. They're sometimes made to mimic wood shake, slate or clay.
Pros:
Widest selection of styles and colors
Highest ratings for wind, fire and impact
Lighter than stone or tile
Cons:
Expensive
Heavier than 3-tab or dimensional
Takes longer to install properly than cheaper shingles
At $1,000 per square ($10 per square foot) on average, they represent the highest quality and the most expensive option for your home.
2. Architectural or Dimensional

Also known as laminated, these dimensional shingles make up most new installations. They come with 20- to 50-year warranties.
Pros:
Moderate to high quality
Highest levels of ratings for wind, fire and impact
Wide range of colors for almost any home
Cons:
More expensive than strip shingles (3-tab)
Doesn't mimic slate or shake shingles
Heavier than 3-tab
At $500 per square ($5 per square foot) on average, they're the most common and moderately expensive option for your home.
3. 3-Tab or Strip

Three-tab shingles are thin and inexpensive but have a 20- to 30-year lifespan. They have cutouts running along the bottom edge, which makes it
Pros:
Least expensive option
Quick to install
Cons:
Lowest warranty
Lowest fire, wind and impact ratings
Lasts an average of 20 years
At $100 per square ($1 per square foot) on average, they're the least expensive option and install quickly.
Asphalt Shingle Ratings
Type
Rating
Best Rating Description
Fire
Rated Class A, B, C, Unrated

Class A: highest fire rating. Recommended for wildfire areas.

Wind
ASTM D7158 Class F (best)ASTM D7158 Class H (best)

F: wind resistance of 110 mph
H: uplift resistance of 150 mph

Impact
Rated Class 1 – 4

Higher rating = higher impact resistance
Class 4 recommended for hail areas.
Class A Shingle Fire Rating
Shingles have fire ratings from A to C. Some have no rating. A Class A-rated shingle has the highest fire rating. Local building codes may vary a bit on what's required. If you live in a wildfire prone area, you'll want Class A rated shingles.
Wind Rating
Most asphalt shingles on the market have a wind classification of either Class F or Class H. Class F wind ratings measure wind resistance of at least 110 mph. Class H has an uplift rating of at least 150 mph. Which one you choose depends on where you live. A local, professional roofer can help you decide which is best for your home.
ASTM D3161: The Standard Test Method for Wind Resistance of Steep Slope Roofing Products measures a shingle's ability to withstand wind speeds.
ASTM D7158: The Standard Test Method for Wind Resistance of Sealed Asphalt Shingles (Uplift Force/Uplift Resistance Method).
But what happened to class A through E? They're often ignored, since they're not used on readily available products. Here's the breakdown of the American Society of Testing and Materials (ASTM) wind ratings:
| Wind Resistance | Uplift Resistance |
| --- | --- |
| Class A – 60 mph | Class D – 90 mph |
| Class D – 90 mph | Class G – 120 mph |
| Class F – 110 mph | Class H – 150 mph |
Impact Rating
Impact ratings range from Class 1 to 4. The higher the impact rating, the more impact the shingle can resist. For hail prone areas, you'll want at least a Class 3 or 4.
Best Styles of Asphalt Shingles
Depending on your home's style, the roof may account for as much as 40% of its visual exterior. And with today's trend of creating outdoor living spaces, you could be looking at your roof a lot more often. Your choice of style and color may reflect your personality and individual taste, but it's always important to keep your home's resale value in mind. Avoid materials and designs that will make listing your house difficult.
You'll find asphalt roofing shingles in an overwhelming variety of styles and colors. It's important to select a shingle profile that respects and complements the architecture of your home. Some profiles are straight, while others are contoured to mimic the look of random-cut natural stone tiles or hand-hewn wood shakes. Some shingles have a scalloped edge. These co-ordinates well with Victorian-style homes.
Best Asphalt Shingle Colors
You'll have plenty of options for colors to choose from. Even the budget friendly 3-tab comes in a wide selection of colors.
Warm, earthy tones: Good choice to blend your home to blend into its natural surroundings. Also good for homes in a casual, rustic setting.
Black, white and grey: Add drama and classical elegance to traditional or even minimalist home designs.
Lighter colors: From sandy greys and dusty browns to pastel blues, can help homeowners express their sense of style.
Climate considerations are also imperative when choosing the right shingle color and style. Keep these climate factors in mind:
Darker-colored shingles: Absorb heat and light. Lighter colors reflect it.
Humid or maritime climates: Susceptible to algae growth. Look for algae-resistant shingles (AR) that help inhibit the growth of streak-causing blue-green algae.
Look at shingle samples in the daylight against your siding before making any decisions.
Top Rated Asphalt Shingle Comparison
Best Architectural Shingles
Dimensional shingles come down to two types: architectural and luxury.
Architectural Asphalt Shingles
Standard dimensional
Less expensive
Fewer laminated layers
Fewer styles and colors
Looks like asphalt
Designer Asphalt Shingles
Luxury
More expensive
Much thicker and heavier
Wide range of styles
Can look like slate or wood
What's the Longest Lasting Roof Shingle?
Tile and slate shingles last longer than asphalt, but at a much higher price. High quality asphalt shingles last up to 50 years. Tile and slate can last 100 with proper care, but also require a reinforced roof structure because of their added weight.
30- vs. 40- vs. 50-Year Shingles
Shingles come with varying lengths of warranty and life expectancy. Most strip shingles only last around 20 years, but dimensional and above can last up to 50 years.
Best Asphalt Shingle Brands
Not all asphalt shingles are made equal. When getting a quote, ask your professional which one they use and recommend. You'll often find different brands make a better type for your area. Your pro will know which to use.
Pabco
Malarkey
IKO
Owens Corning
Tamko
Atlas
Certainteed
GAF
Brava
Top Asphalt Shingle Manufacturers
IKO
IKO Asphalt Roofing Shingles effectively protect for your home and family against inclement weather. High end options that can mimic the sought-after designer look and beauty of genuine slate tiles or wood shakes. Many have Class A fire ratings. Except for the Marathon and Cambridge, the rest have high wind resistance ratings.
Marathon Plus AR: Traditional 3-Tab
Cambridge: Basic architectural shingles with straight, not angled, cuts.
Dynasty: Dimensional shingle with a high wind rating and algae resistance.
Nordic: Dimensional shingle with a high wind rating, algae resistance and class 4 impact resistance.
Crown Slate: Performance designer shingle that mimics slate.
Armourshake: Performance designer shingle that mimics wood shake.
Royal Estate: Performance designer shingle that mimics slate
Owens Corning
Owens Corning currently offers nine lines of shingles with varying wind resistances. All except the 3-tab come with a limited lifetime warranty. Owens Corning TruDefinition Duration laminated architectural shingles start at $35 and can cost as much as $50, depending on color and style.
Duration: mid-priced architectural shingles
Duration Designer: same as duration but with more variety of color in each shingle.
Duration Flex: Same look with an SBS polymer giving it the highest impact rating.
Duration Storm: Same look but without the SBS polymer.
Oakridge: Entry level architectural shingles.
Berkshire: Designer style that looks like slate.
Woodcrest: Resembles wood shake.
Woodmoor: Same as Woodcrest but thicker and heavier.
Supreme: Standard 3-tab.
GAF
GAF Timberline Shingles has a GAF Golden Pledge ® Warranty that covers the entire roof, including installation, removal and disposal costs. To qualify, you must purchase five GAF accessories like Deck-Armor™ Premium Breathable Roof Deck Protection at the time of your shingle purchase. GAF Timberline sells upscale shingles for $32 to $43 per unit.
Royal Sovereign: Traditional 3-tab shingle.
Timberline: Architectural shingle with various sub models, including: AH, HDZ, AS II, CS, UHD and NS. All have Class A fire rating and 130 mph wind rating.
Camelot: Entry level designer shingle.
Glenwood: Shake style designer shingle.
Grand Canyon: Shake style designer shingle.
Grand Sequoia: Hand cut wood style designer shingle.
Woodland: Hand cut European style designer shingle.
FAQs
What are asphalt shingle roof materials?
You'll find asphalt shingles include the following materials layered together:
Fiberglass mat: helps them remain flexible in extreme cold and rigid in heat. It provides a lot of the wind and impact resistance properties.
Asphalt: Waterproofs the shingles and glues the granules to the mat. Often has mineral fillers to help with fire resistance, weathering, flexibility and durability.
Granules: Helps protect the asphalt's coating against deterioration from the sun's ultraviolet rays. In many cases, algae-resistant granules are included to help inhibit blue-green algae growth, which causes unattractive black streaks and discoloration.
Back surfacing: A fine mineral material applied to the back of the shingle for production, storage and shipping purposes.
What are asphalt shingle dimensions?
Asphalt shingles come in a variety of sizes and shapes. But the most common size in the US is 12 inches by 36 inches, or 1 by 3 feet. Dimensional and designer shingles come in dimensions of 13inches to 19inches wide by 37inches to 41inches long.
Why are asphalt roofing shingles popular?
Asphalt shingles are less expensive than other types of roofing materials, which explains their popularity. Asphalt roofing shingles are engineered to beautify and protect your home. Asphalt models offer protection against water infiltration caused by wind-driven rain or ice dams. This material is especially popular with homeowners and contractors for the following reasons:
Inexpensive: The inexpensive cost of shingles made of asphalt beats the price of other materials–like steel, natural stone tiles or genuine wood shakes.
Low Maintenance: Has fewer maintenance issues than stone tiles or wood shakes.
Quick Installation: Quicker and easier to install than other types of roofing materials.
Massive Variety: Asphalt is widely available in a huge assortment of colors, pattern designs and sizes.
Are there different grades of asphalt shingles?
The commonly used "grades" of asphalt shingles are 3-tab (strip), dimensional (also called architectural, laminated or 3D) and luxury/designer shingles. There aren't any official grades, but instead each have ratings for fire, wind and impact resistance.
What's better asphalt or fiberglass shingles?
Fiberglass shingles are asphalt shingles. There were two types: organic and fiberglass, but organic didn't perform well and hasn't really been produced since the late 2000's. Most asphalt shingles have a core of fiberglass to provide rigidity.
Which material is better? Metal roof vs. asphalt shingles.
If you're considering asphalt, you'll want to investigate metal too. Metal vs. asphalt roofs break down into a couple of considerations:
| Metal | Asphalt |
| --- | --- |
| More expensive | Cheaper |
| Longer life | Neighborhood look |
| More Durable | Easier to install |
Asphalt Shingle Reviews
Even better than asphalt shingle reviews are reviews of roofers and shingle installers. Find a reputable and experienced local roofer who can give you personalized recommendations for your area and home using our roofing contractor directory. You can read ratings and reviews to find one you can trust.
Making Your Final Decision
The decision to invest in a new roof is one that you – or someone who might later purchase your home – will have to live with for 20 to 50 years. That's why it's critical to do your homework before deciding.
Here's a checklist to review before making that final decision:
Remember that protecting your home against water penetration is the primary purpose of any shingle.
Consider the special needs of your climate.
Research your local code restrictions before making any shingle adjustments. A good contractor will help guide you, but it's a good idea to educate yourself beforehand. For example, some communities do not allow wood shakes because they're not fire-resistant. Areas like California and Miami-Dade, Florida, have unique requirements.
Keep in mind the architectural style of your home when considering your shingle style.
Choose a shingle profile and color that will complement your home's exterior elements.
Always view an actual shingle sample in varying light conditions before making your final selection.
Obtain quotes from three professional roofing contractors. Factor personality, work history and experience into your decision – not just pricing.
8 Comments