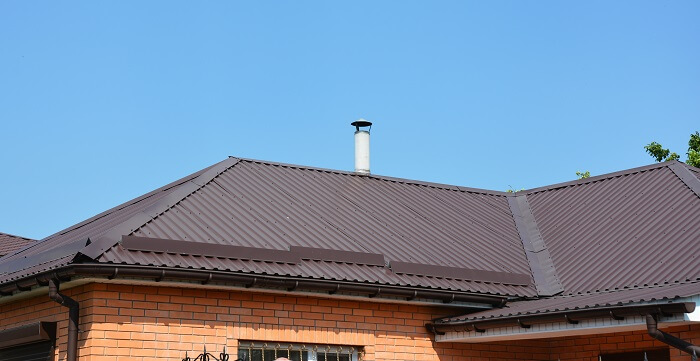 Metal roofing provides better durability and faster installation than more conventional materials. The best metal roof materials are made from stainless steel, aluminum, zinc, copper, and alloy. With the different characteristics of each, This guide will help you find the best type of metal roof for your home and help you compare the different characteristics of each, so you can choose the right one for you.
On This Page:
Pros and Cons of Metal Roof
Consider the pros and cons to decide if a metal roof is best for your home:
| Pros | Cons |
| --- | --- |
| Durable | Costs more initially |
| Lightweight | Requires sound insulation |
| Installs quickly and easily | Dents in hail and heavy weather |
| Fire resistant | Expands & contracts in heat & cold |
Best Type of Metal Roof
Each type of metal roof has its own benefits and drawbacks. Find the best type metal roofing material your home's needs to ensure the success of your project.
1. Copper
With a durability of over 200 years, copper roofing has been a long-time favorite best metal roof for residential constructions. This soft metal can dent easily but won't puncture as easily as harder metals. It is the most expensive type of metal roof, but also the best quality.
2. Stainless Steel
Popular for commercial construction sites, stainless steel is now considered one of the best metal roofs for residential builds. It is the most recycled material on the planet and also the least expensive option.
3. Aluminum
Recommended for coastal climates, aluminum is not corrosive. This strong, lightweight material is not ideal for regions with high winds or strong environmental stresses. Its cost fluctuates along with market prices.
4. Zinc
Zinc roofing is extremely durable, dependable and eco-friendly. However, it is a softer metal that can be easily damaged by hail or high winds. It is also known to have a chalking effect over time, if not cleaned and properly controlled.
Ready to start your
Metal Roof Installation

?Find Pros
Costs of Metal Roofing
Metal roofing is generally pricier than other roofing systems. But in the long run, a metal roof provides the best return on investment due to its durability.
| Metal Type | Per Square Foot Cost for Materials & Labor |
| --- | --- |
| Steel | $350 |
| Aluminum | $450 |
| Zinc | $1,200 – $2,000 |
| Copper | $1,500 – $2,500 |
Use our price estimator to figure out the cost of your metal roofing project and help you hire a roofing contractor to tackle the job.
Textures and Finishes
To avoid metal roofing with a commercial-looking quality, find the bet metal roof that is stamped into your preferred shape. For traditional home architecture, you can get a metal roof that resembles the appearance of shingles and tiles, or even a stone coated look. For contemporary home designs, standing-seam metal roofs offer clean lines and long sheets of painted metal that go well with modern architecture or cabins.
Who Installs Metal Roofing?
Metal roofing installation is more expensive because it requires specialized training, tools and equipment that general roofing contractors don't always have. Find the right contractor in your area to evaluate the complexity of the job and help you determine the best type of material to install on your roof.
Ready to start your
Metal Roof Installation

?Find Pros
No Comments Yet