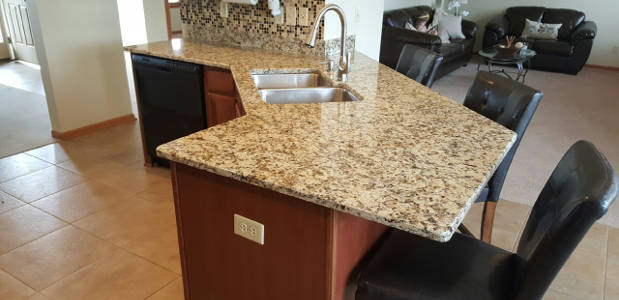 Honesty and communication are invaluable qualities in any home improvement contractor. Given the limitless stone options available, hiring a knowledgeable granite contractor who you can trust will help you choose the stone that meets your expectations for appearance, durability, and price. You should look for a contractor who isn't afraid to give you his or her expert opinion but will also, ultimately, empower you to make the final decision and give you what you choose.
The Nature of Granite and Other Stone
Granite is the most popular stone choice given its extreme durability and reasonable price. There are often wide variations, however, in the quality. Different quarries produce different quality of stone, both in appearance and durability. Even the section of the quarry where the granite was mined can have a dramatic effect.
Stone near the top is likely to have a substantially weaker constitution and more voids in the stone. This type of stone, called over-burden stone, is easy to pawn off on homeowners as it often has a unique and stunning appearance. Granite from each section of a quarry should be tested to ensure minimum performance standards. These tests can be expensive and it may be impractical to test the specifically for your installation. Still, a granite contractor should be able to give you some assurances that your stone is up to par.
Ready to start your
Granite Installation

?Find Pros
Hiring a Contractor
Do your homework. Talk to at least three contractors about your project. Discuss your ideas and your price range. Ask about the relative advantages and disadvantages of each stone and installation option. Then, get written estimates from each contractor. Get recent references from each contractor and follow up on them. This process will allow you to balance the price difference in their estimates with whom you feel most comfortable working.
Before you hire a contractor make sure your installation is set. Make sure your written estimate is comprehensive and doesn't involve any undisclosed costs. A reasonable timeline should also be agreed upon to avoid any lengthy inconveniences. Good granite contractors are likely to have a backlog of work.
Marble and Granite Contractors
You may think you've decided on granite but, finding a marble and granite or a general stone contractor will enable you to hear from a reliable source about alternative options. Most granite contractors have expertise in other stone materials. Discussing how other installations have turned out for these contractors and their clients can only help make you more informed and more confident that you're making the right choice for your home.
No Comments Yet