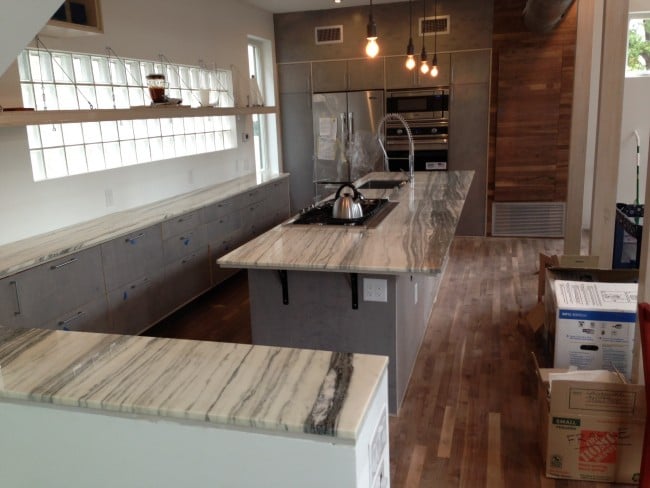 Though there are many material available for kitchen and bathroom counters, marble counter installation is often viewed as the most elegant option. Boasting more than just a pretty face, marble countertops are excellent performers and, in many cases, will be the last counters you will ever need to install. Understanding the benefits (as well as the drawbacks) of a material is, of course, an important element in the decision to purchase and install it. Here are a few things that will help you decide whether marble counter installation is right for your home.
Marble Kitchen Counters
While the popularity of its sister-stone, granite, cannot be denied, marble kitchen counters are still regarded as the height of luxury. When it comes to performance, both granite and marble kitchen counters are at the top of the list; the real difference between the two lies in appearance. Both stones can vary dramatically in looks depending on where they are taken from, and it is generally personal taste that decides which one is a better fit for a particular situation. Each stone is somewhat porous, and must be sealed to prevent stains; this is particularly important in kitchen spaces, as the likelihood of spilling a staining liquid like juice or wine is high.
Marble kitchen counters are not cheap, and installing marble over every inch of your kitchen counter space can be an extremely pricey endeavor. Many homeowners save money by using this product as a highlight in the home: install it on top of an island, a wet bar, or inset so that you can have all the benefits of the material without all the cost.
Marble Bathroom Counters
Though they won't be quite the centerpiece that marble kitchen counters are, marble bathroom counters are still good performers. Since most bathroom counter space is a fraction of that in the kitchen, marble bathroom counters are also a little less cost-prohibitive; additionally, the type of spills you'll see in a bathroom (water, soap, etc.) are generally less likely to cause any permanent stains, especially if the stone is properly sealed. Be careful, however, of installing marble bathroom counters in a home that contains few higher-end materials: Instead of making the bathroom look more elegant, they could end up making the rest of the house look less elegant!

Ready to start your
Marble Countertop

?Find Pros
Cultured Marble Counter Installation
Cultured marble countertops are formed of marble dust and plastic, and since they are less "pure" and partially manmade they will be less expensive than a true marble counter. Installation is a little easier because cultured marble is lighter, and since they're somewhat synthetic, they're also more durable against damage and cracking. The only real drawback to installing cultured marble counters is the fact that they are not real marble; though the look is very convincing, the material will not carry the same weight (literally or figuratively) in your kitchen or bathroom.
Marble Counter Maintenance
Though marble counters are extremely tough, they aren't indestructible. In fact, marble countertops require quite a bit of care in order to protect your investment. It may help to think of it as a wood product: it needs lots of protection, prevention, and preservation. Clean up spills as soon as possible, particularly when the spilled liquid carries a lot of color or is highly acidic. Place hot pots and pans on pads or trivets to prevent burns and talk to a professional about applying (or eventually, reapplying) a sealant to reduce damaging the stone. Remember: marble counters can last a lifetime, but if you don't take care of them, they are extremely expensive to replace!
1 Comments