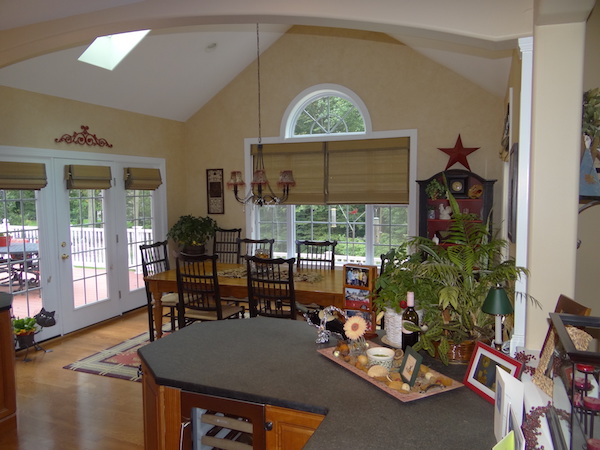 Even if it occurs after the walls have gone up and the floors have gone down, home decorating should be a lot more than just an afterthought for creating the home that's ideal for you. Finding a decorating theme is a great jumping off point for your home decorating, and country décor is one of the more popular decorating choices. Like most decorating themes, country home décor is loosely defined and has several incarnations. By taking a look at the different kinds of country décor, you'll be able to better understand what this decorating style has to offer, and you can start brainstorming ideas for your home.
Rustic Country Home Décor
When most homeowners imagine country décor, rustic country is most likely what they imagine. Dominated by wood and stone installations, rustic country is a down-to-earth. Rustic country décor is still colorful, but the color schemes tend to be more subtle and muted. To picture it in even greater detail, imagine your bathroom with a clawfoot tub, your kitchen with open shelves, your living room furniture and walls with mottled finishes to create a worn, charmed look. It's a model home for people who like to dwell in a relaxing, slower-paced life. It's hard to imagine a young professional rushing off to work from such a home, but it also creates a classic, worry-free feel.
Contemporary Country Home Décor
Contemporary country may sound like a paradox or clashing styles, but it's far from it. These two decorating styles intersect in any number of places and have led to contemporary country becoming its own decorating style. One of the biggest elements of contemporary décor is lighting design. More than general overhead light fixtures, contemporary lighting uses wall lights and lamps to create more specific task and accent lighting. Wall sconces fashioned as candles and a decorative wood backing are a great example of contemporary country décor. Borrowing from contemporary's love for low maintenance metal and simplicity, a wrought iron chandelier is another great idea. Go to a decorating showroom and there's a good chance you'll find a contemporary country display.
Need to find a pro for your country decor?
Find Pros
Primitive Country Décor
Primitive country décor is a style of country decorating that emphasizes the worn look of country decorating. It's almost exactly synonymous with shabby chic or the trend of intentionally distressing materials and installations to give a timeless quality to the home. It's often achieved through a combination of custom-made furnishings from artisans and venturing out and sifting through the fare at flea markets. To up the ante even further, a recent trend has been to take high-end materials such as exotic woods and fine stone and alter their appearance with various sanding, painting, and finishing techniques. It may sound a little exorbitant, but if you've got the money there's almost no better way to create a one-of-a-kind effect throughout your home.
---
No Comments Yet
You can be the first to comment!