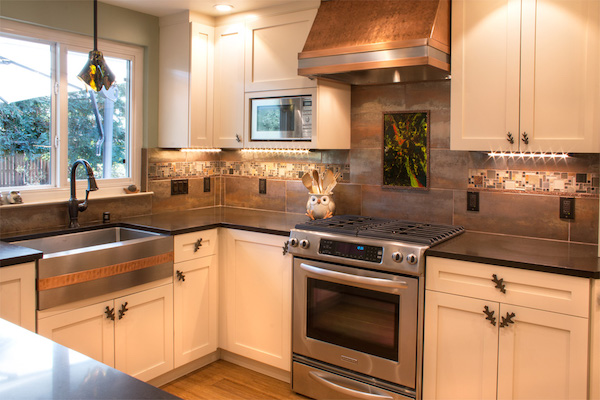 We always hear that large kitchens increase the value of a home. It's true. They add extra space for cooking, entertaining, and eating, which makes them convenient, uncluttered, and welcoming. But what are you supposed to do if you don't have a giant kitchen? What if you're stuck with an undersized space that has no hope of getting bigger? Don't worry. It's not the size of the room that counts; it's the overall setup. Just a few creative small kitchen design solutions can help optimize the space you have by embracing its shortcomings and highlighting its strengths.
Clutter Control
There's nothing wrong with a cozy kitchen. In fact, people like the feel of a snug place because it's warm and homey. So that's something you have working for you; however, there's a difference between being cozy and cramped. And since less is usually more, the first priority in any custom kitchen design is to free up space by clearing the clutter.
Clear the Counters: Why overwhelm your counters with appliances you seldom use. Put the electric can openers and coffeemakers away. And don't let trinkets overrun valuable counter space; instead, hang those picture frames and shelve the seasonal candles.
Junk Drawer No More: Why do we feel the need to stockpile expired coupons, old electric bills, and dried up pens? Don't waste precious storage space with useless stuff. Some occasional spring cleaning can liberate your kitchen from the chaos.
Subtract the Stuff: A kitchen is the most functional room in the home, so it needs to be efficient and streamlined. Move excess furniture to the living room. And though they're special to you, kid's drawings and photos can make a fridge door look hectic and busy.
Store Galore!
Small kitchen design depends on creative problem solving, and when it comes to extra storage space you have to especially innovative. You may not see it, but you actually have more room than you realize; you just can't see it right now because it's not being fully exploited. Compartmentalizing is the only way to gain full control.

Nooks and Crannies: Find unique places to hoard your food items. Lazy Susans, pantry racks, and storage seating is a great way to double up your supplies.
Shelve It: If your cabinets are already overflowing, use your walls. Extra shelving is a great place to stow your plates and glasses while still showing them off.
Hang Things: Showcase your stuff through suspension. Hanging wire baskets are a decorative way to hold fruit. Spice and wine racks look elegant and are very efficient. Dangle pots and pans overhead for easy access while also freeing up storage areas.
Ready to start your
small kitchen design

?Find Pros
Custom Kitchen Design
Now that you've tackled the little stuff, you should start to see a difference However, you now need to consider bigger renovations in terms of layout. The secret behind custom kitchen design isn't creating new space but using the space you already have. And just because there's no room for a large addition investment, doesn't mean you still can't add-on.
Create Counter Space: An island gives you additional countertops. Also, instead of a table, which can take up a lot of room, raise a pre-existing counter to make it into a bar ledge. Or install a breakfast nook in an out of the way corner.
Lengthen and Deepen: If you can't put in any more cabinetry or countertops, then simply enlarge them. Make the cabinets reach the ceiling, widen the surface area of the counters, and install deeper drawers that can take on more utensils.
The Triangle: In custom kitchen design, there is a concept called "the triangle," which refers to the most common tools of the room: the fridge, the sink, and the stove. These crucial appliances shouldn't be messed with too much. But there are ways to minimize their appearance. Combining the stove and the oven into a range helps save space. Install a built-in microwave above to create additional breathing room. Get a dishwasher to avoid littering the sink. And buy a compactor to remove unsightly trash cans.
Kitchen Furniture
When possible, include free-standing or unfitted piece of furniture into your kitchen design no matter what theme you are trying to create. It adds character to the room and also gives the design an open and airy effect because every cabinet is not built-in and mounted to every wall in the room. Before you commit to a piece of furniture, make sure you know how that piece works within your design, whether it's an accent, functional aspect or both. If you have the resources to hire a kitchen designer, have him or her visually inspect the furniture so they have a vision of how you would like it to fit in.
Facade Features
Lastly, think about all your surfaces areas. Colors, textures, and certain materials are a must in any custom kitchen design since they create the illusion of space.
Surfaces: For cabinets, use light wood and transparent glass doors. Tile backsplashes help refract light. And stainless steel appliances and countertops act as reflective mirrors.
Flooring: Since it's a tiny area, you can invest in expensive floors without much damage to your budget. Shiny hardwood or checkered linoleum can lengthen square footage.
Colors: Although white can open up big kitchens and bathrooms, it may make a kitchen feel too uniform. Though you want to match color schemes and materials, don't be afraid to be bold in your selection: daring choices can really make surface areas pop.
No Comments Yet