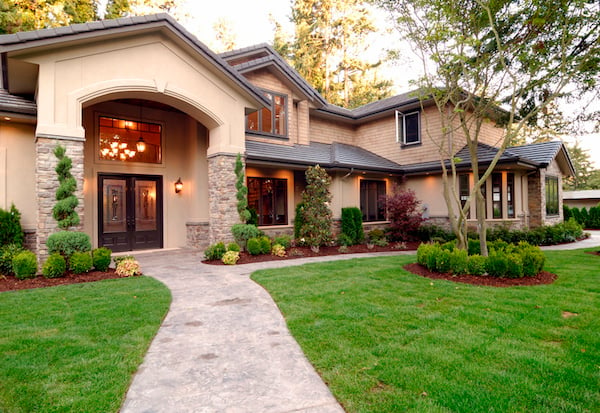 The Craftsman Home was popularized in the Arts and Crafts style of the first two decades in the 20th Century. This style refuted the ornate and elaborate for strong construction and beauty through simplicity. The interior and home design were accomplished through subtlety and dignity of style. Today, these homes continue to be popular because of their low cost do not exclude exceptional high quality.
Real Craftsman Homes
Craftsman Home and Craftsman style furniture began being published in the 1904 edition of "The Craftsman." Gustav Stickley offered readers access to one architectural plan a year, free of charge, and published one plan a month in his magazine. These homes were built for the middle class, fitting in between the lower end Sears and Aladdin kits and the Greene and Greene and Frank Lloyd Wright homes also built in the same Arts and Crafts tradition. By the end, through Stickney's leadership, 241 "Craftsman Homes" were designed, 221 of those being published. While often homes of similar design are called Craftsman houses, only these can actually be called part of the Craftsman style. You will also notice, in looking through the options, that they are numbered 1 through 221.
The Concept Behind the Craftsman Style
"The Craftsman" designs are meant to be site related or augmented to an individual site. The house is built with materials found in the local region, and the architecture designed to enhance natural features outside through ample use of recessed porches, terraces, pergolas, and entrance ways. Function does not trump form, though. While space is utilized as economically as possible, the basic function becomes essential to the interior design. Structural elements are often exposed for decorative detail and local materials (perhaps a stone fireplace in Connecticut) were enhanced by slight changes to the basic design. This, of course, means that these Craftsman Homes were all customized by local builders to meet local resources and individual needs.
Benefits of History
When you build or buy a Craftsman Home you are not only finding yourself a well constructed home, you are purchasing a bit of history. Stickley and his designers were part of the wave of architects that inspired the Prairie School Movement, Frank Lloyd Wright's baby. "The Craftsman" homes have long been lauded as one of the most inspired, economical, beautiful movements in American architecture. They have stood the test of time and been found to be long-lasting, strongly-constructed homes. This should be no surprise, as they promise simplicity, ecological awareness, and comfort all within a basic elegant style. After more than a hundred years, they remain relevant, popular, and in style.
No Comments Yet