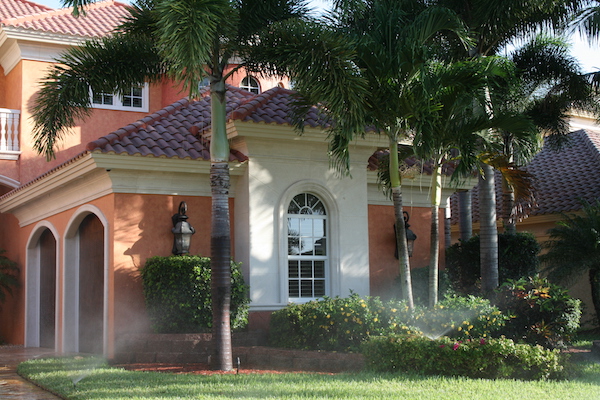 The Mediterranean house plan is defined by an open style with large exterior windows, a low-pitched, tiled roof, and stucco or brick siding. This openness hearkens toward pleasant weather, making the Mediterranean house plan a favorite for warm climate locales. While any house plan seeks a stunning appearance, few equal the raw curb appeal of the Mediterranean design. Its hallmark archways and verandas provide a sense of luxury without going over the top. You're not going to choose a Mediterranean house plan for a tiny bungalow-sized house, but your house doesn't have to break the bank, either. One-story or two, large or small, a Mediterranean house plan is an architectural style that can be tailored to meet any budget.
Mediterranean Home Plan Features
There is no one feature that defines a Mediterranean home plan. Extensive window installations, low-pitched roofs, and customary vaulted ceilings create the customary Tuscan feel, but the desired effect should be more important than any strict guidelines that must be met to create an authentically Mediterranean style home.
Tied to the mild climate of the Mediterranean, the home's exterior design is usually only part of the equation. Landscaping is often an integral part of the puzzle. Courtyards, swimming pools, semi-elaborate gardening, and other landscaping emphasize the same openness you find inside the house. In many ways, your yard becomes the buffer that creates the privacy the windows would otherwise betray.
Extra Climate Considerations
A lower pitched roof isn't especially efficient for draining consistently heavy rain water or snow and the vaulted ceilings can cause trouble maintaining a constant temperature throughout your home in the winter cold. These features help explain why a Mediterranean home plan is usually associated with warmer climates and are most popular in the southern and western parts of the country. This doesn't mean you can't choose a Mediterranean style home in other places; you should just plan on roof repairs a few years earlier than your neighbors.
Ready to start your
Mediterranean home

?Find Pros
Even if you do live in a mild climate and particularly if you live in a more traditionally seasonal climate, you should ensure you have highly rated insulation and energy efficient windows. To enjoy the advantages of the Mediterranean atmosphere, you don't want to have to pay a monthly utility bill that looks more like a mortgage payment. Plan on making your home energy efficient from its initial construction. The advantages for these installations are exaggerated in a Mediterranean house plan due to the increased areas susceptible to heat loss.
Hiring an Architect
Most architects will have several Mediterranean style designs for you to choose from, or, for an extra cost, you can find an architect that will design a customized Mediterranean home plan. Either way you go, you should be able to find the home that fits your needs and matches your wishes. Looking at artistic renditions of your home or photographs of completed homes will help you realize the vision for your home can be realized.
No Comments Yet