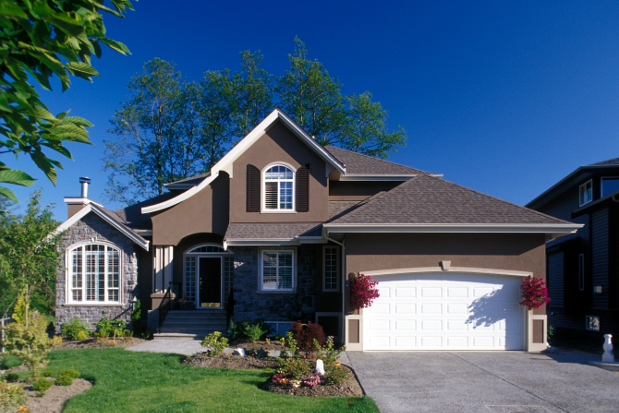 As you start spending more time outdoors this spring, no doubt your home's flaws will become more visible. Get your home in shape now. Would new siding revive your home? Does your landscape date your home? Do you need a new roof? Maybe you just need a fresh coat of paint, clean or upgrade those windows, or install a more welcoming front door.
1. Siding
Today, there are a wide variety of options available, including much improved vinyl siding, not to mention metal, wood, and stucco.
The siding best suited for your home depends on many factors: which style best complements your home, how much maintenance you're willing to do, and the climate where you live.
Vinyl: Holds up well over time and can retain its qualities for 40 years or more. Vinyl siding will not dent like aluminum siding, nor will it warp, rot, or chip like wood. Manufacturers offer a broad range of colors in various shades and styles.
Wood: With proper maintenance, wood siding will last for many years. Disadvantages include possible mold growth, wood rot, and pest infestation.
Stucco: Common in the southwest, advantages include a natural resistance to fire, long durability, and little needed maintenance.
Metal: Aluminum and steel siding systems look similar to horizontal wood siding, but don't require as much maintenance.
2. Roofing
New roofing not only freshens up your home's exterior, it's also the most important part of your home's weatherproofing and insulation system, and can save on heating and cooling bills.
Asphalt: Stronger, more natural-looking materials have made asphalt roofing a good, economical choice.
Metal: Usually manufactured in steel, copper, aluminum or stainless steel, modern metal roofing frequently carries a warranty of 50 years.
Wood Shakes: Tends to be more expensive, but greatly adds to a home's appearance.
Slate: The most expensive roofing option, slate is usually on higher-end homes. It can last 50 years or more, but because it is brittle, may require more repairs.
Tile: Tile roofs initially cost a lot more to install than asphalt shingle or wood shake roofs, but they also last much longer, sometimes 50 years or more.
Ready to start your
Renovation Project

?Find Pros
3. Exterior Painting
There are so many things to consider when choosing which color to repaint the exterior of your home. For some people this comes easily; for others, decorating or changing the exterior of their home is daunting and too expensive.
Some tips for choosing exterior paint colors:
Stay true to the traditional color scheme for your type of home.
A New England Salt Box looks great in blue-gray tones, while Victorian homes can be a variety of colors.
Preview your home in your chosen color.
Many paint stores now offer computer imaging so you can get an idea of the look of the colors you are considering.
Choose muted colors rather than brighter tones.
A large area of bright color can have a larger impact than you may want.
Check out other homes in your area.
Look at homes in your neighborhood or in decorating magazines. If you like a color, ask the homeowner to share the name and brand.
4. Windows
One of the more popular trends in home building and remodeling these days is adding more natural light with more—and larger—windows. Studies show that natural light has a positive effect on our well-being and adding more windows can open up a house, creating a more spacious-feeling room. And, while many homeowners think of windows as merely functional, they can also provide a key design element in any home.
Some of the newest trends in windows include:
Tubular skylights: The tubular skylight is more compact and easier to install than regular skylights and brightens homes more effectively than artificial light. They can also be fitted with internal light kits to double as electric lights at night.
Passive solar heating systems: Large, southern-facing windows can contribute to passive solar heating design by allowing solar radiation to help heat your home.
Window glazing: For ultraviolet light protection, glazing can protect home occupants as well as reduce the fading of upholstery and furniture. Glazing also improves a window's insulation.
Low emissivity coating: Also known as Low-E coating, this reflects heat inside the home during the winter and blocks much of the heat in the summer, which saves money on utility bills.
5. Doors
One of the best ways to make a great first impression is with a custom door, which can add instant curb appeal to your home. Custom doors can be made of unique materials, clad in copper or aluminum, crafted from exotic woods or even recycling an interesting wood once designed for another use – people have made doors from antique pickle barrels, for example.
Need more ideas? You just need to open up your imagination–inspiration is all around:
Browse architectural and home magazines and websites.
Flip through to get an idea of what appeals to you and would best fit your home's style. Check out DesignMine.
Look at other doors–especially out of your area.
Chances are the majority of homes in your area will be very similar. Take a drive one day and take note of the doors in more rural areas if you live in the city, or vice versa.
Visit architectural salvage warehouses and yards.
A great source of inspiration is the architecture of yesteryear. You can purchase and give new life to a door you find here or even have a replica made.
Get professional expertise.
If you're stumped, go to the professionals for help. Custom door makers can offer you advice on all of your options and which style would best complement your home.
Ready to start your
Renovation Project

?Find Pros
6. Landscape
An overgrown landscape gives the impression of an unkempt home, as well. One of the most cost-effective ways to customize a home to meet your needs and tastes, good landscaping will add value to your home and enhance your lifestyle.
Lawn and shrubs: Maintain your landscaping by keeping shrubs trimmed and weeding the area. You can also hire a lawn care professional to care for your lawn on a weekly to monthly basis, depending on the climate and your landscape's needs.
Walkways: Keep walkways swept free of debris and the clutter of children's toys. Not only does this look nicer, it prevents accidents from happening.
Outdoor lighting: Motion-activated lights can enhance security and ensure no one trips on the way to the front door. Spotlights can highlight trees and decorative features.
Fences: Fences can provide privacy and security, contain pets and children, and divide functional and visual spaces. Many fences now come in maintenance-free plastic in contemporary or traditional styles.
No Comments Yet