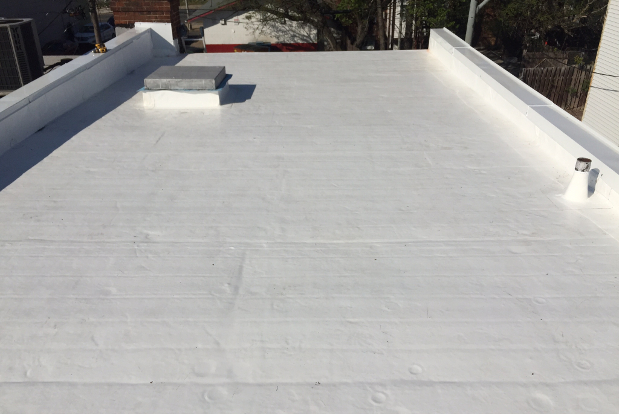 Flat roofs are most common in areas with little or no rain, though they aren't unheard of in other areas of the country, either. While they are an economical choice from a building perspective, they can be trouble when it comes water leakage and accumulation. In order to preserve flat roofs, and the homes beneath them, they must be covered with a good waterproof material, and be outfitted with a good drainage system. Below are some of the most popular flat roofing systems, as well as a few benefits and drawbacks of each.
Built Up Roofing (BUR)
Built up roofing is a generic term for a roof system that is literally built by adding layers. It is most often made from alternating layers of roofing felt with different waterproofing materials, including coal tar pitch, asphalt, cold application adhesive, and modified asphalt. It is also known as "tar and gravel" roofing, because it's finished off with a final layer of gravel, crushed rock, or other mineral substance, in order to minimize sun damage.
The other popular built up roofing style is a modified bitumen roof. MBR's are made from fiberglass-based asphalt sheeting, applied in layers with mopped-on hot bitumen between each. Built-up roofing is more commonly found on commercial buildings than on residential homes, but it's still well suited for houses with flat roofs. While it is the most economical choice, sunlight will eventually break down the asphalt base and the roof will need to be replaced sooner than other options.
Single-Ply Roofs
Single-ply roofs are the most reliable, popular, and practical, flat roof solutions on the market. It comes in two main types. Thermoset membranes are manufactured from rubber polymers, and require the use of liquid adhesive or tape to form a watertight seal at the overlaps. Thermoplastic membranes, made from plastic polymers, have seams formed with heat or chemical welding. Most thermoplastic membranes include a reinforcement layer of polyester or fiberglass for increased strength and stability, as well. Either way, these single ply roof materials, more commonly referred to as rubber, or plastic, roofing membranes, are probably the best choice if you need to replace flat roofing. They'll cost a little more than built up roofing for materials and installation, but they will last a lot longer with far fewer problems. Any extra initial costs are well worth it in the long run.
Ready to start your
Flat Roof Installation

?Find Pros
Sprayed Polyurethane Foam (SPF)
Sprayed polyurethane foam is a relatively new product that is sprayed onto the roof as a liquid in order to form a single, continuous, seamless structure. Because foam is flexible and lightweight, it's perfect for irregularly shaped roofs and protrusions. For re-roofing, SPF also eliminates the need to remove the previous roof, since it can be applied directly over existing roof installations, including asphalt shingles, built-up roofs, clay tile, concrete, metal, and wood. Foam roofing systems are easy to maintain, and with a high insulation value, they can combat some of the heat issues common with flat roofing. The only downside is SPF's track record. It just doesn't have much of one yet, so you're taking a little bit of a risk by going with this product.
Hire an Experienced Roofer
Unfortunately, flat roofing is never a do-it-yourself project. You'll need to hire an experienced roofer to apply any of the above mentioned roofing solutions. If you're in need of flat roofing services, contact a professional about getting your roofing project underway.
1 Comments