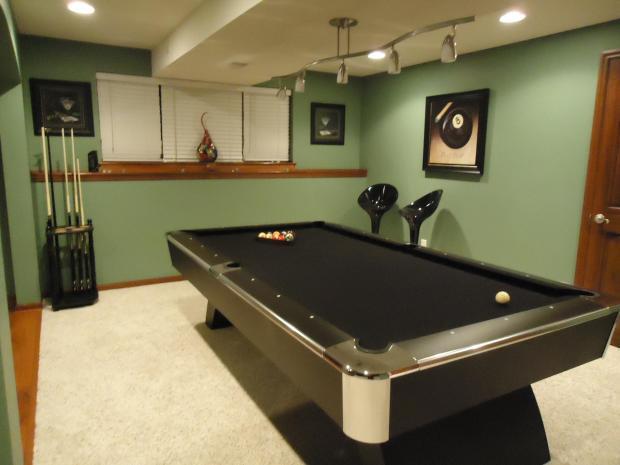 A game room is a place set aside for fun. Whether you're converting a small bedroom or office or you've got a whole basement to work with, a game room is a welcome addition to any home. But getting the most from this room involves a lot more than just plugging in your TV and setting up your game console. From gamers to pool sharks, a good amount of home improvement work and decorating is often needed. Game room design is just the latest trend in interior design, adding on to the recent explosion of home theater rooms, home offices, and home gyms. Here's what you need to know as your prepare the ultimate game room for both smaller and larger areas:
Small Game Room Design
When working with a small space, it's important to make the most out of what you've got. A standard size pool table doesn't cut the mustard in a small space. There are too many "short" spots, and game play is detrimentally affected. You can certainly opt for a smaller pool table (as many pubs do). Some might bypass the old "billiard room" standby and choose another activity to devote the room to. Foosball tables are quite compact. Bumper pool is an option. The problem with these is that unless you and all of your friends are aficionados the games can get a bit old.
Ideas for Small Game Room Design
Small game rooms are the perfect size for a nice poker table. Poker tables are a great idea as part of your game room design because a) it doesn't involve a lot of movement or space, b) it is an activity that many people can enjoy at the same time, and c) you can use the table for other card and board games to include people who don't know what a gut-shot straight draw is.
Darts are another good choice for small game rooms. They require only wall space and a set distance. Darts are also a pretty inexpensive form of leisure when compared to pool or (depending on your skill level) poker. You'll want to install some sort of backboard, though, if you're planning to use conventional, metal tipped darts.Building a bar is often too constrictive for a reasonable flow of foot traffic. Yet, a game room definitely benefits by having libations readily available. A fully stocked mini-fridge will keep the party going and take up a minimal amount of space. If you're dead-set on a bar, you might also talk to a carpenter about built-in shelves that will store liquor bottles without taking up any floor space.
Large or Basement Game Room Designs
This is where you can go hog wild. Anything you want is an option in a large space. It's good to do some decorating to give the room some character and make it fun. Game room decorating is a good time because you can get a little silly with it. It's a place where nothing seems out of place as long as it comes with a smile. The old beat up couch that just doesn't belong in the living room now has a home. So does the neon sign that doesn't work anymore, but you're reluctant to throw away. Did you know that the rear bumper of your first car becomes a decoration if you mount it on a wall? Seriously, anything goes.
Ideas for Large Game Room Design
One thing that often slides under the radar, especially in basements, is lighting. If you're planning on having any kind of successful game, it will have to be well lit, though not necessarily bright. Bringing in a lamp can somewhat fix poor lighting, but installing some over head or track lighting would be even better. Adding a pool light over a billiard table gives a game room an extra touch of authenticity.
Installing a bar can accent the room and give your guests a comfortable place to gather. One big decision you will need to make is whether you can justify adding plumbing for a sink and faucet to create a wet bar. Often, the price tag for a wet bar is higher than most people imagine, but so, too, are the potential for making this investment.
A TV is good. A big TV is even better. If you don't want to drop a huge dime on HD, an older projection TV can be picked up for a fraction of the cost.
When it comes to actual games, the full size pool table is a must. If you've always wanted a pinball or arcade game, a vintage one can be purchased in full working order starting at a few hundred bucks. The options are truly endless.
1 Comments