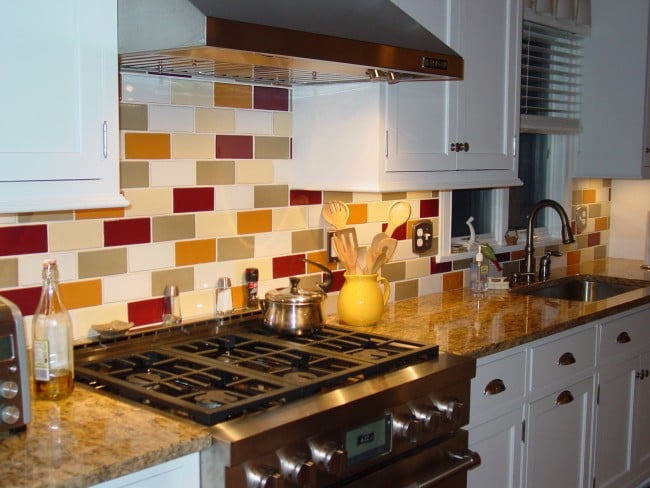 Handmade tile is the blanket term given to a large array of different ceramic tiles available for installation as flooring, countertops, backsplashes, patio tile, wall murals, baths, and decorative accents. The one thing all handmade varieties have in common is that somewhere during production an artisan or craftsman individually played a role in the final product, usually through shaping, stamping, or hand painting the tile.
Why Choose Handmade Tile?
Regardless of the type of handmade ceramic tile you choose (don't worry, we'll cover your options in just a moment), the reasons for choosing handmade products is always the same. Handmade materials have a distinct character and uniqueness that is all their own. In fact, you can rest assured as you install each tile that there isn't another tile exactly like it anywhere in the world!
The Wide, Wide World of Handmade Tile
As mentioned in the introduction, the reference to handmade ceramic tile encompasses a wide range of products that include everything from handmade saltillo tile to hand carved relief tiles. Here are some of the most popular tiles on the market when it comes to handmade materials.
Saltillo Tile —This popular Mexican tile is characterized by its warm, reddish look, and its rich, handmade texture. Saltillo is traditionally handmade by artisans in Mexico and is used in everything from flooring to wall to countertop installations. Saltillo is prized for the irregularities that all handmade products are famous for and for irregularities caused by paws and claws as well. Since Saltillo often sits out in the open at the factory waiting to be fired, it's not unheard of, or even unusual, to find chicken, cat, and dog prints in your tile when you open your shipment and start laying it down.

Handpainted Tile—Handmade can also refer to hand painted when it comes to ceramic tile. Hand painted tile comes in a huge variety of patterns and colors, from custom painted tile design to festive and colorful Mexican Terazzo. Regardless of your taste and home design, there's bound to be something out there that will grab your attention if you're interested in the bold strokes of hand painted tile.
Handmade Relief Tile—Handmade relief tile is ceramic tile that has a raised image pressed into the face. The designs are always hand carved, then made into a plaster mold that is used to stamp the images onto the face of fresh clay tiles. Relief tile is almost always hand painted as well, adding to its one-of-a-kind nature.
Stamped Tile—Whereas relief tile refers to tile with a raised image on the face, stamped tile gets it name from the process of hand pressing or stamping images into the tile face. Live flora, sea shells, and other natural textures are popular here, though hand carved images are also a fan favorite.
Handmade Tile Courtesy of Mother Nature
While it's not technically handmade, pebble tile is another distinct tiling option that is gaining in popularity with American homeowners. Pebble tile is made of polished stones adhered to pieces of square mesh backing, then installed similar to traditional tile. Once grouted and sealed, the result is a finished product that has a decidedly natural and comfortable feel.
If you're interested in these unique tiles, talk to a professional about ordering and installation. Whether your entire kitchen is decorated in handmade ceramic tile, or you just use these tiles as a decorative accent to add personality and warmth to your home, it's hard to go wrong with handmade tile.
Ready to start your
handmade tile project

?Find Pros
No Comments Yet