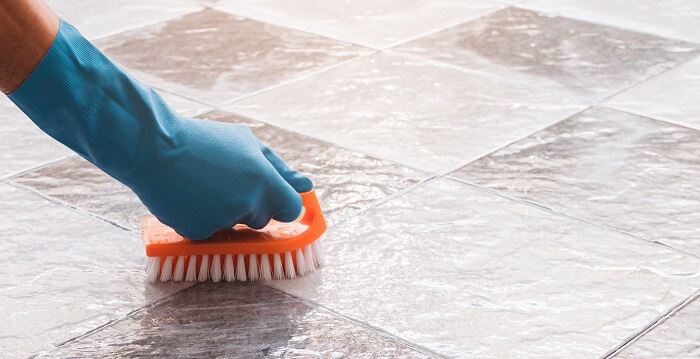 May 18, 2021
Reviewed by Asya Biddle, Cleaning Services Professional & Owner of The Dust Busters, Williamsport, PAWritten by HomeAdvisor.
On This Page:
Cleaning & Maintaining Tile Floors
If you have tile flooring in your home, then you know that it's a hygienic, waterproof material that makes your space look great. It's one of the easiest flooring materials to keep clean, but still requires some time and effort. Whether you want to hire a professional cleaning service, clean your own tile, get the grout to look like new, or even steam-clean the floors — this guide can help.
Cleaning & Maintaining Tile Floors
How to Clean Ceramic Tile Floors
Sweep or vacuum the floors. Be sure to use a soft brush attachment or soft beater bar to prevent damage. Sweep at least every week.
Mix a solution of warm water and dish detergent and use it to mop the floor. This will help remove any grease or water marks.
Dry the surface with an additional rag to prevent water damage from occurring.
Pro Tip: Less is more when using a detergent solution. If too much detergent is added, a film may form on the tile once it's dry, and the tile can even become slippery when wet.
Cleaning Natural Stone Tiles
Floor tiles made of granite or marble should never be saturated with water while cleaning. Never use abrasive materials like metallic sponges. Instead, use soft rags and non-acidic cleaning solutions, such as a pH neutral cleaner, for this project.
Vinyl Tiles
Vinyl tiles offer a cheaper alternative to ceramic and porcelain. You can clean them using a mop and a solution of warm water and vinegar. Be careful not to scratch or damage this vulnerable material.
How to Clean Grout From Between Tiles
Create a paste made of baking soda and water and apply it to your grout.
Let sit for up to 15 minutes.
Scrub the paste away using an old toothbrush.
Rinse the area and dry it.
Tip: Cleaning grout can be tricky, and it's no small task. Hire a professional grout cleaner to help with this project if you're feeling overwhelmed. Cleaning pros will have stronger solutions that they can safely use for difficult mold or mildew growth.
How to Use a Steam Cleaner on Tile Floors
One of the best ways to clean your tile floors and grout is to use a steam-cleaning machine. While these machines are often associated with cleaning carpets, they also work well on ceramic and porcelain tile floors. You can rent these machines from large grocery and building stores for around $50 for a 24-hour period.
Fill the water reservoir in the machine and then turn it on.
Using the steam nozzle, direct hot water and cleaning solution at the grout to remove stains and refresh the floor.
Wipe away any excess water once the project is complete.
Average Cost of Professional Tile Cleaning
On average, tile and grout cleaning services cost from $0.50 to $3 per square foot. Keep in mind that general maid services, while cheaper, may not be the best choice for this job. Make sure any experts you hire have experience dealing with this material so you can prevent any possible damage.
No Comments Yet