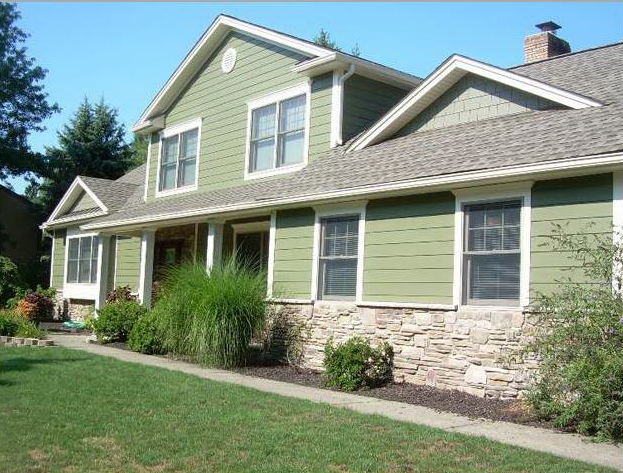 Hardie board siding, created by James Hardie and also known as cement board siding, has been around forever, but its popularity seems to come in streaks. Typically billed as a low-maintenance, long-lasting material, does it measure up to its reputation? Here are the pros, cons and costs of hardie board siding to see how it looks under scrutiny.
Hardie Board Siding: The Pros
This siding seems to be a rising trend in the industry lately. It's a product that lasts, comes in a wide variety of textures and colors, and it's affordable. The benefits extend beyond those factors, and when it comes to hardie board siding, there is a long list of pros.
Longevity: Most hardie board siding comes with a 50-year, limited transferable warranty. This siding is completely rot and insect resistant and can even handle salt spray from the ocean.
Appearance: Hardie board siding can be made to mimic just about any other siding material, including wood lap boards, cedar shingles, and wood shake siding. Color options are virtually unlimited. These colors are accompanied by a 15 year warranty on the finish.
Fire Resistance: Hardie board siding is 90 percent sand and cement which makes it fire-resistant. Case in point, a St. Paul Minnesota house fire torched two fire trucks parked 60 feet away, but the cement board siding home next door, 50 feet away, remained unscathed.
Storm Resistance: Whether you're looking for a siding material that can withstand the next Katrina, or one that can fend off the next summer hailstorm without sustaining damage, cement board siding is a proven commodity in the weather department.
The Cons
What's not to like about hardie board siding? Two things stand out. First of all, because of its weight, the siding requires more resources to install than other siding materials. Second, it's not a maintenance-free siding material. You will have to repaint it in time.
High Installation and Labor Costs: Hardie board siding requires more planning, a larger labor force, and takes longer to install due to its composition. It weighs about 300 pounds (100 square feet) compared to 60-70 pounds for vinyl siding. This can increase labor and the cost of cement installation.
Maintenance: It has to be re-painted periodically. Hardie board's ColorPlus ® Technology Warranty covers paint and labor for peeling and chipping of their finishes for only 15 years.
Ready to start your
hardie board siding

?Find Pros
The Cost
Hardie board siding runs about $0.70 to $5.25 per square foot. This could lead to a total cost of anywhere from $4,700 to $13,300. Why such a huge flux in the price range? You have to consider the amount of siding you'll need, how long it will take and any additional fees for equipment and materials. However, if the pros speak to you more than the cons, the price doesn't matter that much.
Local Considerations
The costs and benefits of hardie board siding will vary based on your climate, number of contractors, demand and materials. You should always consult with 3-4 professionals before hiring one. You don't want to get a hardie board siding installation that needs constant repair. On the other hand, you don't want to pay too much or additional fees that are unwarranted.
80 Comments