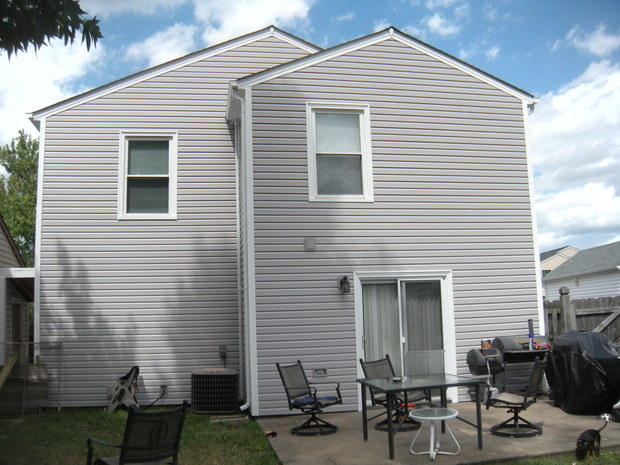 There are a lot of reasons that vinyl siding has risen to become one of the most popular materials on the booming home siding market, but perhaps the biggest of these is cost. Vinyl siding cost remains one of the cheapest options in the business, and when you combine that with a siding material that is attractive, durable, and nearly maintenance free, it's easy to see why vinyl siding remains a homeowner favorite.
How much does Vinyl Siding Cost?
As with any building material, the answer to this question is going to vary. Vinyl siding cost is dependent on many factors, including style, quality, thickness, durability, insulative properties, installation, and UV protection. As a ballpark figure, however, quality vinyl siding cost, along with installation, can run anywhere from $2 to $10 per linear foot. You can get cheap vinyl siding prices for as little as $1 per linear foot if you're willing to install it yourself, though keep in mind that this is a bottom tier material, and vinyl siding is worth spending a little extra on for reasons we'll mention in a minute.
Figuring the Vinyl Siding Cost for your Home
We've established that vinyl siding prices run $2 to $10 per linear foot, but what does that mean for your home when it comes to total cost? To figure that out, you'll need to multiply those numbers by the exterior square footage of your home. To get a rough estimate of your exterior square footage, add the length of your home to the width, multiply that by two, and then again by 10. For a 50 foot long home that is 10 feet tall and 20 feet wide that comes to 1,400 exterior square feet you've got to cover ((50+50+20+20)x10=1,400). Do a little more math and you'll find that your vinyl siding prices should run anywhere from $2,800 to $9,800, not including extras and unexpected expenses. As with any major home improvement job, the unexpected is the norm, not the exception. Vinyl siding prices are no different.
What to Look for in Vinyl Siding
Vinyl siding quality varies, and with vinyl siding you definitely get what you pay for. When you purchase vinyl siding you should shop for several things. The first is thickness. Vinyl siding usually comes in thicknesses of .035 to .055 inches thick, and most quality brands have a thickness between .040 to .048 inches. Generally, the thicker the better. From high winds to hailstorms, the thicker your siding, the more likely it is to hold up against severe weather. The other thing to consider here is installation. Poorly installed siding can easily pull off in extreme weather, so it's important that it's installed correctly if you want it to live up to expectations. If you've got the skills to do it yourself, you can shave a large amount off your vinyl siding cost by doing it on your own. If you're unsure of your ability to do a professional grade job, then you're better off hiring a siding contractor so you won't experience larger problems down the road.
Vinyl Siding Prices and "Extras"
The basic cost estimates here don't account for trim pieces, architectural challenges, insulation, or vinyl siding colors. Expect to pay a little extra for these additions. Trim always costs a little bit extra, since it has to be custom cut and fit to your home. Newer vinyl siding can also be purchased with an insulation backing that can improve the energy efficiency of your home, though don't expect huge energy savings from this upgrade. And when it comes to vinyl siding colors, make sure you buy a product that is either reinforced with titanium dioxide or has been extruded for sun protection. One of the biggest faults of vinyl siding is fading when vinyl siding colors are exposed to sunlight. Titanium dioxide and extrusion provide extra UV protection that keeps your new siding from fading over time. When it comes to vinyl siding colors, this is one extra that is definitely worth the extra cost.
Talk to a vinyl siding retailer or installer about this industry leading siding material on your home. Installing it provides your home with excellent protection from the elements, improved looks, and best of all, a virtually maintenance free siding.
No Comments Yet