Home buyers and renters alike understand the need to settle down in a safe neighborhood. So whether you plan to invest in real estate for your growing family or rent an apartment in a bustling community, you want to know what to expect in terms of safety. This guide breaks down some of the ways you can research the level of safety in your new neighborhood to see if it makes a good fit for you and your family.
How to Check the Safety of a Neighborhood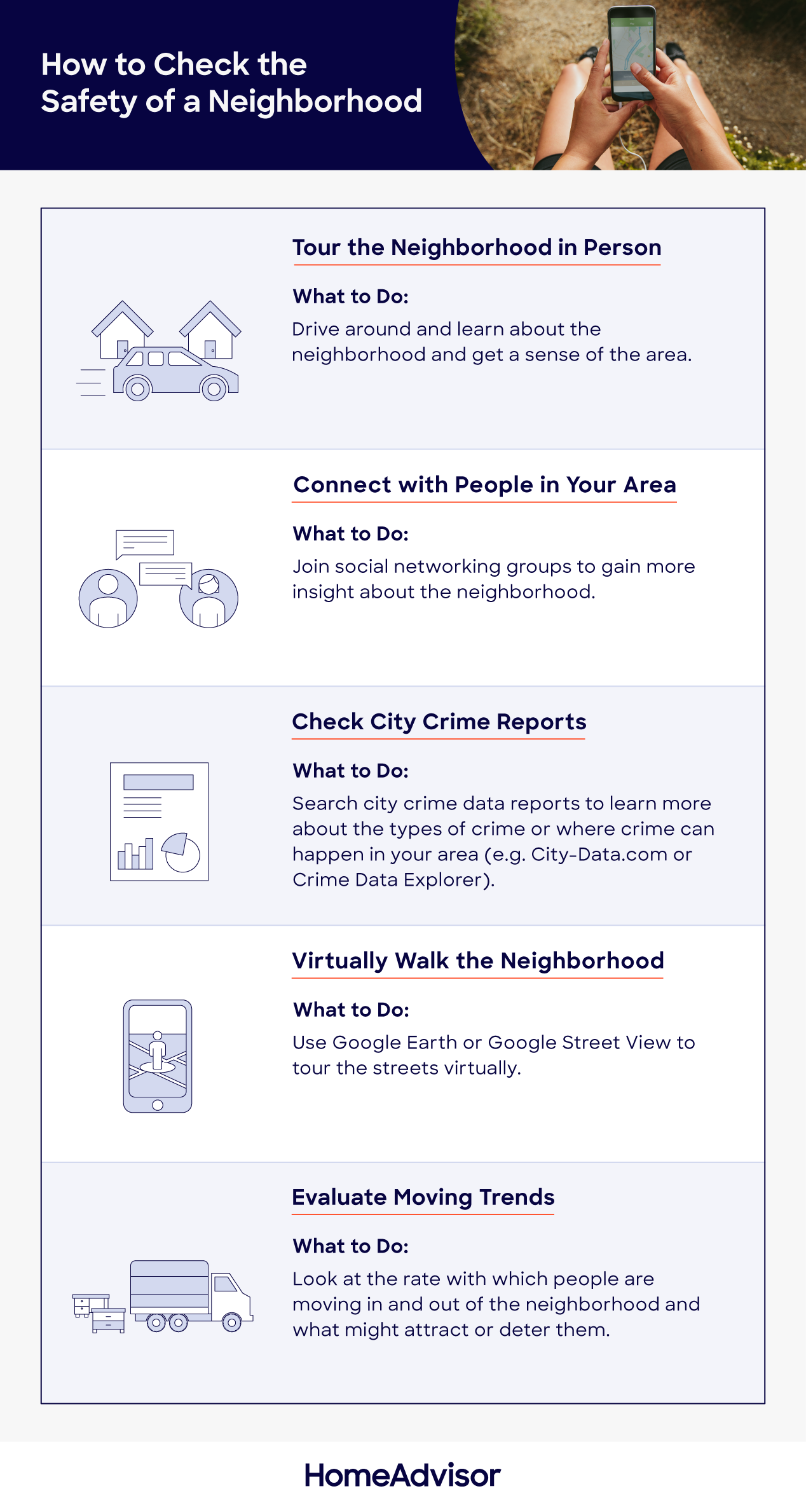 Checking the safety of a neighborhood means doing a lot more than entering the neighborhood name into a search engine and reading the results. You need to do a little more legwork than that to truly understand the neighborhood you're considering as a future home. The following sections break down a few simple approaches you can take.
While none of these are foolproof solutions, they can help you gain more insight.
Take a Look in Person
It's helpful to walk around, visit local parks and businesses, and connect with neighbors to understand what it's like to live in the area.
Tour the Neighborhood in Person
Nothing helps you better understand a neighborhood's basic safety than getting out and actually walking around the neighborhood. Be sure to walk around in the morning and evening to gauge any changes based on the time of day. Again, you cannot tell everything from a quick stroll, and there is always certainly more than meets the eye, but at the very least, it can help you get a better sense of where you may be living.
Consider these factors:
Lifestyle of the neighborhood: Fromlots of children playing outside or people exercising to neighbors chatting over the fence or engaging in an active nightlife, you should gauge whether the community seems to have a lifestyle that you want.
Neighborhood conditions: Check to see if the neighborhood is filled with signs of life, including community events, booming local businesses, and positive community interaction.
Amenities around the neighborhood: For example, living around lively restaurants, bars, and shops may have more nightlife activities that may affect the safety and the lifestyle of a neighborhood differently than a neighborhood full of parks, healthcare services, and green spaces.
Connect With People in Your Area
No one knows a neighborhood better than the people who live there, so if you have friends or family in the neighborhood, ask them for their opinions. If you don't know anyone, try talking with someone from the neighborhood as you walk around. People who take pride in their neighborhood are happy to tell you about what it's like to live there.
If you can't find someone to speak to in person, try the virtual approach. Reach out to a social group in the neighborhood to get their perspective. Try connecting with people in your desired neighborhood with these options:
Join a social media group near the new neighborhood.
Strike up a conversation with people of similar interests.
Use social networking apps to see what people report on the area.
Participate in neighborhood events.
Again, take any anecdotes, especially online, with a grain of salt, but these testimonials can help inform your search.
Online
Once you have a feel for the neighborhood, do some online research and see if online information backs up your in-person discoveries. Using as many options in person and online helps give you a more robust picture of the safety level of your new neighborhood. You can find several useful online tools to track neighborhood safety in the following sections.
Check City Crime Reports
You can check the city's crime data and pull up crime statistics from your local municipality to see what type of crime occurs in that area, as well as crime trends. You can filter to view specific statistics for specific crimes or simply assess whether crime is on the rise.
You can also learn more about your neighborhood by using the interactive Crime Data Explorer provided by the Federal Bureau of Investigation. This site gives information about your city and allows you to reach out to local law enforcement and other law enforcement agencies in your area for data on neighborhood crime.
Consider the types of crime. Some areas may have a relatively high crime rate, but that could be because the area includes a mall with a lot of shoplifting reports or other property crimes. Some areas may have a relatively low crime rate, but a large percentage of those crimes are violent crimes.
Some reports that could help you get a more nuanced look at the area's overall crime picture include:
Offenses by category
Types of weapons used in offenses
Location type
Registered sex offenders
You can also compare the crime rates to other places where you've lived to help get more context for the crime rate of the new area.
Evaluate Moving Trends
You may discover information about a neighborhood's desirability by how current homeowners are behaving. By checking out current moving trends, you can get a feel for whether people are moving in or out of your desired neighborhood. You can use migration data to see the trends of how many people are moving around the area and state.
If moving patterns indicate that homeowners are moving out of a certain location in droves, you might research online why that is happening. They may be moving out for a variety of reasons, however, and news reports and online forums may offer some clues.
Be sure to compare migration patterns to statewide and citywide statistics, as those patterns may simply mirror a larger trend that has nothing to do with the neighborhood.
Virtually Walk the Neighborhood
You may not be able to walk an entire neighborhood in person, but the advent of modern technology allows you to virtually walk the neighborhood. Use Google Earth or Google Street View to tour streets, or use websites like AreaVibes to check out a neighborhood.
Websites
You can find several websites and mobile apps to perform a virtual check of the safety of your neighborhood. Just keep in mind that any user-generated online tool doesn't account for opinions and biases and may not offer the full picture of an area or neighborhood. It's always best to check things out for yourself if you can.
AreaVibes is a free tool that provides a livability score based on location. The score weighs the cost of living, crime rates, demographics, housing, and education. This tool also helps compare the crime activity in several different areas of your state.
FamilyWatchDog is a free website that provides you with information and a map of convicted sex offenders in your area. You can also receive a notification if an offender moves into your area.
NeighborhoodScout offers a subscription service for its website tool. With the tool, you enter your zip code to find local crime data, schools, demographics, and the safety of the area.
SpotCrime is a tool that plots crimes on a map and delivers crime alerts to your email. You can set your alerts for weekly or daily and also use the tool to evaluate crime trends.
CrimeMapping is a free website that shows recent crimes in your local area on a map. You can also set up individualized email alerts, so you're aware when specific crimes happen near you.
CityProtect is a free tool that provides a crime map of your local area. You can find this data by entering your zip code and having access to contact a police department.
Mobile Apps
In addition to websites, you can use mobile apps to get insights into the safety of a neighborhood.
WeAlert is a social network app where you can connect with your neighbors and stay informed of any safety and security concerns.
Nextdoor is a social network app and website where you can communicate with the people around your neighborhood. You can find information about everything happening around your area, from community events and lost pets to crime, including any suspicious or criminal activity and concerns about public safety.
PulsePoint is a free mobile app that can immediately inform you of emergencies in your area.
Neighbors by Ring is a free app-based neighborhood watch feature that alerts you when there are any crime or safety events within five miles of your home. Users can also post about any unusual activity, lost pets, or any crime.
States With the Highest and Lowest Crime Rates
If you have the flexibility to move anywhere, you may want to start by finding a state with a generally low crime rate. Just remember that a low crime rate for a state does not apply to every region or neighborhood within that state, and crime rates can always change.
To give you some idea of how states rank, we've listed a few states with the highest and lowest crime rates.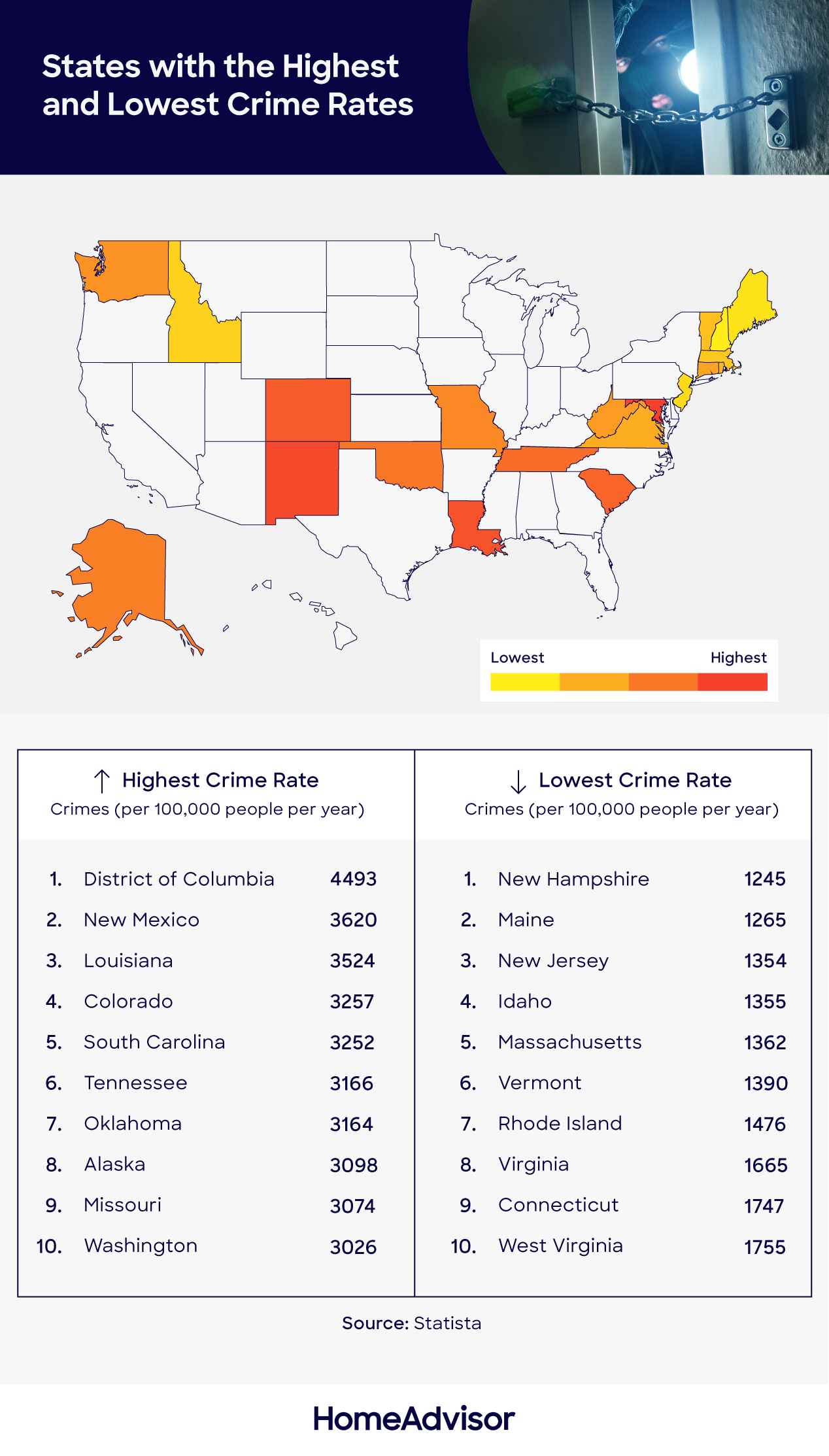 Tips to Keep Your Home Safe
Even if you move into a relatively safe neighborhood, it never hurts to have extra peace of mind. As a homeowner, you should always take steps to protect your home, as well as you and your loved ones. Consider these home safety tips to help you enhance the safety around your home.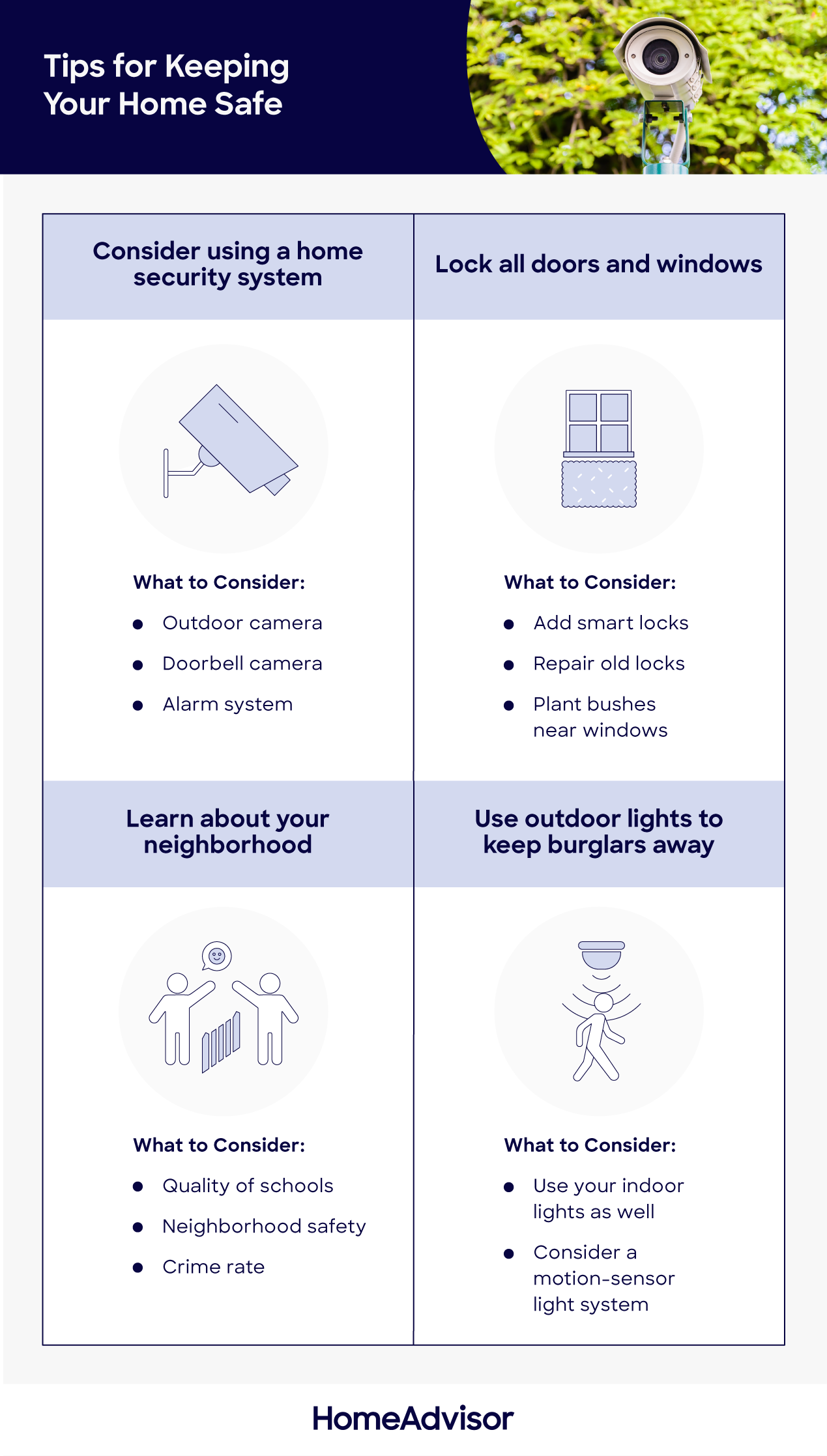 Consider Using a Home Security System
Home security systems not only alert authorities and scare burglars away with a piercing sound, but they may also prevent burglars from even attempting to get into your home due to the warning signs you have out front.
Home security systems can also enhance your protection while away from home. Most wireless systems allow you to check out your security cameras while you're gone using a mobile app.
Lock All Doors and Windows
It seems obvious, but everyone gets a little careless sometimes and may forget to lock a door. Be vigilant with keeping all doors and windows locked to prevent an incident from ever arising.
To step up your security further, replace old locks and consider using a smart lock on your doors. When it comes to windows, curtains help hide your belongings from prying eyes, and planting bushes in front of windows may help to deter anyone from getting too close.
Use Outdoor Lights to Keep Burglars Away
Burglars don't like being in the spotlight for obvious reasons, so outdoor lights that may prevent them from hiding in the shadows can be an effective tool to protect your home.
To keep from annoying your neighbors, use motion-sensor lights that only come on when something triggers them. Also, keep a couple of lights on at night, so people know that you're home.
Learn About Your Neighborhood
Introduce yourself to your neighbors or explore the neighborhood to see what's around it. Make connections with your neighbors and work out plans to help look out for each other.
For example, you can alert them when you're out of town so they can prevent mail or newspapers from piling up (which can be a sign to others that you're away from home). Give them your contact info so they can know how to contact you quickly if they see suspicious activity on your property.
Conclusion
While you should be careful choosing your neighborhood, remember not to judge a book entirely by its cover. Homeowners are understandably careful about which area they choose to put down their roots, but you may overlook a great up-and-coming neighborhood with great neighbors based on factors that are actually improving.
Make sure you get a complete picture before you make your choice by taking all of the steps listed above, and you can be more confident that your neighborhood choice will be the right one.
No Comments Yet