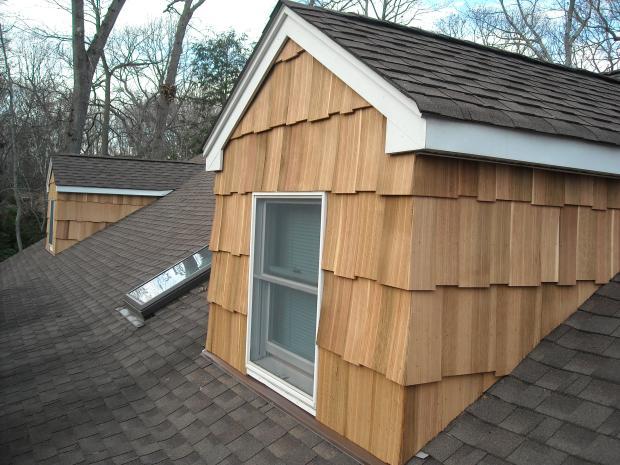 Like many common home improvement questions, the answer is you can, but you need to decide if layering shingles is the best course of action for your home. It isn't uncommon to layer a second roof right over the first and then tear everything off before you put a third layer down. Building codes and most municipalities will usually allow you to overlay a second (though never a third) layer of asphalt shingles over an existing shingled roof. You will need to check with your building inspections department to be sure.
Common Problems with Layering Shingles
Layering shingles has a few drawbacks that you should take into consideration before you decide to lay new shingles over the old.
If there's any curling of the old shingles, the new shingles will not lay flat.
Moisture can get trapped under the heavy layers and cause premature rotting of the wood.
You do add excess weight to the roof framing, which can cause the decking and/or roof joists to bow and cause a ripple effect in the roof.
Overlay will not work well at all with dimensional shingles, only three tab.
If you do overlay, you have to cut off the tab of the first course which will give you a "bump" about 6″ up the roof all the way around the shingle roof.
You must pull off both layers before you roof the next time. Many times the cost for a double tear-off is more than doing it two separate times.
Tear-off will give you the opportunity to examine the decking for any rot and make repairs now before it gets worse (and more costly).
If you do remove the old shingles, you will end up with a nice fresh layer of felt on the roof deck.
Re-Shingle Roof as Part of a Larger Plan
Despite these drawbacks, layering shingles can still be the best plan for your roof. One of the situations, where this option can make the most sense is for a temporary fix as part of a long term plan. Many of the common problems listed above can be avoided if you end up replacing your new roof in the next five or ten years. This sounds like an unwarranted expense, but simply layering shingles can make for a reasonably priced project. You can then invest your money and invest in a high-performance, energy-efficient roof in ten years that will last for the rest of your life.
New Roofs
Metal roofs are water-tight, fireproof, energy-efficient roofs that will last 30-50 years.
Tile roofs resist hurricanes, are a natural insulator, and can last 50 years or more.
Rubber roofs are weatherproof, energy-efficient, environmentally-friendly, and easily fixed.
2 Comments