Frank Lloyd Wright sought not just to mold the architectural legacy of the US but to change the very way Americans lived their lives. And he succeeded: even if you're not one of the few who are fortunate enough to call a Wright residence home, the influence of his staggeringly long and wide-ranging career is woven into the tapestry of American culture. His work has touched us all, even if we don't know it.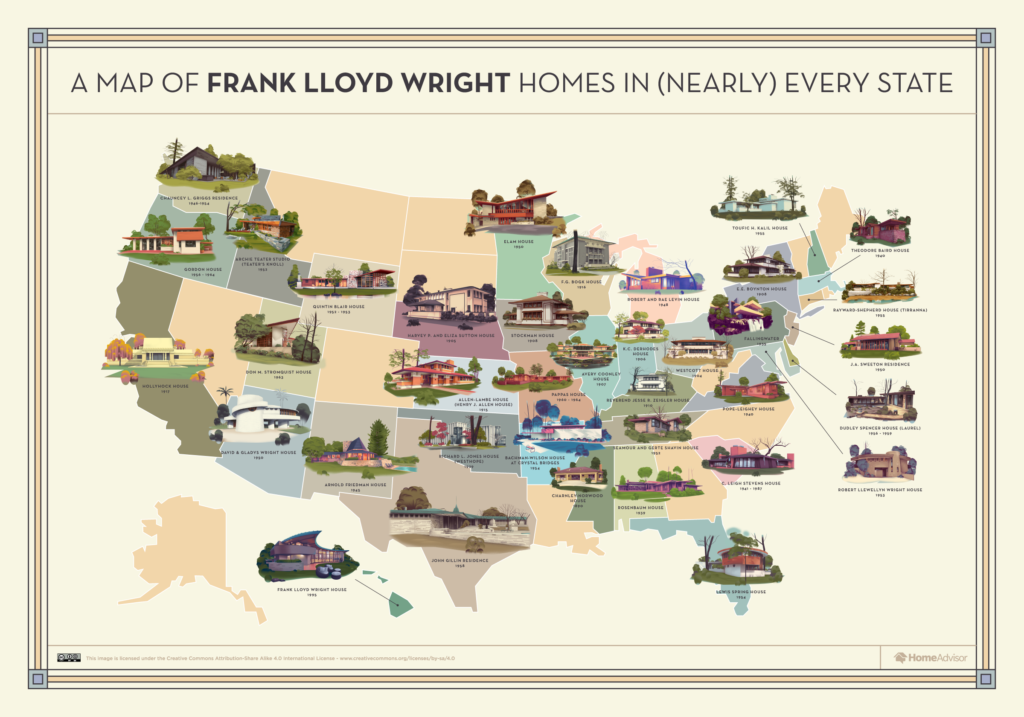 Click on the image to zoom in.
Wright's Prairie and Usonian house designs changed the way we built our homes, and examples of his work can be seen in almost every state in the union. The master architect was notoriously unafraid to blow his own trumpet, so we thought we'd follow his lead by exploring the sheer geographical reach of his genius. This map celebrates the most significant domestic Wright projects in the 37 states where he left his mark.
1. Alabama – Rosenbaum House (1939)
The southeast's only Wright house that is open to the public (it has been a museum since 2002). The Rosenbaum House is the first to employ the prototype Usonian design of the Jacobs House in Wisconsin.
2. Arizona – David & Gladys Wright House (1950)
One of only three spiral designs by Wright. The David & Gladys Wright House – built for the architect's son and daughter-in-law – foreshadows the shape of the 1959 Guggenheim Museum. This house is regarded as the last of Wright's residential masterpieces.
3. Arkansas – Bachman-Wilson House at Crystal Bridges (1954)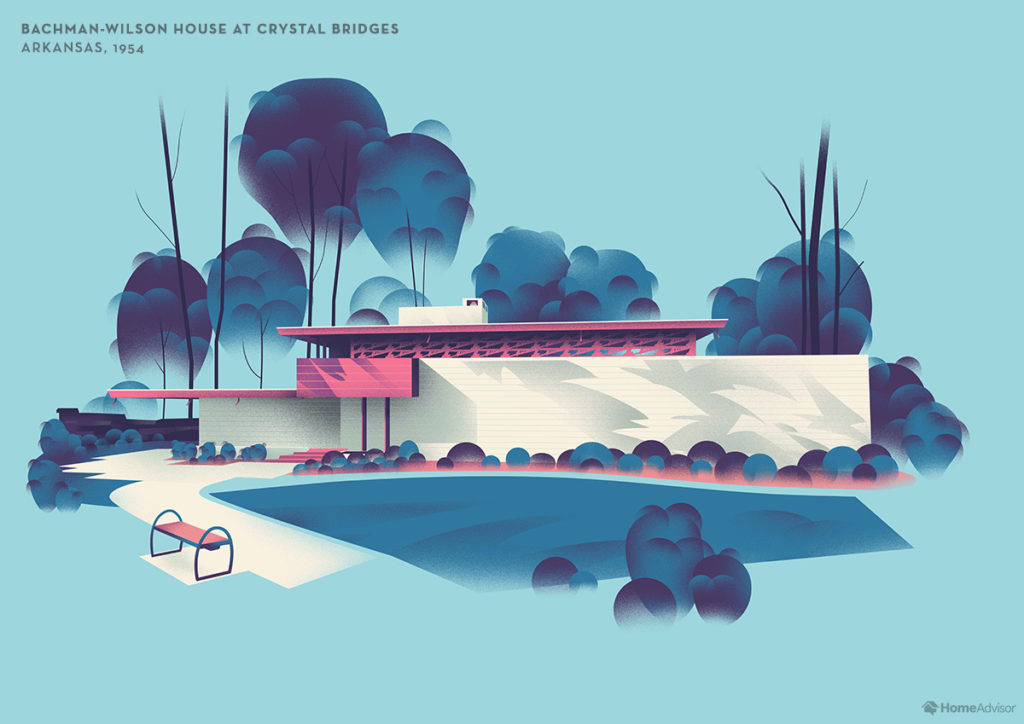 This mahogany-heavy classic of Usonian design was only sold by its most recent owners to preserve it from the threat of flooding. The Crystal Bridges Museum bought it and relocated the house to become part of its collection in 2014.
4. California – Hollyhock House (1917)
Wright's first and best-known West Coast design, Hollyhock House evidences a style that he called California Romanza. This style includes influences from Maya, Aztec, Asian and Egyptian architecture. The client, Aline Barnsdall, unhappy with the final result, onated the house and surrounding land to the city of Los Angeles for use as an art park.
5. Connecticut – Rayward-Shepherd House (Tirranna) (1955)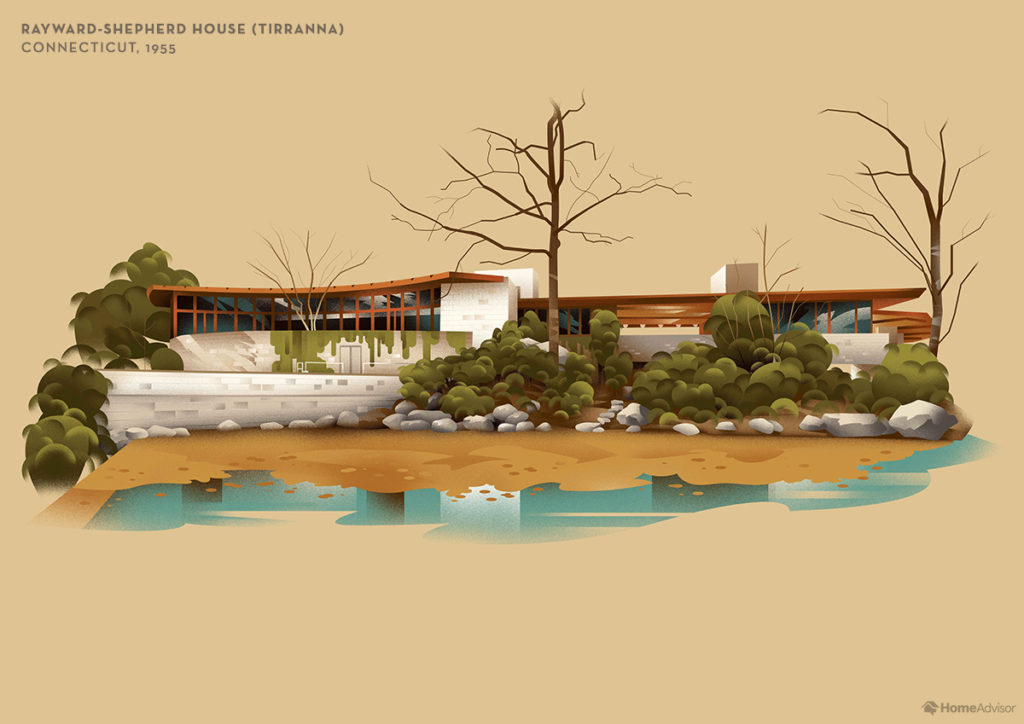 The name of this horseshoe-shaped house – 'Tirranna' – comes from the Australian aboriginal word for 'running waters.' This particular house is idyllically situated beside the Noroton River and a waterfall.
6. Delaware – Dudley Spencer House (Laurel) (designed 1956; completed 1959)
One of Wright's final designs, this private home is his only known work in Delaware. Built in the Usonian style with coursed fieldstone, the house features a cantilevered roof.
7. Florida – Lewis Spring House (1954)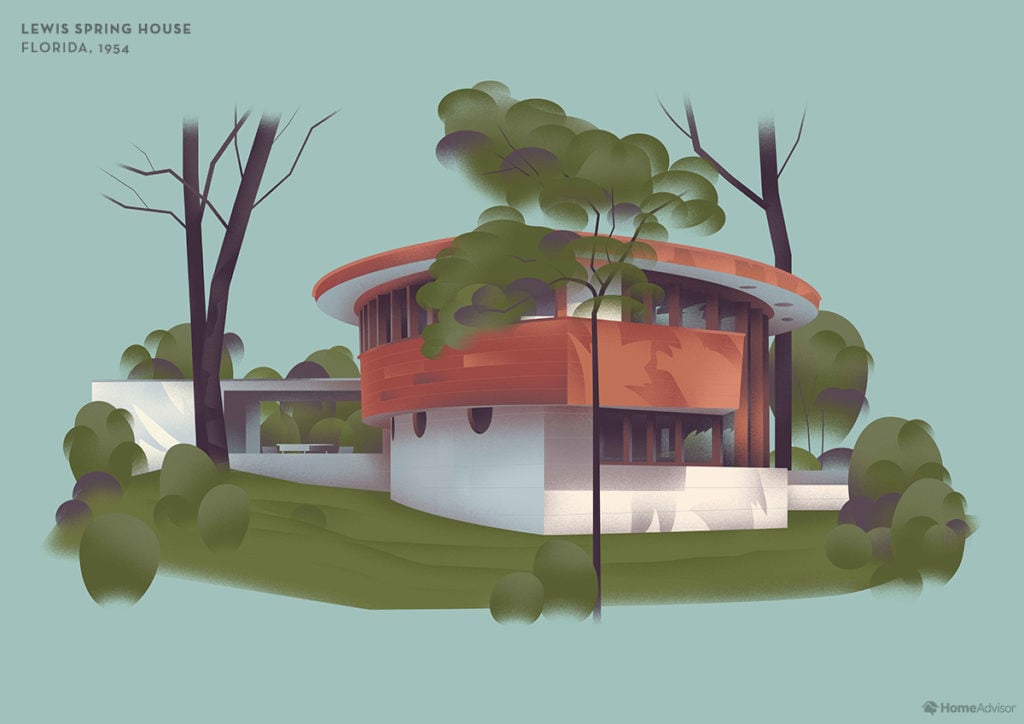 One of only two pod-shaped homes designed by Wright this house was his sole private residence in Florida. The Lewis Spring House was created at the same time as the Guggenheim and shares certain features, such as the confluence of arcs.
8. Hawaii – Frank Lloyd Wright House (1995)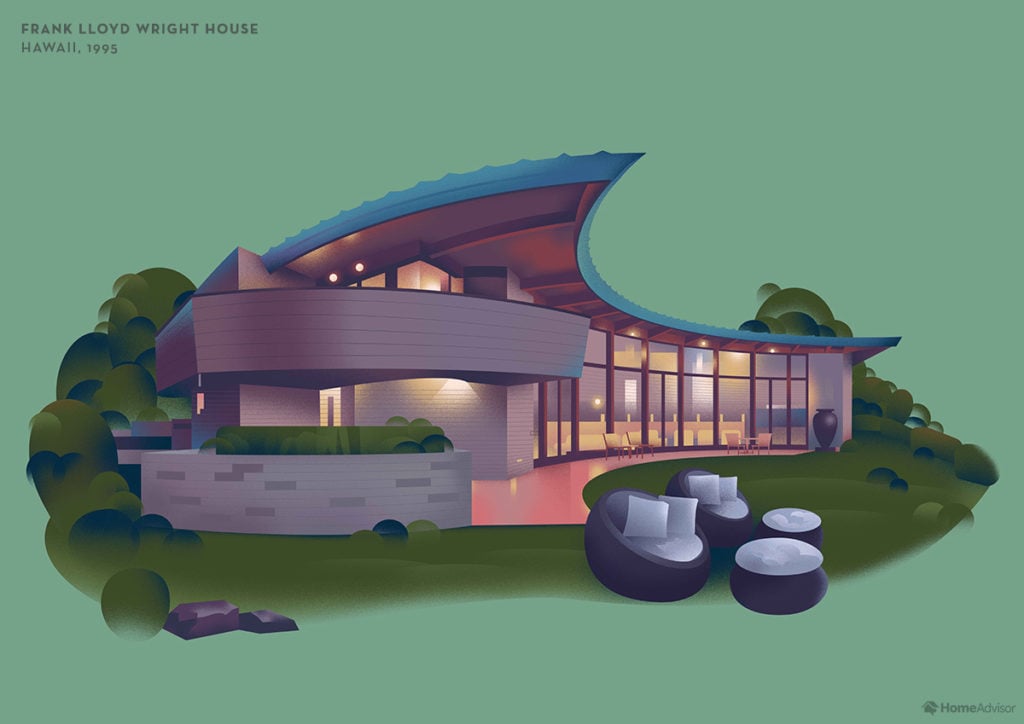 Built decades after its original design, Frank Lloyd Wright was unfortunately not alive to see this house built. Hawaii's only Wright house employs a 'solar hemicycle' design and is available to rent as a vacation home.
9. Idaho – Archie Teater Studio (Teater's Knoll) (1952)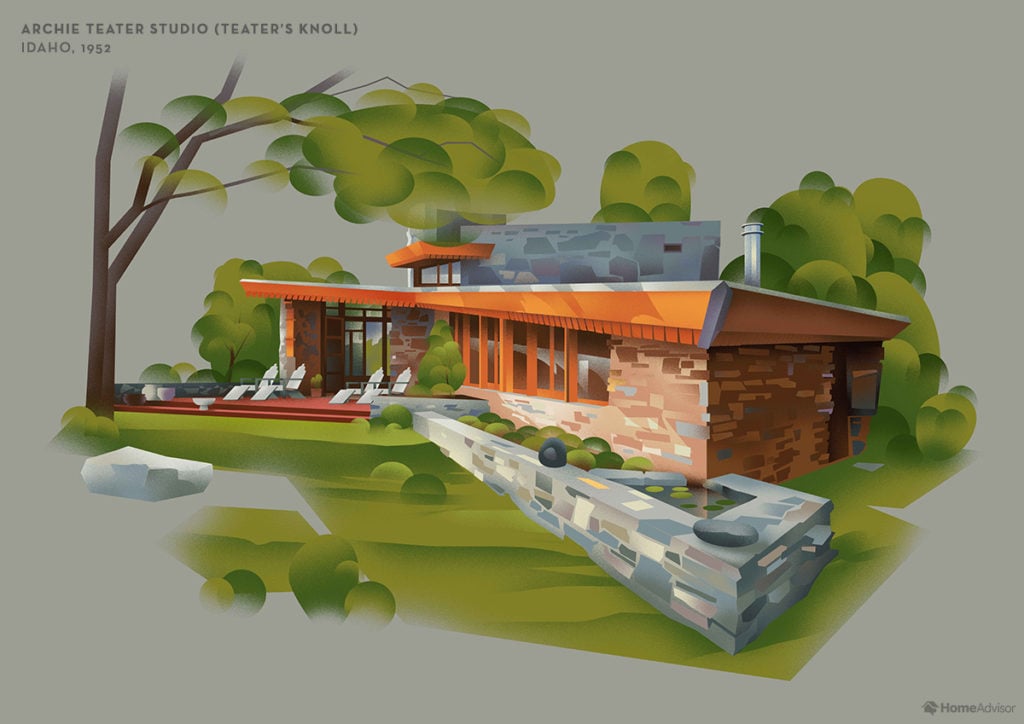 Other than his own, Wright only put his name to one other studio, the Archie Teater Studio. A simple, one-room, parallelogram-shaped building that features a sloping-roofed design.
10. Illinois – Avery Coonley House (1907)
The Avery Coonley House was designed to evoke the flat vastness of the prairie with its long horizontal lines. Featuring colored patterns on its exterior walls the house foreshadows Wright's 'textile block' houses of the 1920s.
11. Indiana – K.C. DeRhodes House (1906)
The design of this private residence was inspired by Wright's first trip to Japan. The roof in particular is evocative of the sloping tiled roofs found in traditional Japanese architecture.
12. Iowa – Stockman House (1908)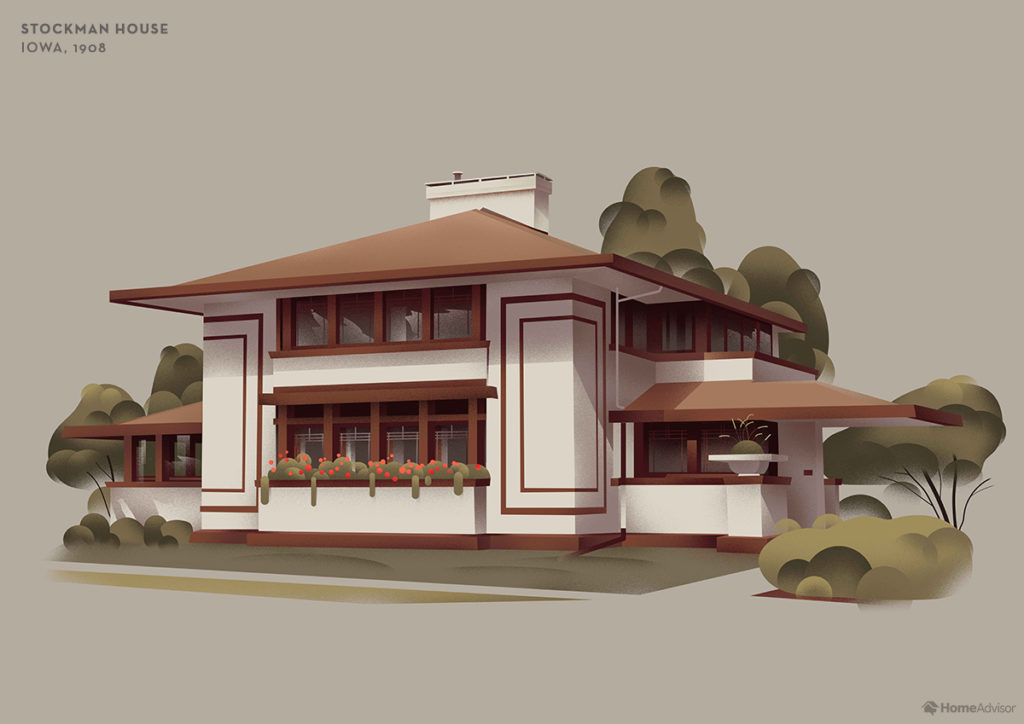 The Stockman House features distinctive dark-wood corner 'wrappings,'. This house was saved from demolition and ultimately turned into a museum, thanks to efforts of the local community.
13. Kansas – Allen–Lambe House (Henry J. Allen House) (1915)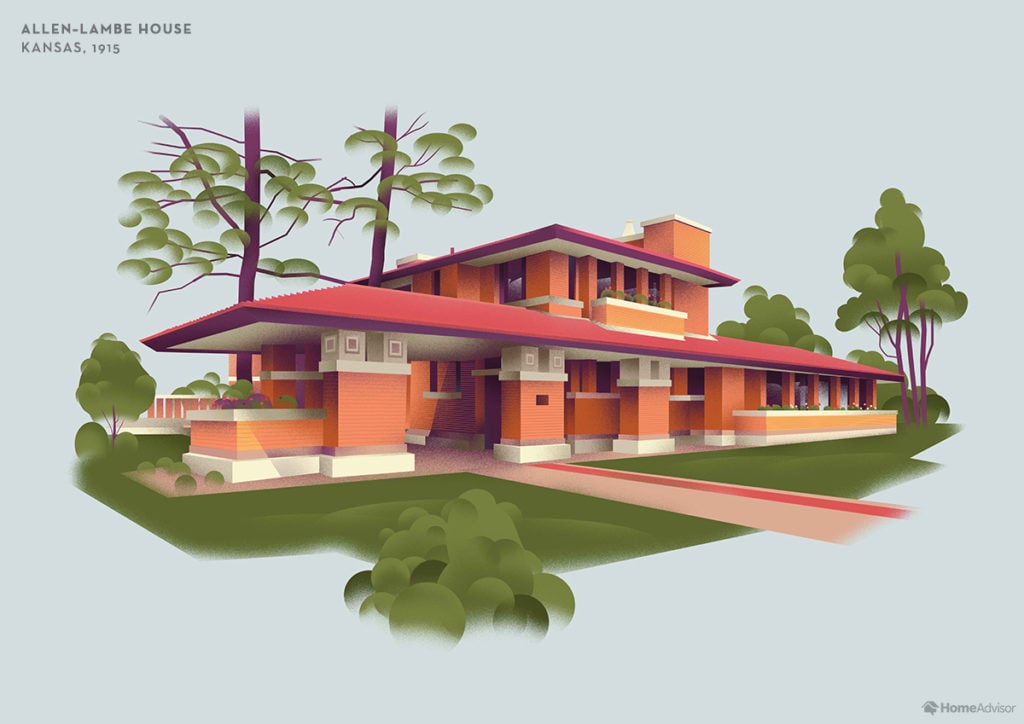 The last of Wright's Prairie residences hints at the Usonian style to come. Wright was concurrently designing this house and working on the Imperial Hotel in Tokyo. This may be why the house has evidence of a Japanese aesthetic.
14. Kentucky – Reverend Jesse R. Zeigler House (1910)
This Prairie-style house was based on the "A Fireproof House for $5000" design Wright created. He was commissioned by Rev. Ziegler after he met Wright during a ship voyage.
15. Maryland – Robert Llewellyn Wright House (1953)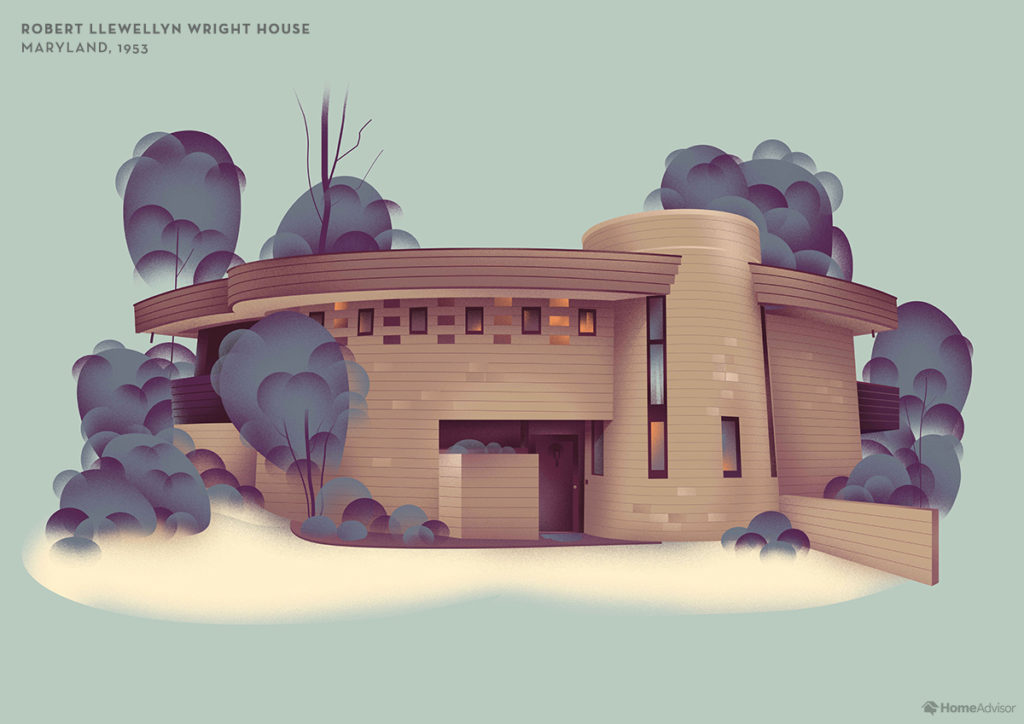 Wright designed this home for his son using his 'hemicycle' style. This style employs concentric and intersecting elements of a circle. Its two arcs produce an almond-shape structure
16. Massachusetts – Theodore Baird House (1940)
The Theodore Baird House is the sole example of Wright using prefabricated materials in a Usonian design. The house is also the only known Wright home in Massachusetts.
17. Michigan – Robert and Rae Levin House (1948)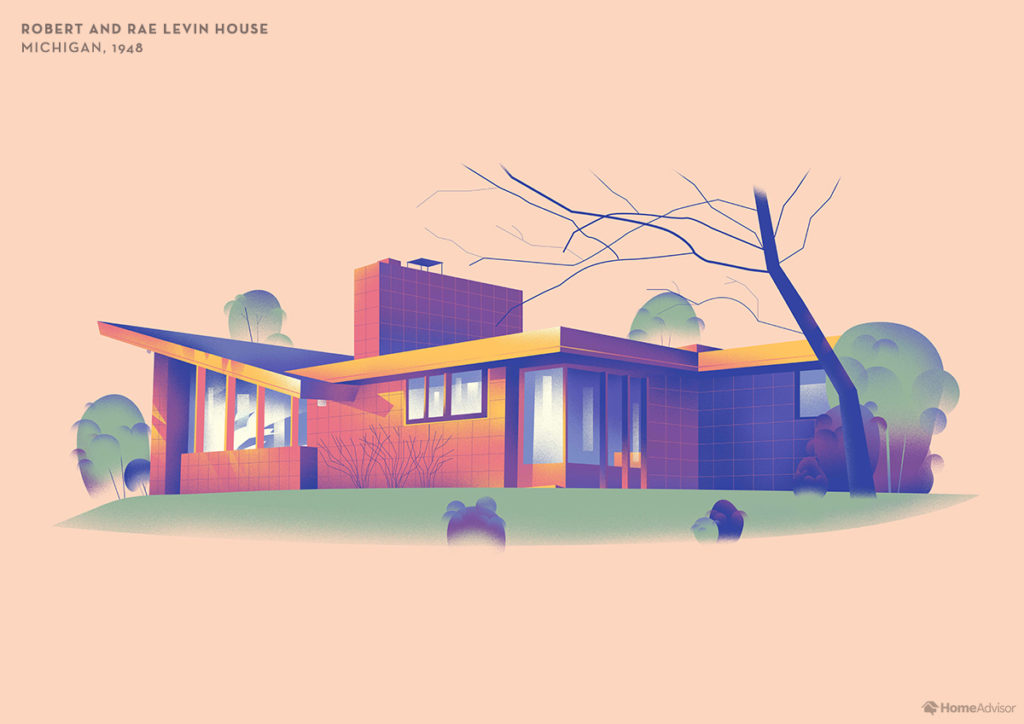 The Levin House is the first of four homes that Wright built in the Upjohn pharmaceutical company's planned cooperative community. Wright also designed the community's layout.
18. Minnesota – Elam House (1950)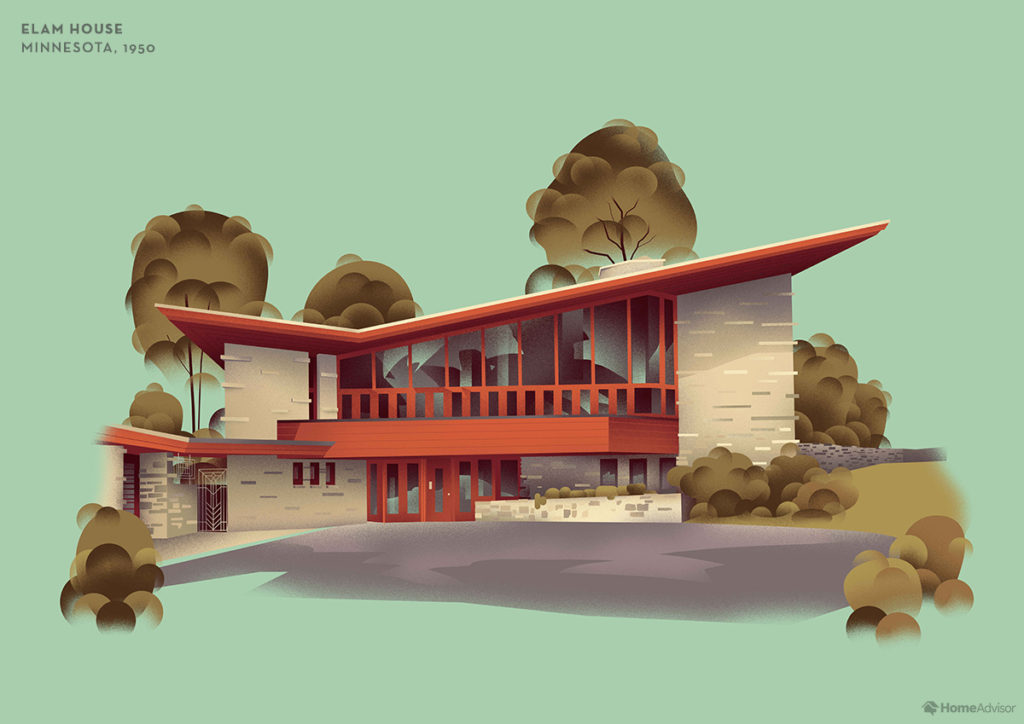 The Elam House is the second-largest Usonian design ever built. Although a notable design of his, Wright never actually visited the site of this house.
19. Mississippi – Charnley-Norwood House (Designed: 1890)
Designed by Louis Sullivan with Wright working as a draftsman, the Charnley-Norwood House's operable windows distributed cooling onshore and offshore breezes around the residence. The house was severely damaged by Hurricane Katrina in 2005.
20. Missouri – Pappas House (1960-1964)
The Pappas House was constructed with modular concrete blocks in the Usonian Automatic style. This use of concrete initially led to the withdrawal of the building permit.
21. Nebraska – Harvey P. and Eliza Sutton House (1905)
Owner Eliza Sutton commissioned Wright based on his designs 'A Home in a Prairie Town' and 'A Small House with Lots of Room in It,'. However, Sutton only gave Wright the go-ahead for this project after his third attempt to present her with a design.
22. New Hampshire – Toufic H. Kalil House (1955)
The Toufic H. Kalil House employs a Usonian Automatic design, with symmetrical rows of rectangular window openings lending a sense of lightness to the concrete. It is one of two Wright homes on the street with the Zimmerman House as a near-neighbor.
23. New Jersey – J.A. Sweeton Residence (1950)
The
J.A. Sweeton Residence features a dramatically pitched roof that is just four feet from the ground at its lowest point. It is the smallest of the four Wright-designed New Jersey homes.
24. New Mexico – Arnold Friedman House (1945)
The Arnold Friedman House is Wright's first attempt at realizing his 'teepee' concept. The central element of the house is roofed with cedar shakes.
25. New York – E.E. Boynton House (1908)
Wright collaborated on the designs with owner Boynton's 21-year-old daughter Beulah. The pair ended up producing a residence that forms an elongated 'T' shape.
26. Ohio – Westcott House (1904)
The low, rectilinear profile and long rooflines are typical of Wright's Prairie style. A twenty-first-century restoration undid a series of modifications, returning the house to the design that Wright intended.
27. Oklahoma – Richard L. Jones House (Westhope) (1929)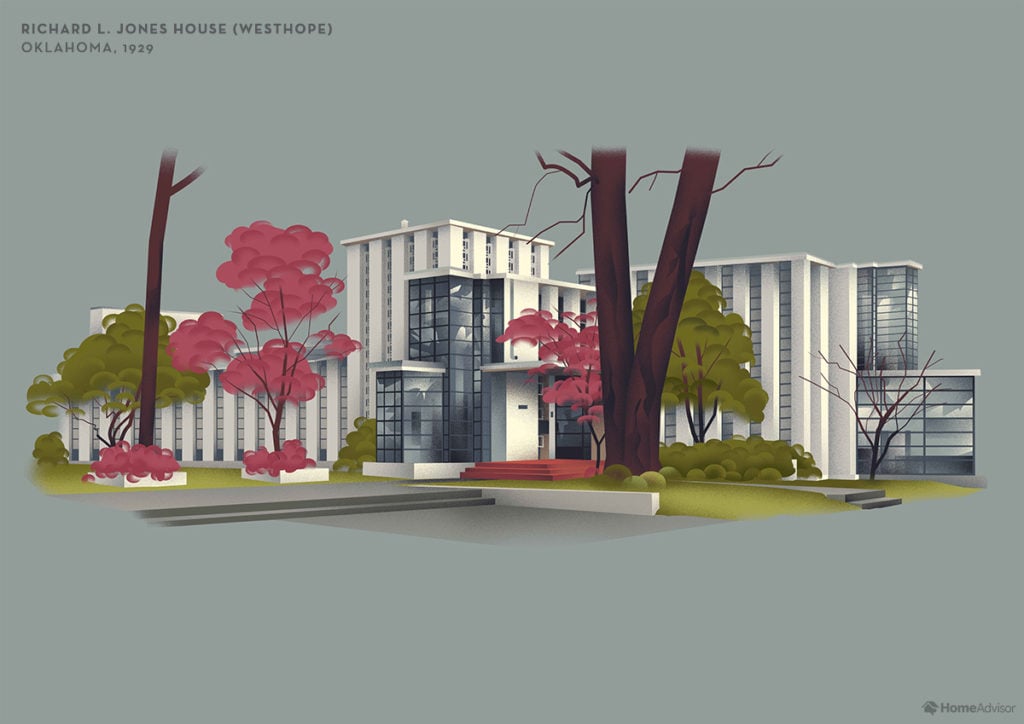 With 10,000 square feet of floor space, the Richard L. Jones House is larger than many of Wright's other designs. Built for the architect's cousin, the house incorporates a raft of water features, including a pool, fountain and fish pond.
28. Oregon – Gordon House (1956-64)
The Gordon House was saved from destruction in 2001, before being moved and opened as a museum. This is Oregon's only Wright house and features unique fretwork.
29. Pennsylvania – Fallingwater (1935)
One of the most celebrated architectural works of all time, Fallingwater is a masterpiece of harmony with its natural surroundings.
30. South Carolina – C. Leigh Stevens House ("Auldbrass Plantation") (1941)
The exterior walls of the buildings in this 4,000-acre plantation slope are at an angle that evokes the oak trees scattered about the property. In 1986, a Hollywood producer bought the now-dilapidated Auldbrass and restored it to its former glory.
31. Tennessee – Seamour and Gerte Shavin House (1952)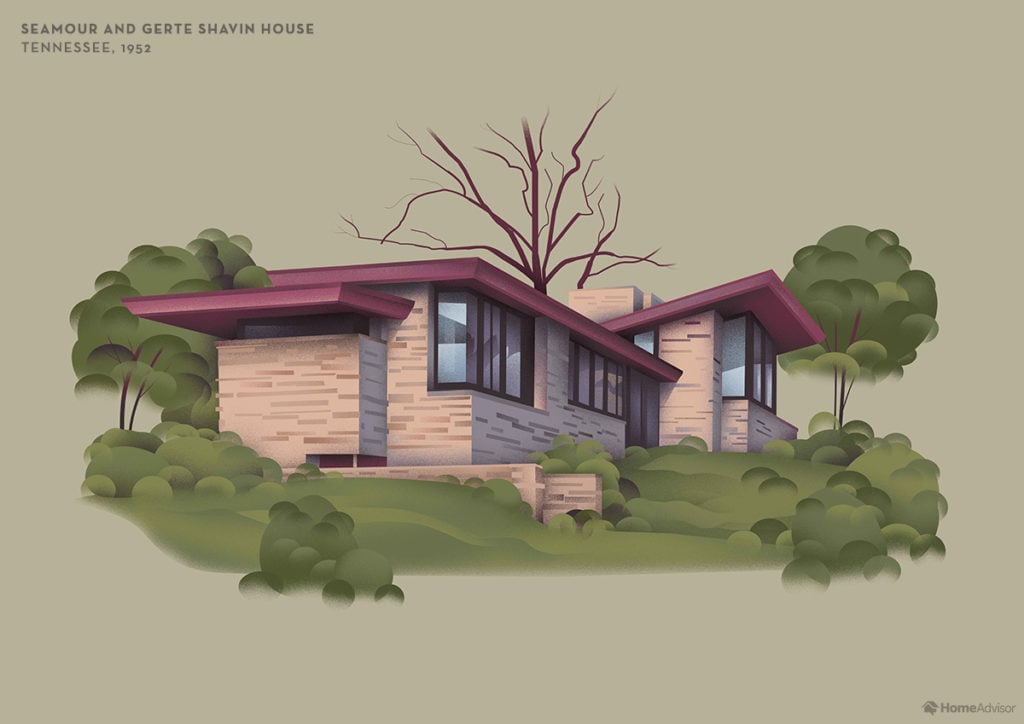 Seamour and Gerte Shavin house is situated on top of a hill with views of the Tennessee River and Lookout Mountain. The house is a Usonian design featuring a hidden entrance and stonework reminiscent of Fallingwater.
32. Texas – John Gillin Residence (1958)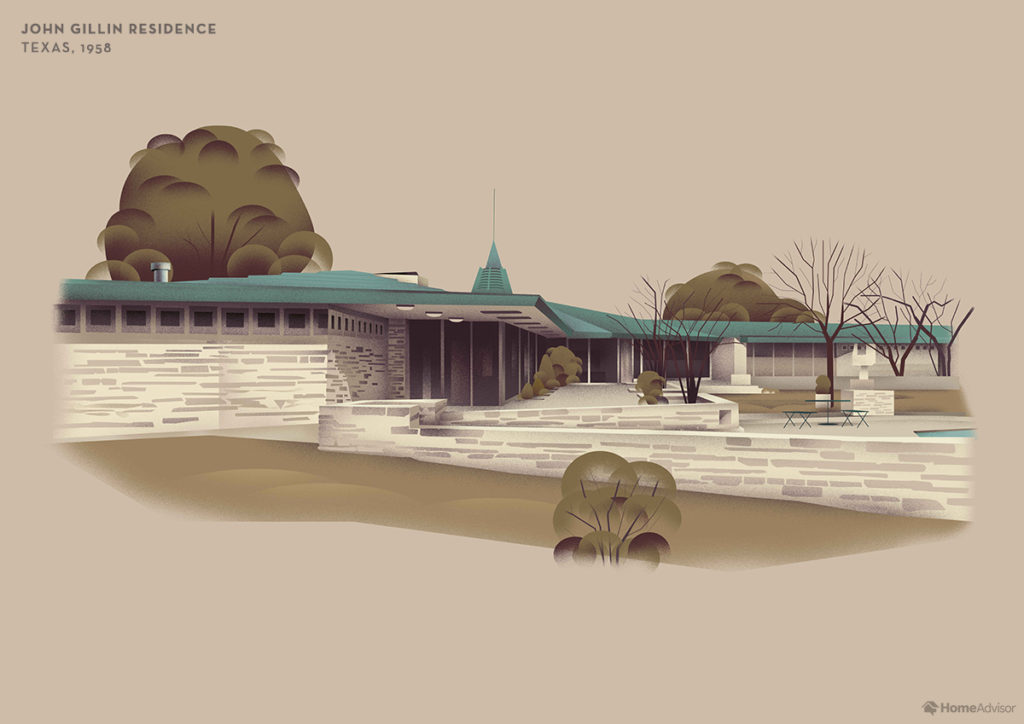 Organized around a large angular fireplace, the Gillin residence features a grand living room that sits beneath a hexagonal copper dome roof. This was the last home completed before Wright's death in 1959.
33. Utah – Don M. Stromquist House (1963)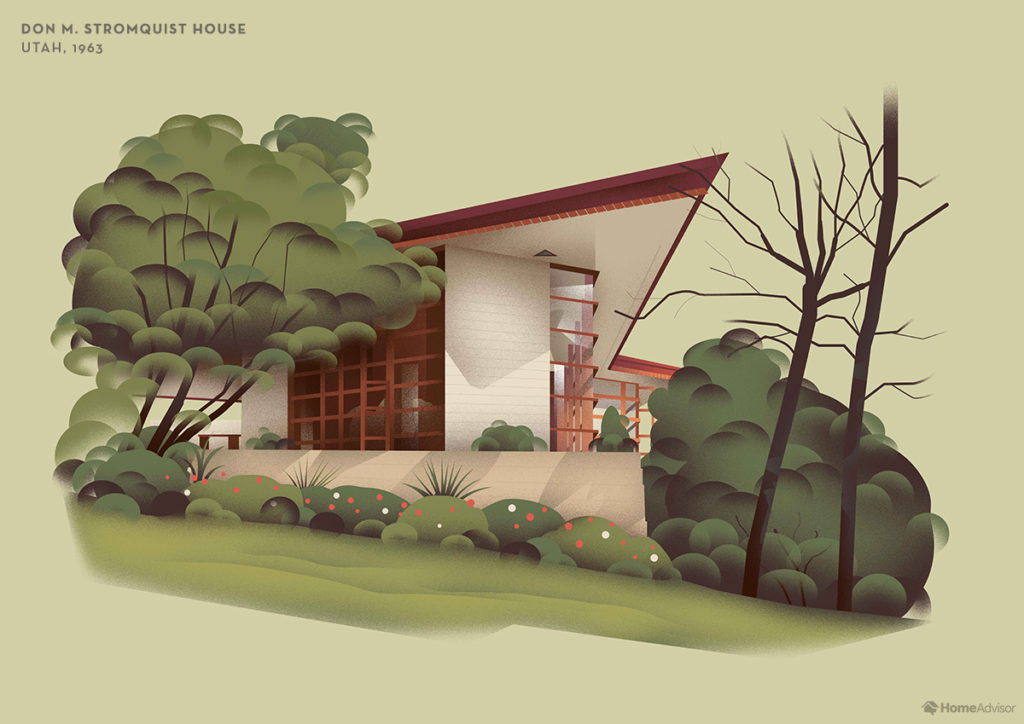 The Don M. Stromquist house is the only known Wright building in Utah. It was commissioned, sold and then repurchased by the Stromquist family.
34. Virginia – Pope–Leighey House (1940)
The
Pope–Leighey house features an L-shaped Usonian design. It has had to move location on two occasions, first to avoid falling prey to an expansion of Highway 66 and then again – by about 30 feet – because of soil instability.
35. Washington – Chauncey L. Griggs Residence (1946–54)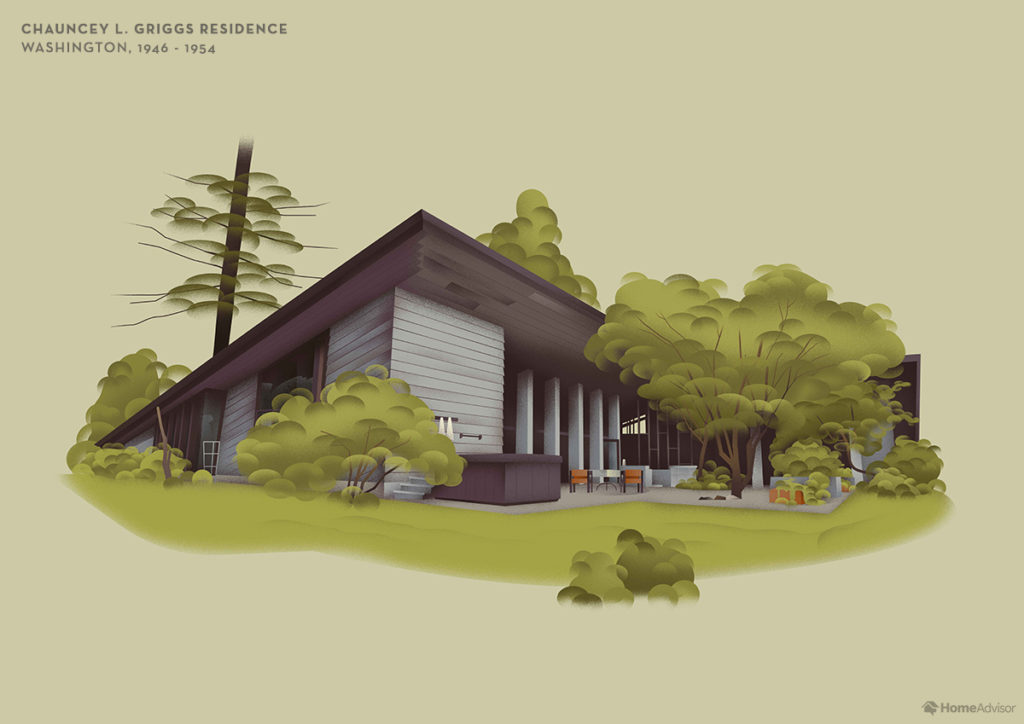 This residence covers an impressive 3,700 square feet. Construction of the Chauncey L. Griggs Residence began in 1946 but temporarily halted due to revisions of the drawings.
36. Wisconsin – F.G. Bogk House (1916)
Designed while Wright was preparing to work on the Imperial Hotel in Japan, the F.G. Bogk House evidences Japanese design influences, most obviously in the broad overhang of its green-tiled hip roof. The free-flowing and open first floor would become a Wright hallmark.
37. Wyoming – Quintin Blair House (1952–53)
The Quintin Blair House is dominated by a low, nearly flat roof that flares dramatically over the living room. It was supposedly built to correct the absence of a Wright house in the state of Wyoming.
Frank Lloyd Wright has left an incredible architectural legacy which has yet to be surpassed. Our fascination with his work represents a powerful and enriching cultural pulse to this day.
Methodology
We created a list of the 37 states that have a residential property built from Frank Lloyd Wright's designs. To do so, we pulled information about the architect's works from a wide variety of sources. The list included properties that have since been demolished, destroyed, damaged, renovated and restored, as well as those built since Wright's death in 1959. To create the final map, we selected the most historically or architecturally significant homes from each state.
Sources
Do you daydream about building your own home in the style of Frank Lloyd Wright? See how reasonable the cost of building a house is compared to buying a new home or fixer upper. Then, talk to an architect near you and see if it's finally time to make your dream home a reality.
16 Comments