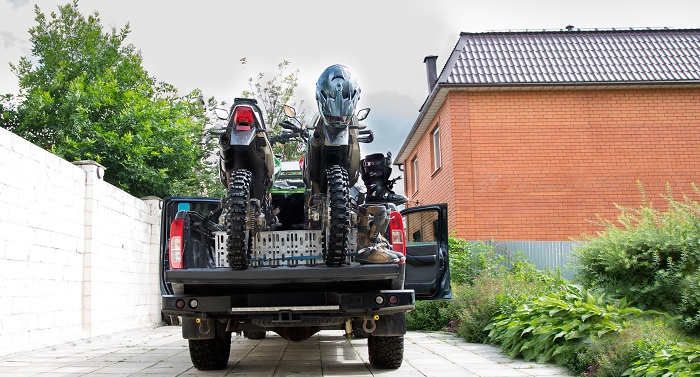 The average cost to ship a motorcycle within the continental United States is around $500. The highest average price is $600, and the lowest average price is $400. The per mile average is $0.50 per mile for trips of around 1,000 miles. Knowing the price to have your motorcycle transported can help you budget for your move.
There are many methods to ship motorcycles including train, truck, ship and plane. The method that a person chooses to ship their bike depends on factors like distance and terrain. People typically ship their motorcycles because of relocation or because the bike has sold to someone else.
It's common for owners to ship their motorcycle through a specialized shipping company or a full-service moving company. Often, full-service moving companies that ship motorcycles will contract with a specialized shipping company for the job.
On This Page:
Motorcycle & Dirt Bike Shipping Quotes + Price Factors
The average cost per mile to transport a motorcycle is around $0.50 per mile for trips of around 1,000 miles. Although some companies will charge a flat fee to transport bikes a short distance, longer trips are charged by the mile. Typically, bikes are transported by truck, though in cases where trucks are not available or are not sensible, other methods may be used.
Motorbike Size
Some moving companies will figure the cost of insurance by weight. So, the size of the motorbike can influence the cost of the shipment. Lightweight motorcycles typically weigh between 230 and 330 pounds. Heavier models, like Harley Davidsons, typically weigh around 500 pounds. A typical insurance rate is around $0.50 per pound.
In addition, some companies may charge more in shipping for large, heavy motorbikes. This happens for many reasons. In addition to being harder to manage, large bikes also require oversized crates, tie downs and special packing accommodations to ensure that the motorbike arrives safely in its new location.
Transport Distance
Many companies offer deals to consumers shipping their motorbikes within a certain range of the pickup point. More charges may apply to difficult to reach areas of the country. Some companies will apply surcharges to interstate shipments. Charges may vary; talk to your moving professional to find out the costs.
Time of Year
In general, time of year does not affect rates. However, some owners may choose to send their motorbike in enclosed shipping during winter and at times of year when weather is poor. Enclosed shipping options ensure that the bike is completely protected from the elements. This type of shipping is more costly than other types. A typical enclosed carrier will cost around $150 more than a non-enclosed carrier.
Pick Up and Drop Off Location
The cheapest place to pick up or drop off a motorbike is usually in an urban area. Remote locations are more expensive, especially for door to door service. Even if the motorbike is driven by the owner to a nearby urban area and dropped off at a terminal, the cost to drive the motorbike to the terminal adds expense to the overall journey.
Return to Top
Luxury & Vintage Motorcycle Shipping Rates
While there are no special rates for shipping luxury or vintage motorcycles, many owners pay for enclosed shipping because it provides maximum protection. The average cost to send a vintage or rare bike across the country in an enclosed carrier is around $800.
Calculating Extra Costs
There are a variety of extra costs that may apply for motorcycle shipping, including:
Insurance coverage, which varies by moving company.
Fuel surcharges fluctuate based on the fuel prices.
Failed delivery attempt, which may incur a charge of two hundred or more dollars.
Residential pick up and drop off fee versus pick up and drop off at a more convenient space.
Added space for large bikes with sidecars, trailers and other attachments.
Enclosed space charges differ from one company to another.
Express shipment ensures quick pick up and delivery.
To find out what surcharges apply to your shipment, contact a company for a binding quote.
Freight Cost Estimator
The costs of shipping may vary from one company to another, depending on method of shipment, timeliness and other factors. Preparing in advance for moving can help save money. There are many ways to deliver a motorcycle to a new location. The method you choose to send your motorbike can have a considerable influence on the price you pay.
Professional Shipping Truck
The average price to transport 1,300 miles by truck is around $650. Professional shipping trucks may be the most common method that people use when shipping a motorcycle across the country.
Plane
The price to transport a motorbike from one country to another by plane can vary by quite a lot, but typical rates run from $400 to $800. Plane is not a common way for owners to send their motorbike, however, some services enable owners to ride in passenger planes with their own personal motorcycle in the cargo bay.
Train
The cost to ship your car by train is one of the most economical methods and can cost as little as $200 depending on the route. Prices fluctuate because railway companies sell space to commercial clients first, and non-commercial clients second. Trains are practical for sending motorbikes between big cities.
Ship
Rates to transport your motorcycle on a ship will vary depending point of origin and destination, but a typical price is around $1,500, with the range falling anywhere from $1,000 to $2,000. Typically, motorbikes are not shipped by boat unless there no other options exist. For example, when the owner is moving the it across an ocean or to another country.
Reasons to Transport
Relocation is a common reason that many owners pay to transport their bike. Motorcyclists often pay for relocation when they move. Other reasons include attending motorcycle rallies, taking the bike on vacation, and relocation for the purposes of selling or buying. Some people choose to ship their luxury or vintage bike to avoid putting miles on the odometer.
Hiring a Moving Service
Hiring a moving service to transport a motorcycle can be a complicated process. Taking care to avoid problems while moving is important. Factors to take into consideration include:
Experience
Moving companies with a good reputation and extensive experience are often more trustworthy than new companies that can be hard to vet. To learn more about their experience and quality, check online reviews.
Insurance
Check your moving company's insurance policy and find out how much coverage extends to your shipment. Ask about the deductible. This will be important if something happens to your bike.
Cheap Shipping
The lowest price isn't always the best price. When selecting a company, watch out for rates that fall far below the competition. Inexpensive movers often cut corners in ways that can cause damage to your property and more expense for you. Moving scams are also, unfortunately, not uncommon.
Reviews
Our Tips on Hiring the Right Moving Company page can help you comb through reviews and find reliable moving professionals. Get free quotes from multiple companies before choosing a company.
Return to Top
Preparation and Delivery
Preparing for a move is an important step in the process. When preparing your motorbike for delivery, wash it once and make a list of all notable damage on the bike. Remove all personal items and deactivate any alarms. If your motorbike is being shipped by crate, drain gas from the tank and remove the battery. Put it into neutral gear for shipping.
Average Cost of DIY Shipping
DIY shipping typically involves hauling your own bike in a trailer. DIY costs include time, hotel, food, rental fees and gas. While driving the motorbike on your own certainly ensures the motorcycle will be treated with respect, DIY shipping can be exhausting and more expensive than hiring a service.
U-Haul Trailer Rental
U-Haul trailer rental can vary depending on the season, pick up and drop off location and rental duration. Motorcycle owners trying to estimate their total costs must consider the cost of hotel, food and gas while on their trip. Rental of a trailer is likely to cost several hundred dollars.
Shipping Crates
Shipping crates loaded by the owner may be less costly than standard trucking rates, but DIYers must be careful to ensure the motorcycle is properly loaded into the crate. Damage can occur if it is not secured tightly in its container.
FAQs?
What's the Cheapest Way to Ship a Motorcycle?
Crates that are loaded by the owner are typically the most affordable choice, however, owners run the risk of packing their motorcycle incorrectly, which in turn can lead to accidents and damage.
How Much to Ship to Hawaii?
The cost to send a motorbike to Hawaii is typically between $800 to $1,200. The cost varies depending on the service and point of origin.
How Much Does It Cost to Haul a Motorcycle to Alaska?
Sending a motorcycle from the continental US to Alaska costs around $300, depending on the service used. Many people use trucking services to ship their motorbikes to Alaska.
How Much Is It to Ship a Motorcycle Overseas – to UK, Europe or Beyond?
Sending a motorcycle overseas costs between $1,000 and $2,000, depending on the point of origin and the destination.
Regardless of your personal reasons for shipping your motorcycle, doing research and getting a binding quote can help ensure that the shipment is done affordably and in an acceptable period. If you're thinking about shipping your motorbike from one place to another, start by calling professional companies and getting quotes. Read reviews online and do your research. Going into the process with eyes open can help ensure success.
Return to Top
No Comments Yet