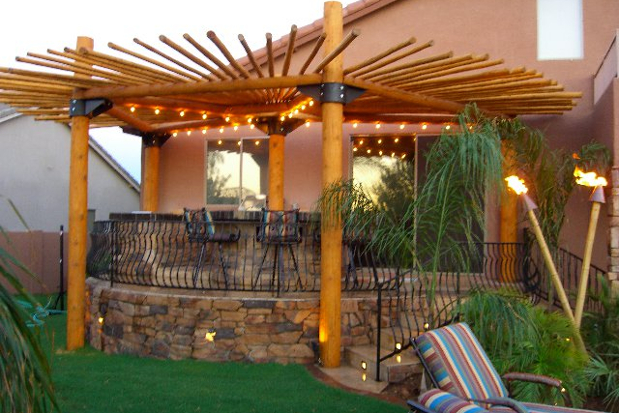 When you hear the phrase "outdoor entertaining," do you immediately think of a summer barbecue, surrounded by coolers, hot dogs, and, of course, those pesky mosquitoes? There's nothing wrong with a good old-fashioned picnic, but with new technology comes new opportunities. With some creative product solutions out on the market, you can now turn your barbecue into a chic outdoor dinner party. Plus, since eating outside is so much fun, why only save it for summer afternoons? If you build the right atmosphere, you could entertain at anytime of the day, anytime of the year.
Night Lights
Why do picnics always have to occur during the day? It's cooler at night and it gives you the chance to create a unique atmosphere that can only be achieved in the dark. However, certain preparations have to be made in order to make the environment safe and practical. Outdoor lighting not only makes a patio feel cozy and convenient, it can also be used to highlight your yard:
Candles are the easiest way to add mood lighting to a porch. Just be careful with the open flames and always keep it simple: space them sparingly around the patio. Too much cluttered light could ruin the aura.
Tiki torches have a unique look and they give summer nights a fun tropical feel.
Landscape lighting is something you can always have in your back pocket. Spotlight your gardens, flowers, and plant life with up-lighting. Or delineate pathways with lantern lights for easier access.
Christmas lights are also a cool way to enhance a setting. Place them in shrubbery or tree branches to create a fairytale landscape.
Ready to start your
Outdoor Lighting Project

?Find Pros
Fire It Up!
If there is one thing that summer barbecues have in common, it's the heat. This is why outdoor entertaining is gaining popularity during the "off-season." Spring and autumn are perfect times to have an outside event due to the cool climate. Even having a holiday party during the winter is a good idea, as long as you prepare for the weather:
Gas heaters are quite common. You've probably seen these tall metal torches at restaurants or bars, and they supply a perfect amount of heat to any season.
Wood-burning stoves or ceramic chimineas are great for outdoor entertaining. Not only are they stylish and add ambience, they also throw out the heat.
Outdoor fireplaces, although more expensive, are a great investment. They add value and elegance to your home, and sometimes there isn't a better way to spend an evening than roasting some marshmallows over an open hearth.
Sturdy Seating
The biggest problem about eating outdoors is the natural lack of seating. Therefore, if you're going to invite guests over to stand around outside, outdoor furniture is absolutely crucial. Though you want it to look good and be comfortable, you'll also want to think about durability. Since it's going to be enduring the elements all year around, whether it be constant sun, rain, or snow, outdoor furniture must be able to withstand the strain:
Wicker is a great product for both its old-school look and practicality.
Wrought iron is also tough and stylish as long as you make sure it's rust-proof.
Umbrellas are great way to protect your outdoor furniture. Buy a table umbrella or put more vulnerable items, such as couches with cushions, under awnings.
Creature Comforts
Some additional ways to develop an elegant atmosphere is to install some high-tech physical comforts, while avoiding some of those pesky natural pests:
Televisions have become a popular feature for outdoor entertainment since they bring an indoor feature outside. Hang them on the walls and use them as a relaxing background distraction. Or set up satellite cable to watch the big game as you dine.
Grill islands are a great way to avoid the hassle of moving in and out of the house. They provide a fully functioning kitchen right outside the home.
Hot tubs, spas, and pools, though pricey investments, these can offer your guests an after-dinner option. Hot tubs help to digest a meal and a pool is a great ice-breaker activity where everyone can participate and mingle.
Pest control is important. Mosquitoes and bugs can hinder any outside event. So make sure to pick up a bug zapper or some citronella candles to keep away the vermin.
No Comments Yet