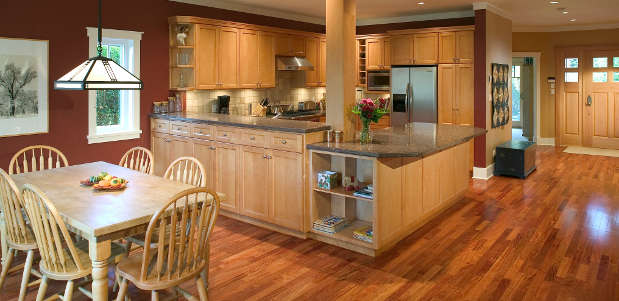 Kitchen design is the first and most important step of any kitchen remodel. Without a good design, you can't have a great kitchen. Without a detailed design, you can't have a smooth remodeling process. Here's what you need to know about the available resources and kitchen design professionals who are out there.
Free Kitchen Design Services
At some home centers, general contractors and cabinet dealers offer free design services. While getting something for free is always attractive, free design services are likely to be cursory. Typically, these quickie designers make little effort to learn your priorities. Because people now expect to use their kitchens for many different purposes, it is common to encounter conflicts among the various roles. For example, the smooth, easy-to-clean surfaces in a kitchen can seem cold. What can you do to warm up the space and make it more comfortable for entertaining, without making it impossible to clean?
Such design services do offer a low-cost way to get the ball rolling. In the idea-gathering phase at the beginning of your planning process, you can talk to more than one of these designers to get some ideas about how things might fit together. By the end, you may very well be able to envision and convey your new kitchen space to a contractor on your own. More often, however, you may need a more intensive and detailed kitchen design. Otherwise, delays and even unnecessary expenses are likely to be the result.
Kitchen Design Software
There are now dozens of software packages to help you design a kitchen. Some take weeks of study and are primarily designed for professionals. Others allow a novice to start playing around with different ideas in under an hour. By eliminating the need for manually prepared drawings, the programs make it much easier to try out and visualize a wide array of ideas. Many programs are equipped with built-in advice that can suggest placement of appliances or catch obvious mistakes.
While useful, powerful and fun, these programs cannot yet match the work of trained professionals. These products are especially ill-equipped to help you understand the opportunities and obstacles inherent in the way your kitchen is now laid out. Figuring out the location of existing ducts, pipes, wires, chimneys and load-bearing walls is something only a professional, working on-site, is likely to be able to accomplish.
Kitchen Dealer-Designers and Remodelers
Sometimes, it's hard to tell a dealer-designer from a remodeling contractor. After all, both will create a new kitchen for you. But, the distinction is important, and there is a simple way to tell them apart. Listen to how they describe the people who actually build the kitchen. Remodelers will refer to contractors, carpenters or builders. Dealer-designers tend to refer to installers. The advantages and disadvantages of each type of business flow directly from the perspective implied in this simple language difference. They have a very different focus. Typically, dealer-designers know a lot about the products that go into a kitchen, while remodelers know the nuts-and-bolts about installing them.
Dealer-designers make most of their money from the sale of cabinets, appliances and other kitchen components. As a result, some of them offer their services for free or at discounted prices. Remodelers tend to make their money from the construction phase but may also offer free or discounted design services. This distinction is also important to understand how it may be easier to trim costs through looking at many different manufacturers, rather than trying to trim costs for the kitchen's construction and installation.
Kitchen Design/Build Firms
Finally, there is the design/build alternative. The concept behind this approach is to integrate the design and construction processes in a hybrid that captures most of the strengths and avoids most of the weaknesses in some of the options described above. This approach can often result in a less expensive design that is much more practical. It's also nice to only deal with one company for the entire project.
Another advantage of the design/build approach is that those involved in building and those involved in designing work together continuously, with each helping the other to adapt their practices to produce a quality product at a reasonable price. These advantages have made the design/build approach extremely popular in recent years.
No Comments Yet