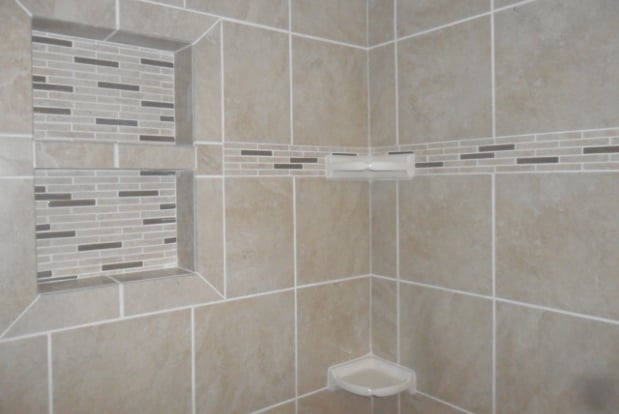 Whether in the bathroom or in the kitchen, tile installation is a project that can improve appearances as well as bring a sense of classic durability to the space. Unfortunately, while tile installations are extremely wise investments, they can also be messy, noisy, and sometimes lengthy projects. When considering any home improvement (whether large or small), knowing what to expect during the process before it begins can often make the inconveniences that go along with the project easier to bear. Here are a few things that a typical tiling project is likely to involve, and a couple helpful hints that will it go more smoothly!
How much does it cost to tile shower? Consult our Shower Installation Cost Guide.
Removing Ceramic Tile that Already Exists
Many of jobs take place in spaces where tile already exists so removing it is often the very first step in a new installation. Depending on the age and quality of your existing tile, it can be easy to remove. Ceramic tile is designed to resist moisture, but in very old installations (or newer ones that were done improperly), moisture can get behind the tiles and ruin their adhesion, making prying them off a relatively simple matter.
In cases where the existing tile is relatively new and the previous installers did their jobs well, removal is louder, messier, and more time consuming. This spells more aggravation for you and the crew doing the work, and in some cases may increase the amount of labor hours you'll have to pay for. Of course, if it is part of a larger remodel, removing ceramic tile is probably not going to significantly up the total cost of the project; on the other hand, if the existing tile is relatively new and you only want to change the look of a single wall or countertop, be prepared for a project that is slightly more involved (and possibly more expensive) than you might first imagine.
Bathroom and Kitchen Tile Installation
Once the existing materials are removed, the next step is to make sure the exposed surface is properly prepared for a new installation. Kitchens and bathrooms take a lot of abuse, and the surface your tile is placed on must be both sturdy and even. Often, preparing the surface will involve a lot of stripping, sanding, dust, and loud power tools. While messy and noisy, surface preparation is a necessity if you want your new tile to go the distance. Thankfully, a professional crew can prep the surface pretty quickly and move onto the next step, which is less disruptive.
Once the surface is ready, your crew will be able to spread the mortar or grout that the tile will be set into. While still messy, the application of mortar and grout during later phases of installation is not necessarily noisy. You might hear a saw or two being used to trim individual tiles, but once the grout goes down, your tiles are set in place, and your project is nearly finished!
Post-Tile Installation Etiquette
It is important to remember that bathroom and kitchen tile installations are not truly done until a few days after your crew leaves your home. New tile needs time to cure and solidify. Floors should not be walked on for at least 48 hours after the tiles are laid; similarly, ceramic tile shower stalls and counters should remain completely moisture free for a couple days so the grout can completely dry. For kitchen tile and installations in single bathroom homes, it is often a good idea to simply go on a two day vacation while your grout is setting.
Grout Replacement
Installing brand new tile is a very affordable choice when compared to some other projects, but it is still cost-prohibitive to many homeowners that are on tight budgets. However, grout replacement offers a quick and affordable way to breathe new life into existing tile in a fraction of the time it would take for a new installation. Easy and cheap (albeit a little tedious) to replace, tile grout is responsible for a large portion of the overall appearance of the wall, floor, or counter is occupies. If your existing grout is stained, mildewed, and/or eroding, replacing it with bright, new grout will improve the look of the entire setting as well as prolong its lifespan. When coupled with tile polishing, grout replacement makes a world of difference for a very reasonable investment!
No Comments Yet