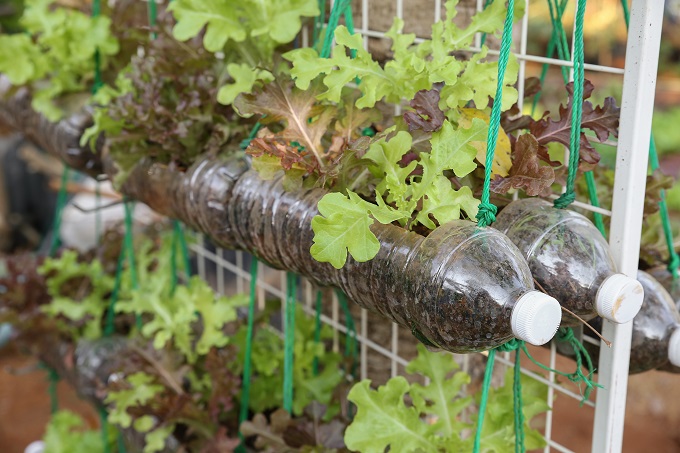 On This Page:
An apartment building in a thriving neighborhood with all the benefits of urban life can be great. But, when you want a taste of nature, you have to take a long walk to the park. Vertical gardening gives you the beauty, smell, and benefits of nature without leaving home.
Vertical gardens are customizable to your space and lifestyle. If you don't have time for high-maintenance decor, you can choose low-maintenance plants, pots, and watering systems. This article will guide you through growing a vertical garden.
The Process of Growing a Vertical Garden
It's simple enough once you decide on the type of vertical garden you want and where you are going to put it.
You also need to pay close attention to the type of plants that you want and the amount of sunlight they require. This helps determine where each plant goes in your vertical garden. More details are given below:
Types
This is where you can make the best use of your creativity. Your gardening container of choice can be anything from a flowerpot to an old dresser drawer. Here are some commonly used container types:
Hanging pots: You can set small flower pots on support strings and tie the strings to a well-hinged rod.
Recycled bottles: You can place a soda bottle on its side and cut out an oval along one side and fill the bottle with soil. You can place many such bottles on an open shelf or tie it to a clothesline and let it hang. Make sure that the bottle is capped.
Crates: Crates can be stacked and supported by each other to display any form: pyramids, rectangles, or any custom design. Make sure that the assembly is structurally strong.
Pocket: Pockets are made from canvas. The whole assembly can be hung on or attached to a wall. Each pocket needs to be a considerable size to accommodate a small plant. Watering the plants can get dirty considering that canvas cannot fully absorb water. But if you are very cautious it can be done neatly.
You can also purchase vertical garden kits online or from most home renovation stores.
Placement and Plants
If you have a small balcony or patio, most plants would love the natural light and air of the outdoors. But if you have no outdoor space, there are many plants that can happily grow in the shade. But you do have to set up minimal lighting, like small greenhouse lights, for indoor vertical gardens. Visit your local nursery for information on the lighting fixtures to purchase for your plants.
It all comes down to your priorities. If space is limited and existing furniture can't be moved, you might end up compromising on your plant choices. But if nature is your priority, you can adjust to accommodate the plants' needs. In fact, if your container system is mobile enough, you can have fun by moving it around the house through the different seasons.
Another important factor to consider is where each plant should go within your vertical garden frame. Plants which need more sunlight should be placed in the location where light will be most likely to hit it. Also, the soil for the plants on top can get dry very quickly as a result of being exposed to the sun for a longer period of time, so you'll need to select a plant that thrives in dry sun exposure. It is important to strike a balance between sunlight and water requirements for the plants at the top of the structure.
Keeping your plant preferences local can help your garden last because imported plants might not survive the seasons of the local climate. A nearby Master Gardener or nursery owner should be able to help you pick the perfect plant for your indoor or patio garden.
6 Steps to Build a Vertical Wall Garden
Installing a vertical garden is the perfect way to boost the appearance of your backyard. Here's a quick how-to:
Gather your tools. You'll need a pallet, landscaping fabric, scissors and a staple gun.
Staple the fabric in place. Stretch the landscaping fabric over the back of the pallet and cut it to size. Staple the corners and sides.
Fashion soil* pockets. Turn the pallet over and fold the fabric to create pockets. Staple the pockets in place and trim any excess fabric.
Select your plants. Choose plants that require the same amount of sunlight. Plants that need less water should go on top of the garden.
Let the roots grow. Leave the pallet horizontal for two weeks to allow the roots to set.
Hang the pallet. Hang your pallet and remember to water your new garden frequently.
*We would suggest using potting soil because it has more water retention capabilities.
Consult a Pro To Help With Your Garden
Irrigating
In a vertical garden, you must be extremely careful when it comes to irrigation. Normal flower pots have small drainage holes so that extra water can seep out. Vertical gardens do not have that advantage. So, be careful not to over water your vertical garden.
Watering the plants in a vertical garden will be a messy affair. You might be left with a small puddle of muddy water. You should also make sure that water is distributed evenly to all the plants. For these reasons, most people with vertical gardens opt to use a drip irrigation system. A few holes placed evenly around the frame and in the soil, will let water drip down on the plants at regular intervals to make sure that they do not become dry. Sophisticated drip irrigation systems can also be programmed to allow only the necessary amount of water to drip onto the plants.
DIY or Hire a Pro to Fill Your Home with Life
It is said that being surrounded by plants improves the physical, mental, and emotional well-being of kids and adults alike. People without the outdoor space for a lush garden now have an alternative in vertical gardens or living walls. You can see results quickly if you have chosen the right plants and the right irrigation methods.
You can set up your garden alone or get it done with the help of professionals. You may find that contacting a professional gardener gets you the best value for your project. They can suggest the right plants and solutions for your location, light, climate, and budget—while still making sure that the living wall fits your lifestyle.
Learn more about low-maintenance plants and the cost of hiring a gardener by checking out our Yard & Garden Work Cost Guide.
Get Help Designing Your New Garden

1 Comments