See if We Have Top-Rated
Home Security Contractors in Your Area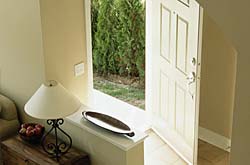 Retrofitting an older or existing home will provide significantly better hurricane home protection, but the best hurricane proof homes are specifically designed and built to withstand hurricane force winds. If you're planning on building a home in a hurricane-prone area, it's a great idea to look at construction methods and companies that offer the closest thing out there to truly hurricane proof homes. Not only are these homes superb at withstanding some of the harshest conditions Mother Nature has to offer, but they are also energy-efficient and fire and pest-resistant.
Hurricane Proof Home Plans
Hurricane proof home plans can accommodate nearly any house plan style or decorative exterior. The general building method that ensures structural integrity involves filling your exterior walls with concrete. Insulated Concrete Forms (ICFs) are the most common concrete walls and usually include steel framed interior walls. Other wall blocks can also be used and filled in with concrete and provide various performance and cost advantages.
Concrete and other home construction installations such as tankless hot water systems, woodless roofs, and energy-efficient windows all help to create an airtight home that will protect your home from internal air pressure and create a superior energy-efficient home.
The Cost of Building a Hurricane Proof Home
There's no one set guideline for the cost of building a hurricane proof home. Too many variables are present. A waterfront home is probably going to need special precautions—concrete homes on soft ground are difficult to negotiate. Generally speaking, any kind of hurricane proof home is going to be more expensive than your traditional wood-framed home, but it may not be nearly as expensive as you imagine. Part of your total cost calculations should include the money you'll save in lower utility costs, potential tax credits, and lower insurance premiums.
General Hurricane Home Protection
Windows, doors, and roofs are the three main areas of vulnerability of a home during a hurricane. Hurricane-force winds create a vacuum over your roof. When your windows or doors are blown away internal air pressure inside your home begins to build and can cause extensive roof damage or even structural collapse.
Reinforcing your roof can be accomplished through several different methods. You can actually install a temporary roof harness, galvanized metal straps, additional braces, or you can even glue your roof down by applying glue between the roof and the support beams.
Hurricane Windows and Doors
Of course, even the best methods of roof reinforcement may not be enough if you don't also do your best to seal your windows and doors. Hurricane-strength storm shutters for your windows are an absolute must for hurricane home protection. Steel is the best and the most expensive. Aluminum and plywood shutters are also available. For even better protection, you can also install impact-resistant windows.
Many homes have doors that are far from hurricane-proof. Installing additional door bolts can make the difference in keeping your hurricane winds and air pressure from infiltrating your home. Reinforcing doors also includes the garage door, a commonly overlooked area of weakness. Garage doors tend to be significantly lighter than entry doors. Your garage doors can be reinforced with plywood or steel, but installing impact-resistant doors will provide better hurricane home protection.
Marcus Pickett is a professional freelance writer for the home remodeling industry. He has published more than 600 articles on both regional and national topics within the home improvement industry.
More Tips & Advice For Your Home
Related Articles
Recent Articles