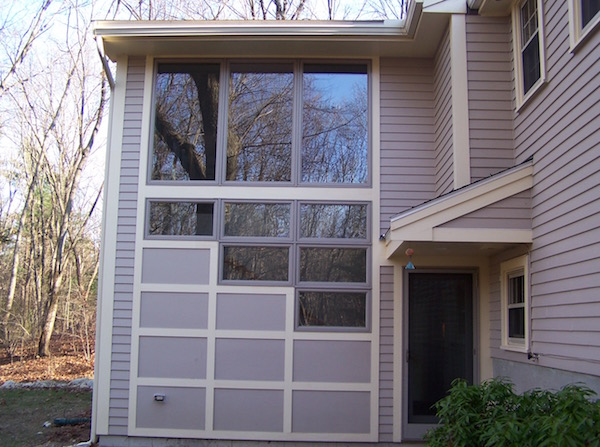 Panelized homes are homes where different sections of the home are built in a factory-controlled environment and then transported to the building site. It may sound complicated, but in fact, the main advantage of purchasing a panelized home is that the construction process is streamlined, reducing labor costs, construction time, and building materials and waste. Previously, panelized homes also reduced the design flexibility of the home-buyer. The technology has now advanced to the point where you can buy a panelized home for virtually any home plan.
They are two main types of panelized homes: open walls homes and closed wall homes. These names indicate pretty well what they are, but there are also relative advantages and disadvantages to each type of panelized construction.
Open Wall Homes
Open wall homes are constructed with only the exterior sheathing attached to stud walls. This means the wiring, plumbing, insulation, and drywall are added at the job site. This naturally increases the labor cost and construction time, but it also gives you more quality control and peace-of-mind. Inspectors will help ensure your house is up to each building code at the time of its final installation. Open wall homes may also increase your design flexibility, depending on the company you choose.
Closed Wall Homes
Closed wall homes are finished wall panelized construction. Building code inspectors, which can be employed by the company or independent contractors can inspect the building at the factory for quality control. Closed wall homes can be constructed with merely finished walls and unfinished interiors or they can be constructed with turn-key production, allowing you to move in as soon as the installation is complete.
Structural Insulated Panels
Panels can also be constructed of structural insulated panels (SIPs) made in factory by sandwiching an expanded polystyrene insulation core between two sheets of oriented strand board (OSB) to achieve a durable, low-cost, energy-efficient product.
Studies have proven that using SIPs for the exterior provides substantial energy advantages compared to ordinary wood-framed walls with fiberglass insulation. Replacing conventionally-framed walls with SIPs may increase production costs minimally, but result in lower energy bills.
Protect Your Investment
Most of the problems that arise from panelized homes are not from poor design but craftsmanship. You need to make sure your on-site installer is experienced and qualified in the construction, not just of panelized home, but of the specific company you're buying your home from. Often, a panelized home company will recommend an installer to complete the on-site construction. Their recommendation is usually the best way to go, but you should always make sure it's clear who's responsible should problems arise from the construction.
There's no reason a well-built panelized home shouldn't last as long as a traditional stick and frame building. To protect your investment you should have clearly defined, extended warranties. The best idea is to ask for the company to guarantee the warranties, as they're less likely to go under and leave you with no way to receive compensation from building failures.
No Comments Yet