Pre-Manufactured Cabinets
See if We Have Top-Rated
Cabinet Contractors in Your Area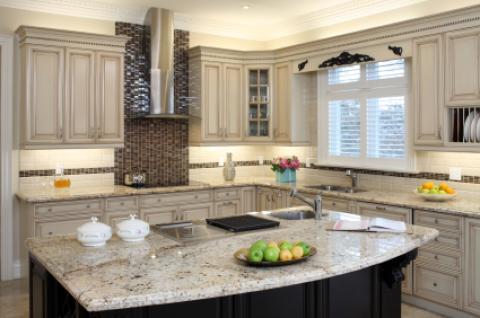 Cabinets supply important storage in kitchens, bathrooms, offices, and other rooms of the house. Hundreds, if not thousands, of styles are made from a broad range of materials: fine hardwoods, laminates, veneers, painted particleboard, and more. In a new home, the cabinets you choose and their placement will have a marked effect on the function of the space they occupy. In renovations and remodels, changing the style and placement of your cabinets can significantly improve both function and overall appearance.
In the cabinetry world, custom-built cabinets offer the widest variety of options, as they can be built specifically for the room (and the family) they are ordered for. Unfortunately, the high price of custom cabinets leaves many homeowners looking for other cabinet options.
Benefits of Pre-manufactured Cabinets
Pre-manufactured cabinets are diverse, practical, and competitively priced. They are mass produced, making them far less expensive to create than custom cabinets. They leave the factory, ready to be completed at the site. Pre-cut pieces arrive at the site and are assembled/joined together on location, which adds to the cost effectiveness. Pre-manufactured cabinets can accommodate customization, facilitate consistent workmanship, and cut installation time.
Though there is little comparison between the options available with pre-manufactured cabinets and the endless variety that comes with cabinets that are custom-built, most homeowners will find that their storage needs can be met with style by purchasing pre-manufactured cabinetry, without the huge price tag of custom cabinetry.
Stock and Semi-stock Cabinets
Pre-manufactured cabinets are also known as stock cabinets or semi-stock cabinets depending on the amount of customization you can expect in their construction. Though both stock and semi-stock cabinets are included in the term "pre-manufactured", stock cabinets are less expensive and come in less variety.
Stock cabinets are generally what you find for sale on home improvement center showroom floors. Though you will generally have some leeway with the look and the materials that go into a stock cabinet, their lack of customization is what keeps their prices so low.

Semi-stock cabinets, though still produced in a factory and not by a craftsman, offer far more options at a moderately higher price. These can be ordered to fit your specific needs and tastes with greater precision than their stock counterparts, but do not offer the personalized fit (or the high price tag) you have with custom cabinets.

For high quality, you choose your materials from a wide range of colors and textures, or hardwood veneers. You can also pick matching hardware and custom-crafted finishes for just the right compliment. Assembly does not require highly skilled labor or large work areas and can be completed in a fraction of the time it would take to build custom cabinets.

Jon Nunan is a freelance writer who draws on his experience in construction, ranging from landscaping to log home building, for his articles on home improvement.
More Tips & Advice For Your Home
Related Articles
Recent Articles