The Right Choice with Display Kitchens
See if We Have Top-Rated
Kitchen Professionals in Your Area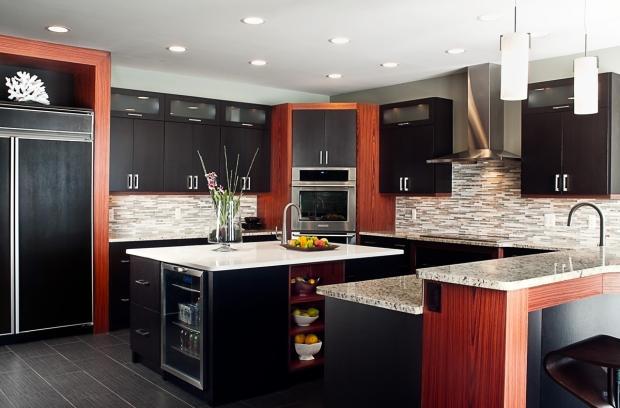 With a preponderance of mega-home stores all over the country, it is likely that nearly every homeowner has been inside of one for some type of home improvement materials. The display kitchens that are in nearly every one of these stores are eye-catching, elegant, and unique. It's hard not to want one for yourself. The attractiveness of the display kitchens begs the question? Are they good for your home?
Display Kitchen Breakdown
On a scale of 1-10, rank the display kitchen you've seen or the one you want and compute the average:
How attractive is the kitchen to you?
How many items does it contain that you don't like?
How much of a difference will it make to your home's appearance?
How much of a difference will it make in your kitchen's functionality?
How much of a deterrent is the price?

These would be some good questions to ask yourself of any remodel, just to get a sense of how your emotional attachments play into your choices.

If this number is low, then by all means don't go with this display kitchen. If the average is below 8, then contracting a custom job yourself is mostly the right choice for you. If your average is relatively high, 8 or better, then you need to investigate further. There are some hidden secrets that you will want to at least be aware of even if you are choosing the display kitchen.

Model Kitchen Secrets
One secret is that model kitchens are not operational. Of course some of them have running water and electricity, but they are not operational in the sense that there is not constant weight on the drawers, keys are not being thrown on the counter, and big meals are not being made in this kitchen. Certainly, any new kitchen is the same way, but it's important to realize that these kitchens may not function the same way that is assumed while standing in the store.

The biggest secret about model kitchens is that hundreds of other people could buy the same kitchen and have it installed in their homes. It would be like wearing the same dress as several others at a party or buying the same model car in the same color as a dozen other people on your block.

Another problem can be cabinet dimensions. Most model kitchens, even ones that are customized, have standard cabinet sizes. No matter how much room you have in your kitchen, it will be near impossible to make everything fit the way custom cabinetry would. This might not be a problem for you, especially if the savings outweigh the few gaps between cabinets, but it is just something to note.

If you are considering a custom kitchen remodel or a display kitchen installation, click this link and at not cost to you, get matched to one of our prescreened kitchen contractors.

Tips for Your Model Kitchen
If your budget and wishes have led you to buy a display kitchen, there are a few things you can do to help make what you bought feel unique to your home.

In some cases the cabinets are not prefinished, and if so, aim for a stain or finish that is different from the actual display. Most people will be too lazy to change anything, and by simply changing the stain, you can make the exact same cabinetry seem completely different.

In this same vein, if you can choose a different color of laminate, solid surface, or granite pattern, it will be difficult for others who buy the same kitchen to see the similarities. This may not be important to you, but if it is, these are just some ways to get around wearing the same shirt to the party.

Final Thoughts on Display Kitchens
The quality of the materials and craftsmanship will be higher with a custom kitchen remodel, but the cost of a display kitchen (even with the installation charge) will be lower. These are the simple facts. Custom kitchens will last 2 to 3 times longer than display kitchens, but display kitchens can last a long while, look great, and do the job. Either choice has its benefits, but it is important to understand these benefits to make an informed choice.

Matt Myers is a freelance writer for the home maintenance and remodeling industry. Formerly a contractor specializing in deck building and casework, Matt has written over 500 articles for both homeowners and contractors.
More Tips & Advice For Your Home
Related Articles
Recent Articles
Galleries