How Much Does It Cost to Remove a Wall?
Expect to pay between $300 and $1,000 to remove a non-load-bearing wall in your home. On the other hand, removing a load-bearing wall costs $1,200 to $3,000 for a single-story home. Price increases to $3,200 to $10,000 for homes with more than one level.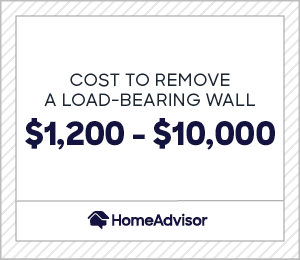 Even when they are not load-bearing, walls are important to the structure of your home. They can also house electrical, plumbing, and other service lines. Therefore, you should always consult a professional structural engineer to ensure the removal will not put your home's structural integrity at risk. Similarly, a licensed and experienced contractor should perform the work.
Thank you for submitting your feedback.