Reviewed & Approved on July 16, 2020 by Dan DiClerico, Smart Home Strategist and Home Expert.
Written by HomeAdvisor.
Drywall Costs
Drywall installation costs $1,842, with a typical range of $1,023 and $2,878. This translates into a price of $1 to $3 per square foot for materials and labor. Most homeowners pay $2 per square foot, depending on the number of rooms and the level of finish.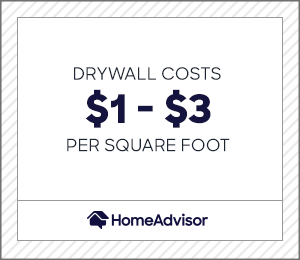 If you have a large job that you need finished in less time than you can muster for yourself, or if you want a truly professional look, it's time to hire a team. Keep these factors in mind as you determine what's best for your house.
Thank you for submitting your feedback.