May 18, 2021
Reviewed by Robert Tschudi, Home Building & Remodeling Expert.Written by HomeAdvisor.
Mold Removal Cost
The average cost for mold remediation is $2,214. Typical budgets range between $1,120 and $3,329 or $10 to $25 per square foot. While large mold remediation should be handled by a professional, small removal projects (under 10 square feet) can be done as a DIY project, and cost as little as $10 to $50. Larger jobs may cost upwards of $6,000.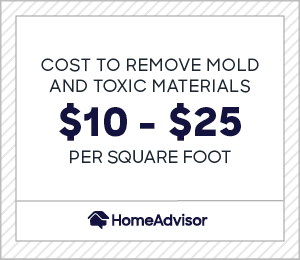 Several factors impact the budget for removal. The amount of growth and level of corrosion may require replacement of structural materials. Many remediation projects also require specialized protective and disposal equipment.
Fungi in the home can cause extensive property damage. They also pose a wide range of health risks. The problem only grows over time. Remediation can be expensive but is best handled sooner rather than later. Working with a licensed and experienced pro is the best choice for a comprehensive fix.
Thank you for submitting your feedback.