Cost to Clean or Repair Crawl Space
On average, repairing your crawl space costs $6,000. Depending on the exact problem, total expenses can range between $1,500 and $15,000. The price for a simple crawl space cleaning runs $500 to $4,000 depending on size, accessibility and most importantly what's being removed.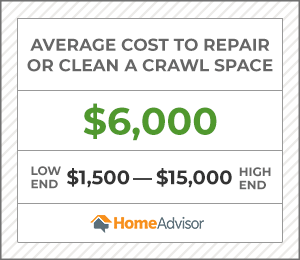 Mainly for you and your family's health, keep your crawl space clean and dry. Dirt, mold and pest droppings might affect your home's air, especially if you have ductwork running beneath it. Hiring a pro is crucial to remove the root of the problem.
Some reasons you'll want to call in a pro to clean and encapsulate the area include:
Insect and rodent damage.
Settling foundation.
Improper insulation.
Thank you for submitting your feedback.