Solar Panel Repair Costs
Homeowners spend an average of $707 to repair their solar panels. The type and level of damage will put costs in a range of $196 and $1,224. Labor costs $100 per hr. Removing the panels entirely will be $400 to $600 before factoring in the price of roof repairs.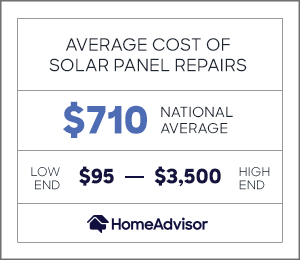 By converting the sun's rays into electricity, this technology provides a renewable source of energy for homes and businesses. Although these units are usually at roof level and manufactured to withstand the impact from small airborne debris, they still get damaged. Broken glass, from rocks, bullets, large hail or a fall (loose bolts on the mount), is the most widespread problem. Equipment with extensive damage is cheaper and more efficient to replace than fix, especially if it is near the end of its lifetime. In this scenario, or if you need roofing work done, you will need to hire a solar panel removal service.
Thank you for submitting your feedback.