How Much Does It Cost to Fix a Garbage Disposal?
Most garbage disposals cost about $250 to fix, including labor. This total ranges from $70 to $400. Labor for a plumber run around $80 an hour but varies between professionals. Individual parts have various price points, but they all cost much less than total replacement. An entirely new unit will run around $150, for materials alone.
Garbage disposals are a handy tool to quickly remove waste from your dinner plate, but they can sometimes cause trouble. This guide will help you determine your average cost and whether it's a quick DIY repair or a job for a professional.
Garbage Disposal Repair Cost Factors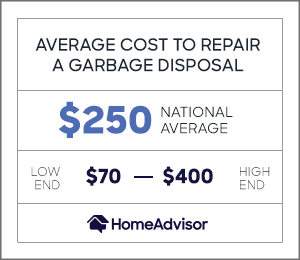 Garbage disposal repair costs vary widely based on:
Damage: Extensive damage may require electrical work or structural repair for after a bad leak.
Age of home: More expensive in an older home with difficult-to-access wiring/plumbing
Plumber's rates vary based on:

Location: Travel fees may apply
Special rates: Holidays, weekends, and emergency work may be more expensive
Experience level:

Apprentice: $16-$25
Journeyman: $25-$40
Master: $25-$75
Compare Local Garbage Disposal Repair quotes
Common Reasons Why Your Garbage Disposal is Not Working
Leak: $150-$700. Usually caused by an old seal. You can replace the part, but you might as well replace the unit, as this may be a sign it's getting old.
Clog: $150-$200. You may need to clear the pipes or plumbing further down than the sink or shower drain.
Jam: $0-$100. Try to clear it yourself by cleaning the garbage disposal. If that doesn't work, call a handyman.
Won't turn on/off: $0-$100. For this issue, try:

resetting the breaker
pushing the outlet test button (if it has one)
switching the unit's red reset button under the sink
plugging the unit into the other plug on the outlet to see if this controls the switch
calling a disposal repair technician in your area if none of these fix the problem.
Garbage Disposal Replacement Costs
The cost to replace the entire garbage disposal unit will be between $50 and $350, with an average unit going for about $150. These totals do not include labor, which will be between $20 and $200 for the whole project. It takes a skilled plumber or handyman about one hour to complete the job.
You can replace the unit yourself if you have plumbing experience, but additional materials will run about $25 if you DIY. This price is similar to the cost of a simple, professional installation.
Get Quotes From Garbage Disposal Repair Pros
DIY vs. Hiring a Plumber to Fix My Garbage Disposal
With enough internet research, a handy homeowner could repair the unit themselves, but there are a few situations in which we suggest a professional do the work. These include:
When fixing it yourself isn't working or it's more complicated than expected
If there are more extensive plumbing, electrical, or structural repairs
You are not the "handyman type"
On the other hand, if you have successfully completed similar work in the past, you may be able to fix it yourself. Before hiring a pro, ensure the following are switched on: circuit breaker, test button on the outlet and reset button on the unit under the sink.
Some simple DIY solutions to problems include:
Small clogs repairs: follow this disposal repair guide to troubleshoot issues
Smells: grind up some citrus and/or ice cubes to reduce odors
Consult with a pro if You Disposal Isn't Working
What's the average price per-hour to hire a plumber for disposal repair?
The average cost to hire a plumber to repair a disposal is roughly $45 to $200 an hour. This ranges from $20 to $200 an hour. Some also charge a flat rate for minor work ranging from $100 to $400. Additionally, some charge a minimum rate, which means you will pay this amount even if it only takes 15 minutes.
Do I need an experienced plumber for garbage disposal repair, or can I hire a cheaper handyman?
If you know the work is not highly complex (a clog or jam), you can hire a handyman or plumber with little experience. Make sure they are certified or otherwise insured, in case the repair fails. Hire an experienced professional for full replacements, leaks or electrical problems.
How long does a typical garbage disposal last?
A newer model of garbage disposal will last about 8-15 years. This varies with usage type and frequency, cleaning, and model type.
When should a disposal be replaced?
You should replace your disposal if you notice some common issues such as:
Leaking
Slower than normal processing of waste
Frequent clogs and problems
Excessive noise
Repairing and replacing a garbage disposal is a minor expense when it comes to common homeowner expenditures. What kind of problems have you experienced with your unit, and how have you chosen to address them?
Get Quotes From Garbage Disposal Repair Pros
Thank you for submitting your feedback.