Reviewed on April 16, 2020 by Dan DiClerico, Smart Home Strategist and Home Expert.
Written by HomeAdvisor.
Average Kitchen Remodel Cost
On average, a kitchen remodel costs $25,654 or $150 per square foot. Most homeowners spend between $13,485 and $38,100 or $75 to $250 per square foot. The total expense varies depending on the size of the space, the quality of materials, and whether you change the layout of the room.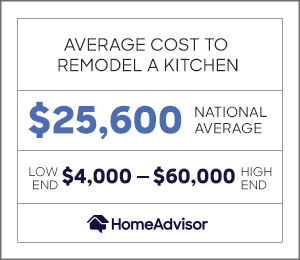 A smaller project between $10,000 and $15,000 may include painting walls, refacing cabinets, upgrading the sink, and installing a tile backsplash. A $30,000+ renovation may include installing custom cabinets, hardwood floors, granite counters, and high-end appliances.
The kitchen serves as the heart and hearth of your home. It's where you prepare your meals and where all your parties gather. Is it any wonder that remodeling this space is so popular and has one of the largest payoffs in terms of boosting a property's resale value? Of course, it's also the most complicated and can be the most expensive.
See the cost breakdown by feature and labor below to get a better idea of the budget you'll need or the renovations you can cut back on.
Thank you for submitting your feedback.