Lawn Aeration Cost
The cost to aerate a yard ranges from $75 and $195, with a national average of $132. Smaller yards may cost as low as $45 and big yards around $350. Lawn aeration removes plugs of soil from your yard, allowing for extra air and water flow — and a healthier yard as a whole.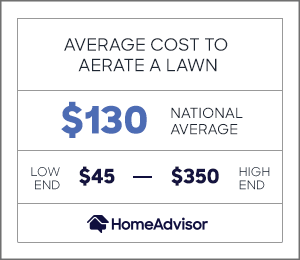 Aerating costs depend on four things:
Yard size
Aeration type
Location (rates vary by state)
Other lawn services
On This Page
Cost to Aerate Lawn
Aeration rates vary from state to state and yard to yard. Lawn care specialists set their rates based on their area's needs.
Flat Rate
The average lawn size is 10,000 square feet (a little less than a quarter of an acre). If this size seems typical for your area, you might receive a flat-rate quote between $120 and $175. Some companies set that rate up to 10,000 square feet, then charge extra for larger lawns.
Square Foot
Condos or duplexes have smaller yards — around 1,400 square feet or less. A yard that's less than 1,000 square feet might price between $.08 to $.35 per square foot.
Hourly
Lawn aeration is sometimes charged by the hour, usually with a 2-hour minimum. On average, hourly rates range from $38 to $66 per hour.
Package Deal
You can sign up for an inclusive lawn care package or add lawn aeration to an existing one, usually for a lower price than aeration alone. Depending on your lawn's condition and local offers, signing up for twice-yearly aeration can also save money. Get a quote from a lawn aeration specialist near you to find ways to save.
Aeration Cost Per Acre
An acre is 43,560 square feet. One lawn care company in Billings, Montana said they would charge $60 for every 5,000 square feet. However, many companies won't price by the square foot for such a large space. Expect to pay $480 to $650 for an acre of aeration.
Compare Quotes From Lawn Aeration Pros
How Much Does Core Aeration Cost?
Core aerators are units that take cores of earth completely out of the soil bed. This method has a longer-lasting effect because of its unique way of creating deeper channels within the earth. Core aeration works best on bigger lawns.
Spike aeration is good for sandy, looser soils and is cheaper than core aeration. Lawn care companies generally recommend core aeration due to its maximum benefits. The average prices of $120 to $175 for a 10,000 square foot yard still apply for core aeration.
What Impacts Lawn Aeration Prices?
Lawn Size
Lawn size is the main factor in determining the price of aeration. Aeration is often a fixed rate for 1,000, 5,000, or 10,000 square feet. Smaller lawn estimates are per square foot or based on a time estimate.
Many specialists will want to look at your lawn before giving you a price. This is to examine both the size and condition of your lawn. They will likely recommend other services, such as overseeding and fertilizing, to work in tandem with the aeration.
Aeration and Overseeding Cost
Overseeding promotes new plant growth. It's most effective when combined with aerating. Expect to pay less than double the cost of aerating. For a 10,000 square foot lawn, overseeding plus aeration could cost $200 to $325.
Fertilizing and Aerating Costs
Fertilizing costs $50 to $80 for an average lawn. With aeration, these two services will cost about $170 to $260.
Combining Aeration With Other Lawn Services
Companies usually charge aerating, fertilizing, and overseeding as double the price of lawn aeration. This could cost $240 to $350.
Here are some other add-on services that could help your yard look its best:
Power Raking and Lawn Dethatching Costs
Thatch is a layer of organic material (such as dead grass) that accumulates between the grass and the top layer of soil. Grass roots grow into the thatch instead of the soil if this layer becomes too thick.
Power raking is an aggressive approach to clearing out thatch when it is half an inch thick. It costs $10 to $20 per 1,000 square feet to power rake.
Dethatchers are less aggressive and are for thatch layers less than half an inch thick. Expect to pay around $175 per hour for dethatching.
What's the difference between aerating and dethatching a lawn?
Aerating removes plugs of soil from the ground, while dethatching removes the layer of organic material between the grass and the soil.
Most lawns need annual aeration. A little bit of thatch is good to have, but when it gets close to a half-inch or more, it's time to remove it.
DIY vs. Hiring a Lawn Aeration Service
It's possible to rent a core aerator or to buy spikes for spike aeration. However, it takes a lot more time and potentially a lot more money to aerate on your own.
Lawn Aerator Rental Cost
Core aerator rentals are around $64 for four hours (the minimum amount of time you can rent one) or $90 per day, plus a $150 deposit. Picking up an aerator means you'll also have to have a truck. If you live further from a home improvement store, this also cuts into your time.
It's time-consuming to pick up, transport, and learn how to use a lawn aerator. Add on performing the aeration itself, and you're looking at a half-day project at least. It is cheaper per hour to pay a specialist to perform lawn aeration. Plus, working with professionals ensures your lawn gets the best results.
FAQs
What are the advantages of aerating?
Aeration creates a healthier, stronger lawn. It means more breathability for the lawn and increased nutrient saturation. Aerating the lawn will also increase the amount of water the lawn can absorb, which eliminates standing water for pests to gather in.
What are the disadvantages of aerating?
Aeration can make your lawn vulnerable to weeds and dryness. Opening up a lawn during periods of drought, extreme heat, and weed infestation should be avoided. Aeration should not be done before roots have developed in a newly grassed area.
How often should I aerate my lawn?
Most lawns require aerating at least once a year. Lawns with lots of thatch (more than a half-inch) will likely need it twice annually, at least for 1 to 2 years.
You can likely skip a year of aeration if the soil isn't too compact and there's not much thatch.
How do I know if my lawn needs aerating?
Lawns with sandy soils can take spike aeration as necessary and rarely need core aeration.
Aerate lawns that have sod, feel spongy, or dry out quickly. If you see a good amount of thatch, it's also a good idea to penetrate the soil through aeration.
When is the best time of year to aerate your lawn?
Find out if you have warm-season grass or cool-season grass by calling a lawn specialist near you. Aerate warm-season grasses in late spring and cool-season grasses in early spring or fall.
Thank you for submitting your feedback.